When a worker receives a job vacancy from the owner of the job field, they will get an offered letter that both parties must sign, namely an employment agreement. Employment contracts or agreement letters also vary according to each company. In short, the employment contract or agreement is a letter of agreement between the worker and the owner of the job field, which covers both parties' rights, conditions, and obligations. 
Seeing that this letter is regulated in the Law on Manpower, many employees sign a letter from the company that received it by not reading the contents of the letter in the written employment agreement. So, they do not understand their obligations carefully.
According to the expert, the cooperation agreement between the company and its employees is an important guideline that must be adhered to and implemented by both parties concerned. For those of you who will work or are working in a company, you need to know the contents of this contract. A system that will help you with that is Contract Management Software from HashMicro that helps you manage all types of contracts in one repository, access them directly from anywhere, automatically receive notifications when a contract is nearing expiration, and many more.
Read more about this article to learn about things contained in the contract, types, and examples of the agreement letter.
Also read: Warning Letter for Employers | Guideline and Examples
Table of Content
What is Exactly an Employment Contract Letter?
Employment contracts are frequently used to transmit the terms and circumstances of employment, the capacity for which an employee is recruited, and the associated job obligations. Important information such as the employment duration, remuneration and perks, and terms and conditions for terminating an employee are also included in these contracts. An employment contract, if properly prepared, will provide security and protection for both the employer and the employee.
Employers frequently use employment contracts to help safeguard the firm and any trade secrets. Furthermore, an employer may have a "Non-Compete Agreement" in the employment contract, which prohibits former employees from competing directly with the company for a specified time after their employment ends.
Also read: Sample Resignation Letter for Those of You who are Preparing to Leave the Company
Ten Things That Must Be Included in an Employment Contract
Your business is expanding, so it's time to fill a few additional positions. You haven't had much hiring experience, but you've created your present staff with the help of a few industry friends. However, you must now implement sound human resource policies to hire wisely. Let's start with the employment contract or agreement. When making a job offer, you must include a few things to safeguard your recruit and your company.
Every employment contract should include the following clauses:
But in addition to the basic things above, human resource development should pay attention to writing the 4 most important things that must be in the following things so that there are no misunderstandings in working relationships:
1. Job information
First, the job title and the team or department with which the person will be working are essential pieces of information. Explain how performance will evaluate and who will report to the new hire.
2. Compensations and benefits
Outline the pay and benefits package. It should include the annual pay or hourly rate and information on raises, bonuses, or incentives and how to acquire them. Explain what the benefits plan includes — medical, dental insurance, and vision care, for example — and how much the employer pays and how much the employee pays. Include details regarding the 401(k) plan, stock options, and any fringe benefits if they are available.
Also read: Attendance: Absence Resulting in Sanctions
3. Time off, sick days, and vacation policy
You have to explain the time of policy in detail.
How many paid vacation days are accrued every pay period?
Do vacation days increase with the length of service?
Explain your expectations for sick days, family emergencies, and unpaid absences.
Can employees make up hours by working after-hours and on weekends?
4. Employee classifications
To ensure tax and insurance compliance, determine if the recruit is an employee or a contractor. Uber has been sued numerous times for employment misclassification and continues to defend them. Learn what distinguishes employees from contractors and accurately classify personnel from the start, so you don't have to worry.
5. The schedule and employment period
The contract should explicitly clarify whether the employment is ongoing or for a specific period. It should also mention the employee's projected working hours to describe the employer-employee relationship.
Include the number of hours the employee needs to anticipate to work for and any flexible working choices, such as working from home or remotely while away from the office. Explain when and how often you will be working nights and weekends if the job necessitates it.
 Also read: Partnerships: Definitions and Tips for Finding the Right Business Partner
6. Confidentiality agreement
Protect sensitive information such as firm trade secrets and customer data by having the employee sign a confidentiality agreement as part of the contract. Instead of making this a separate contract or piece of paper, include it as a component of the employment contract and have a field in the area where new hires can sign digitally.
7. A technology privacy policy
Clarify what is and isn't acceptable when using social media and email on business property. For example, if you do not want employees to use business computers or mobile devices to update their own social media channels or check personal email, state that clearly. Prohibit employees from posting nasty comments about their jobs on social media, as these two McDonald's employees did.
8. Terminations terms and conditions about the employment contract
Explaining the required for either side to end the relationship, including how much notice should require and whether it should be in writing.
9. Severance or outplacement plan information
Explain the requirement for either side to end the relationship, including how much notice should require and whether it should be in writing.
10. Requirements after termination
Any restrictions or demands imposed on an employee after leaving the organization should be included in the contract. For example, an employee may not be permitted to start their firm in the same industry or the exact location within a specific period or operate independently with its clients. Define these phrases clearly to safeguard your company and its customers.
To make writing the contract easier, utilize a digital template, such as the PandaDoc job proposal template. Your new hire will be on board in no time, thanks to a streamlined creation and a paperless signature process.
Not only workers, but the company also requires a contract signature with other companies to establish cooperation or other. Contract Management Software helps you manage all types of contracts in one repository, access them directly from anywhere, automatically receive notifications when a contract is nearing expiration, and many more.
Also read: How to Write an Application Letter (With Examples)
Types and Examples of Employment Contract Letters
Each style of engagement has different advantages and disadvantages, but agreements should be in writing. Your demands will determine engaging workers in a way that is appropriate for your firm. You should also evaluate the industry standards for each function, as well as how the arrangement would influence your company's bottom line.
The following are the most typical categories of workers to engage:
Full-time employment contract
Full-time employees also known as those employed continuously and typically work 38 regular hours per week or an average of 38 normal hours per week. Depending on whether an industrial instrument covers the relevant employee, this may differ. They are entitled to paid leave and must be given written notice of termination.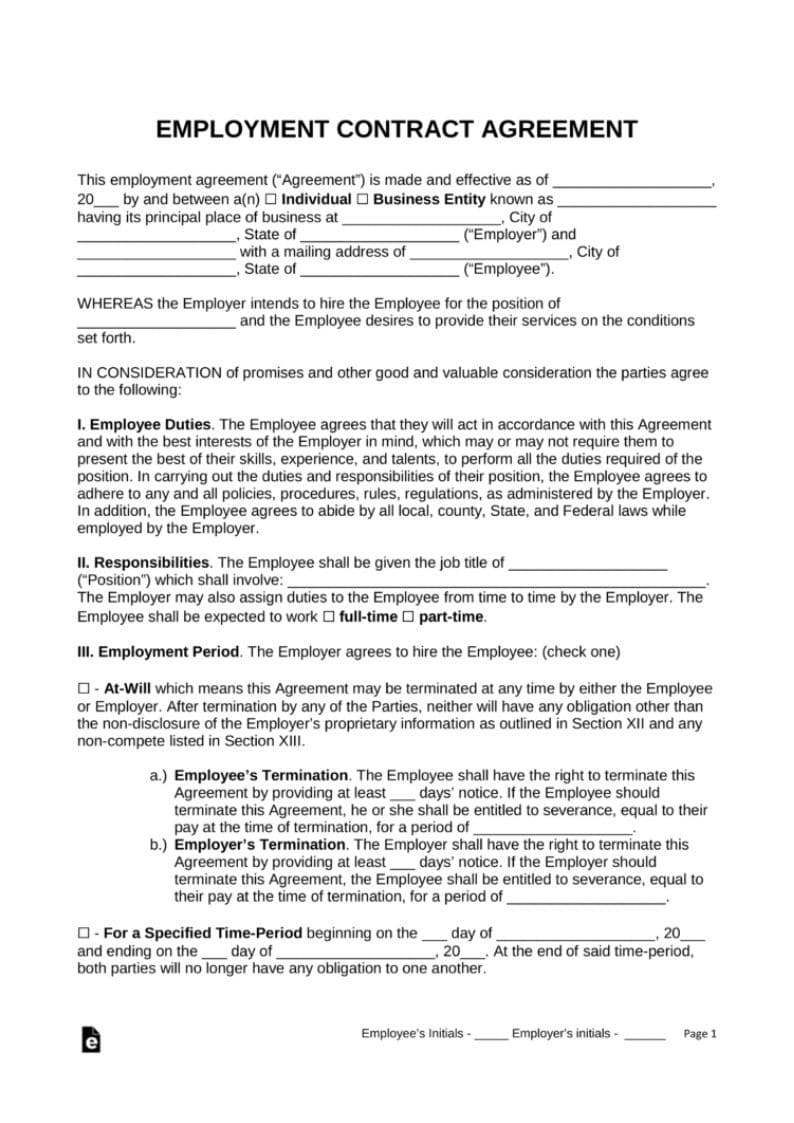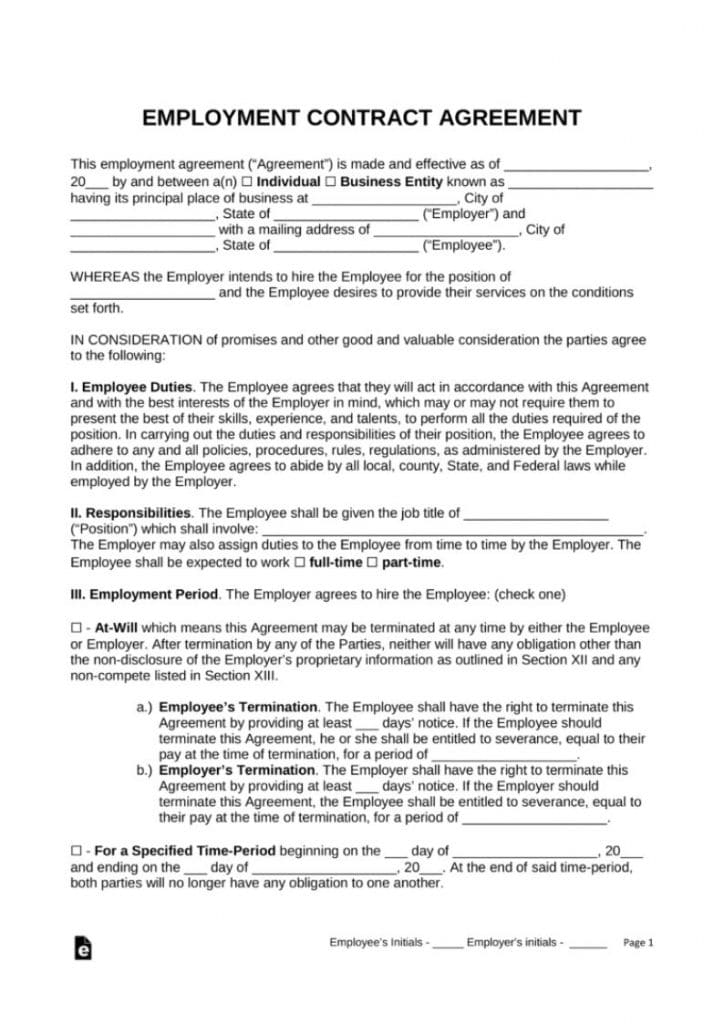 Part-time employment contract
Part-time employees also known as employed on an ongoing basis and often work fewer than 38 hours per week. They usually work regular hours each week and have the same minimal employment rights as full-time employees. Part-time entitlements, on the other hand, will usually have a daily calculation.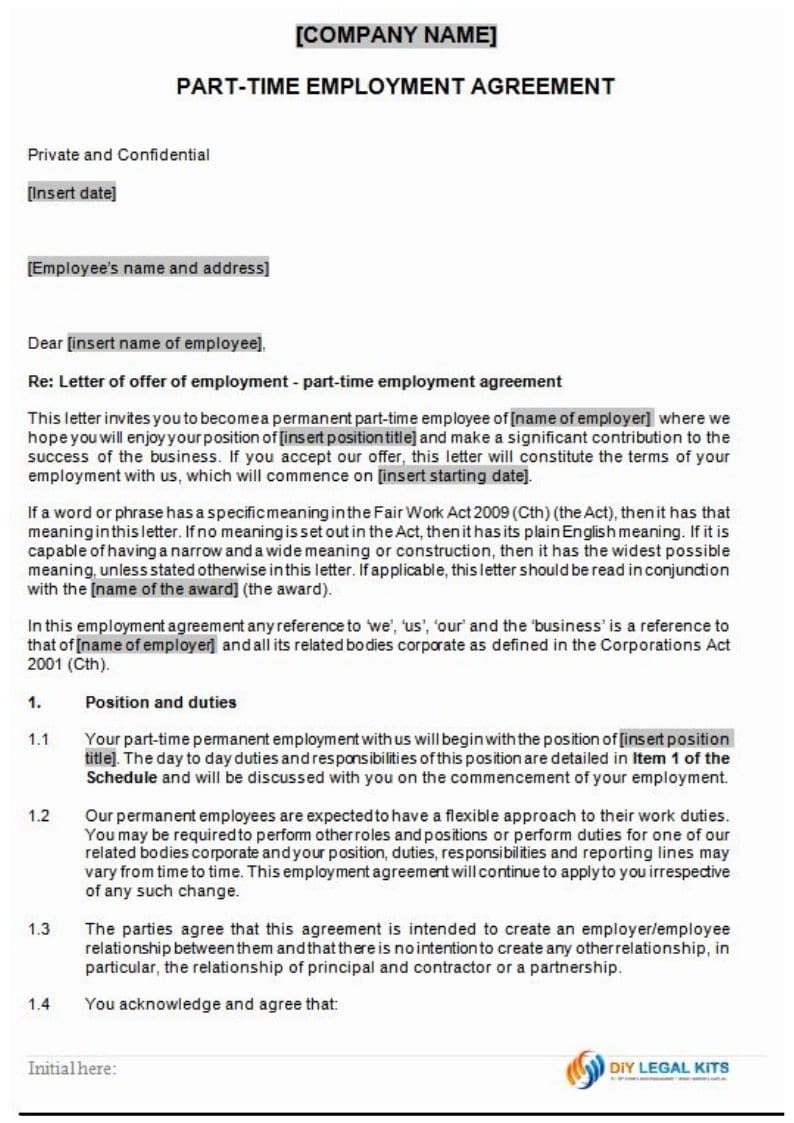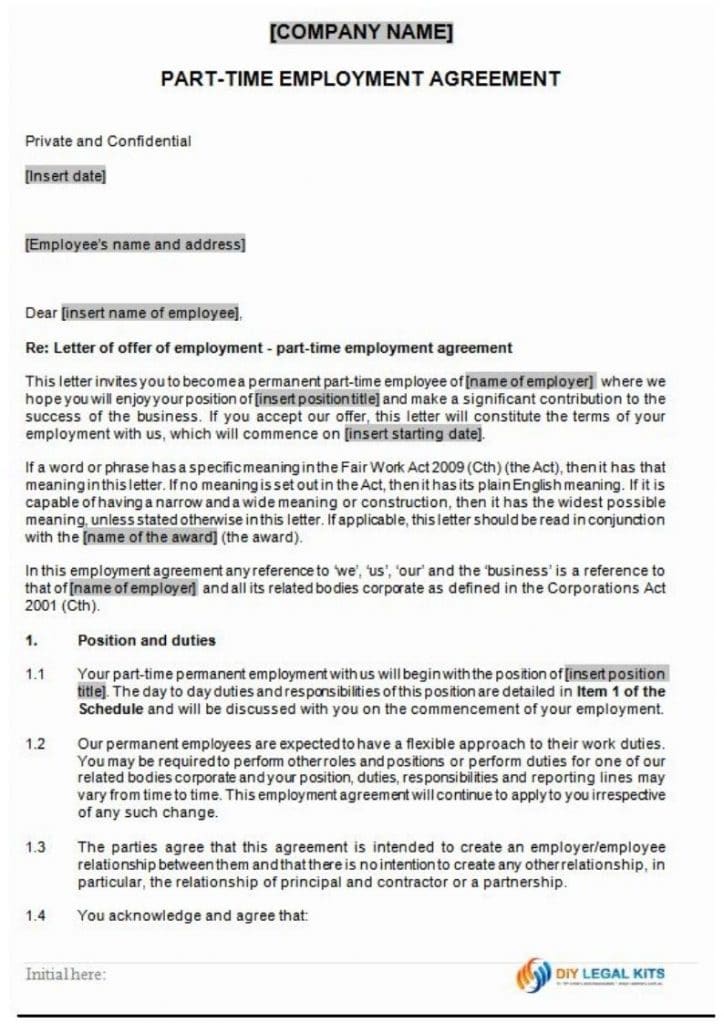 Casual employment contract
This type of letter allows employees to work for a company on an as-needed basis. Casual employees, unlike permanent employees, have no fixed commitment in front of continuous employment and often operate on an ad hoc basis (so the work hours are irregular). Company pays the casual employees for the hours they worked and have the option to refuse shifts. Informal employment comes with an hourly loading to compensate.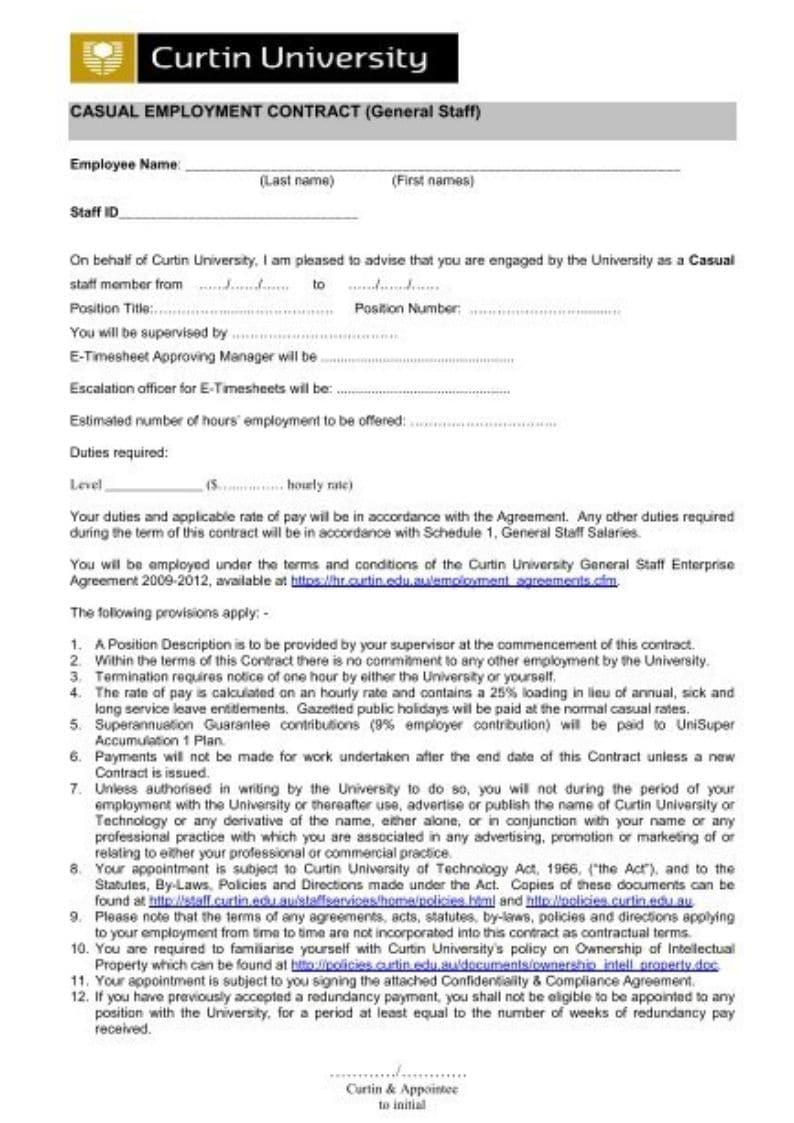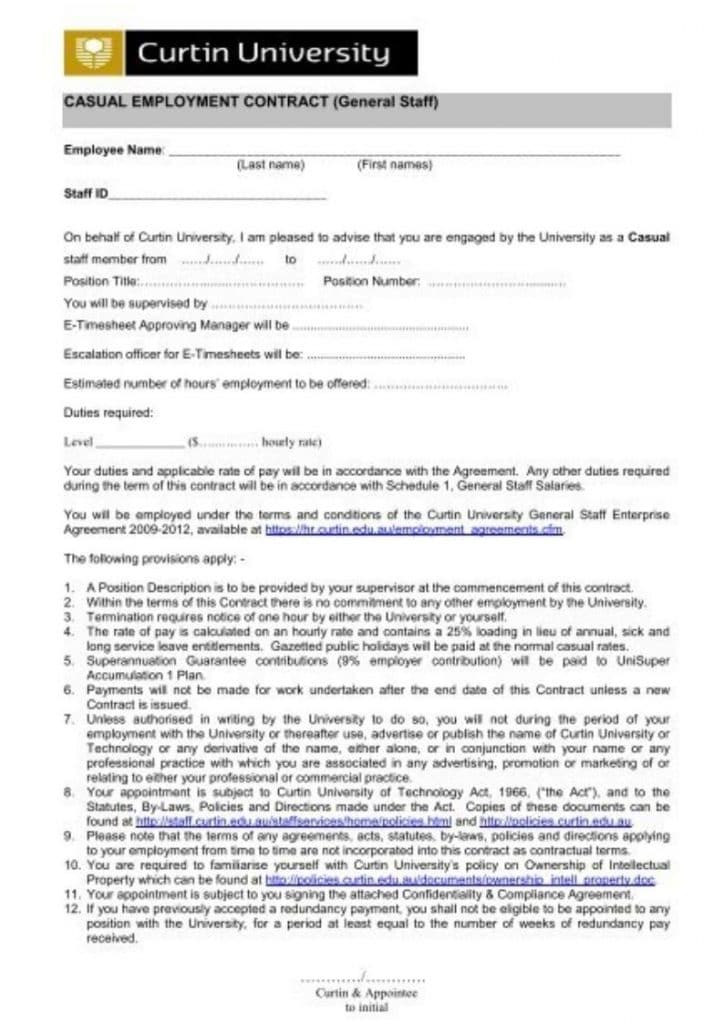 Fixed-term employment contract
Contract labor is when a party employ another party for a set amount of time or to execute a specific work or project. Typically, the contract expires when it complete a project, or an event occurs (e.g., peak season). Fixed-term contracts specify the length of the job tenure from beginning to conclusion. Although this contract comes frequently temporary, fixed-term workers entitle to the same benefits as permanent employees. No notice is necessary if the employment contract stops after the fixed term.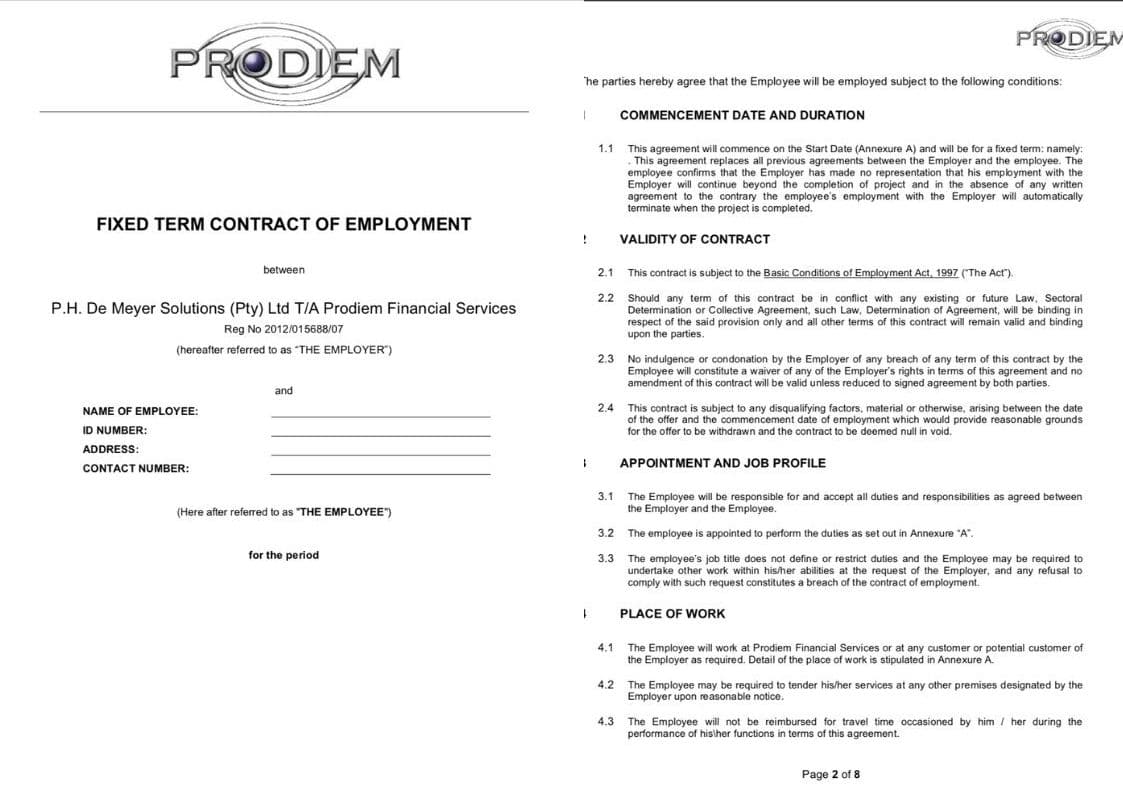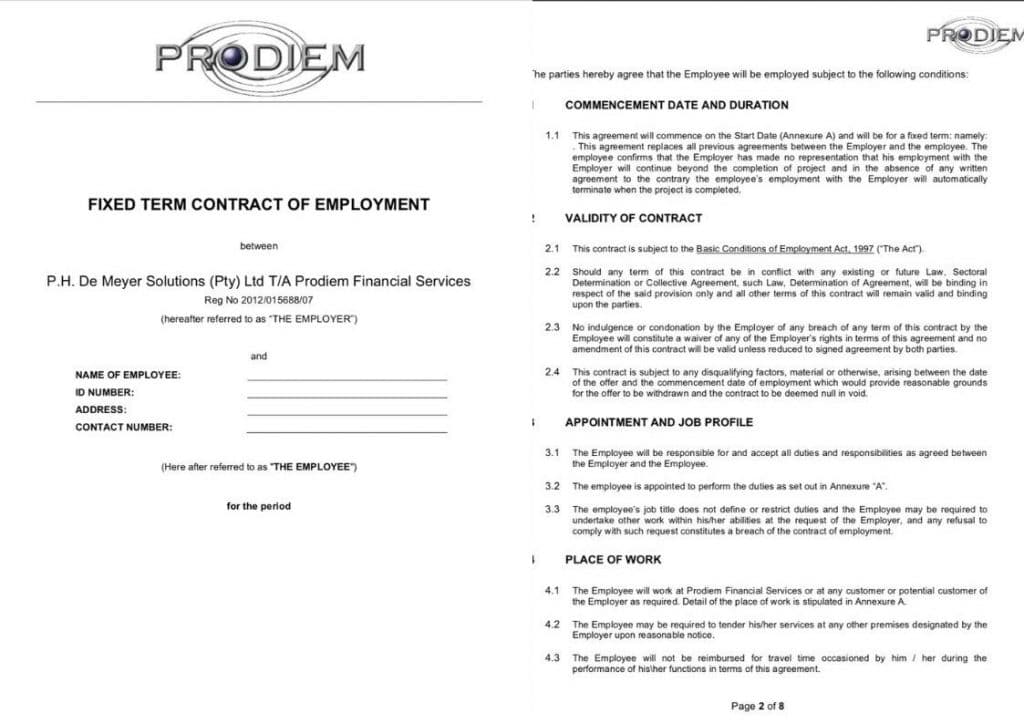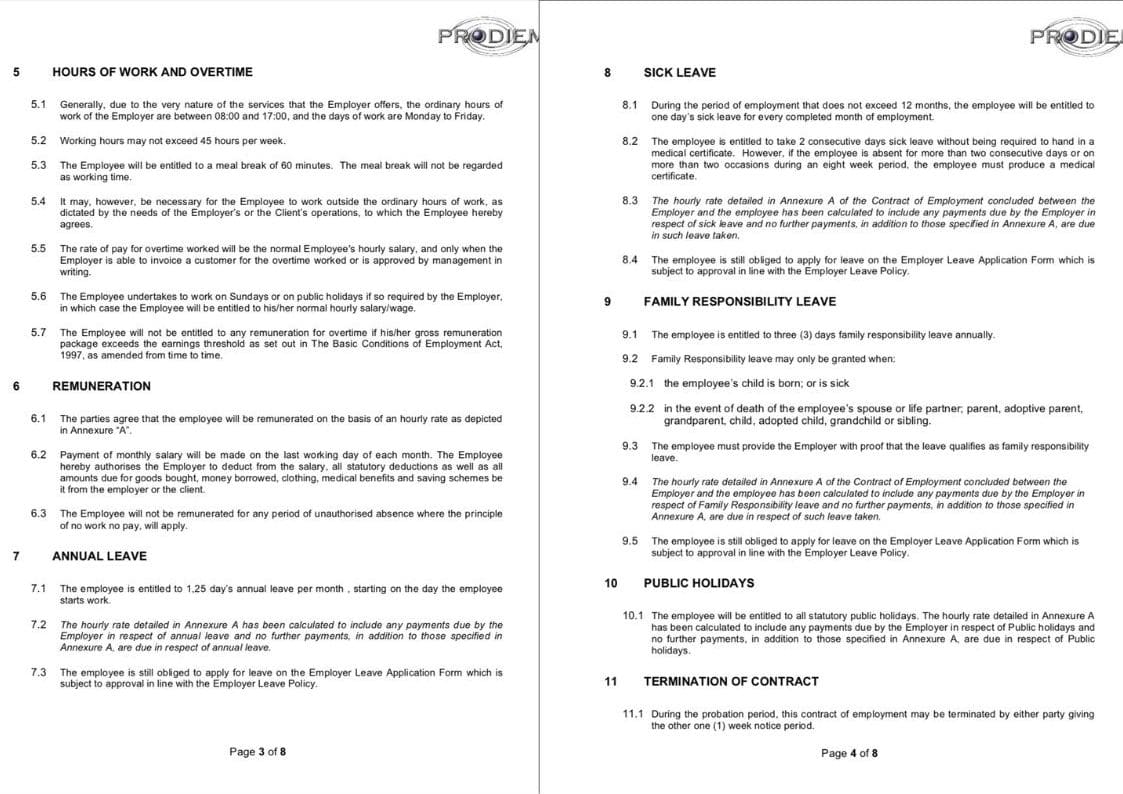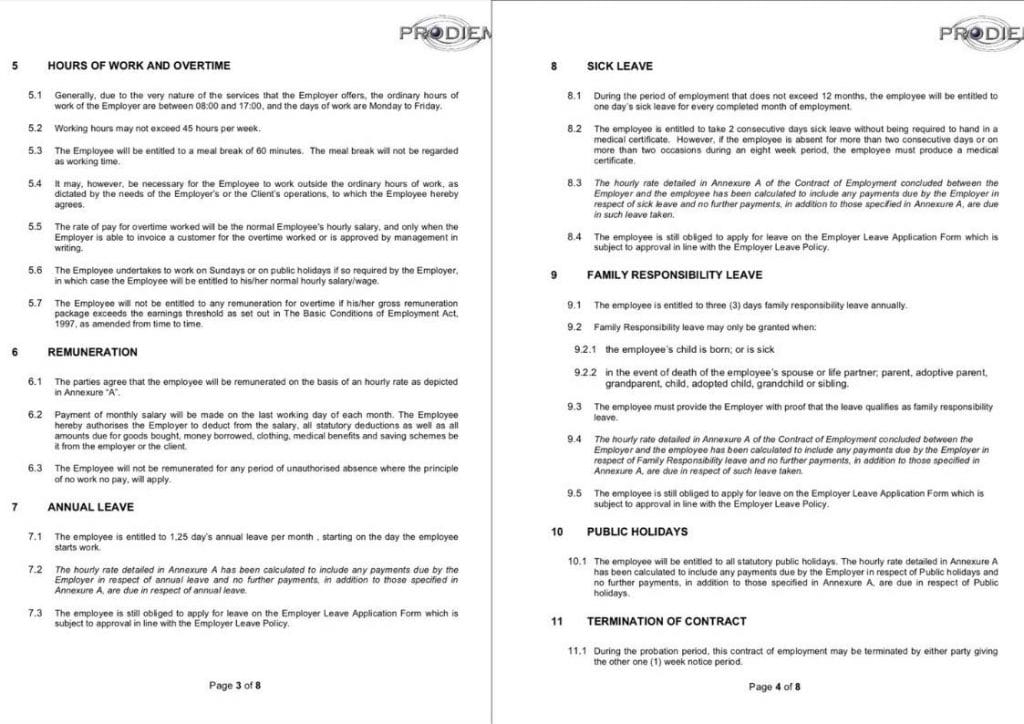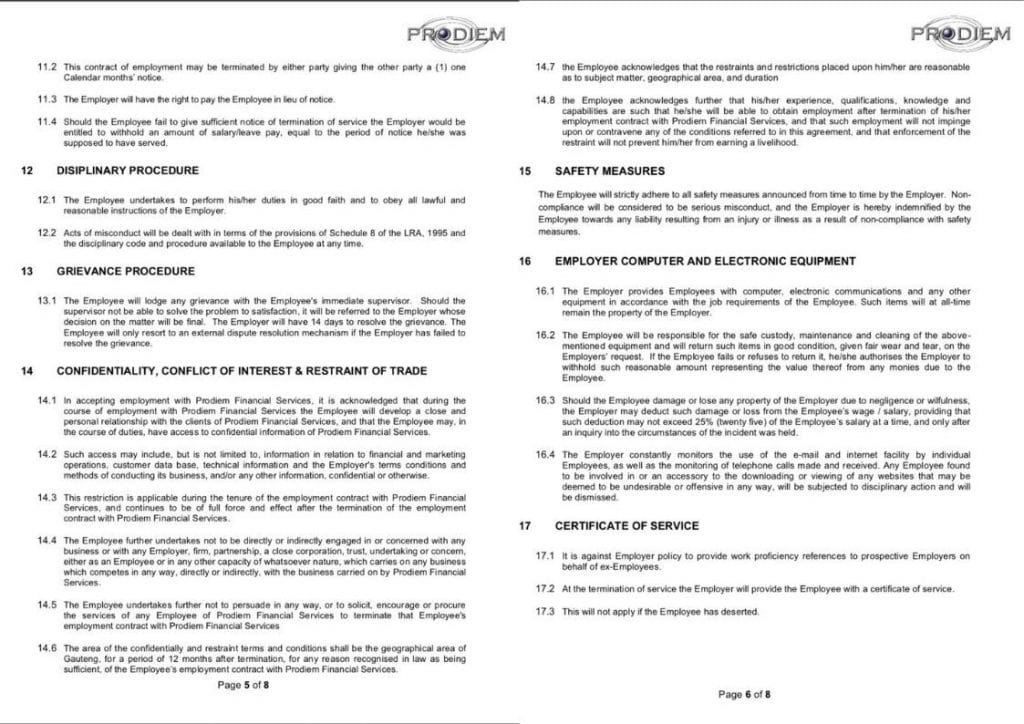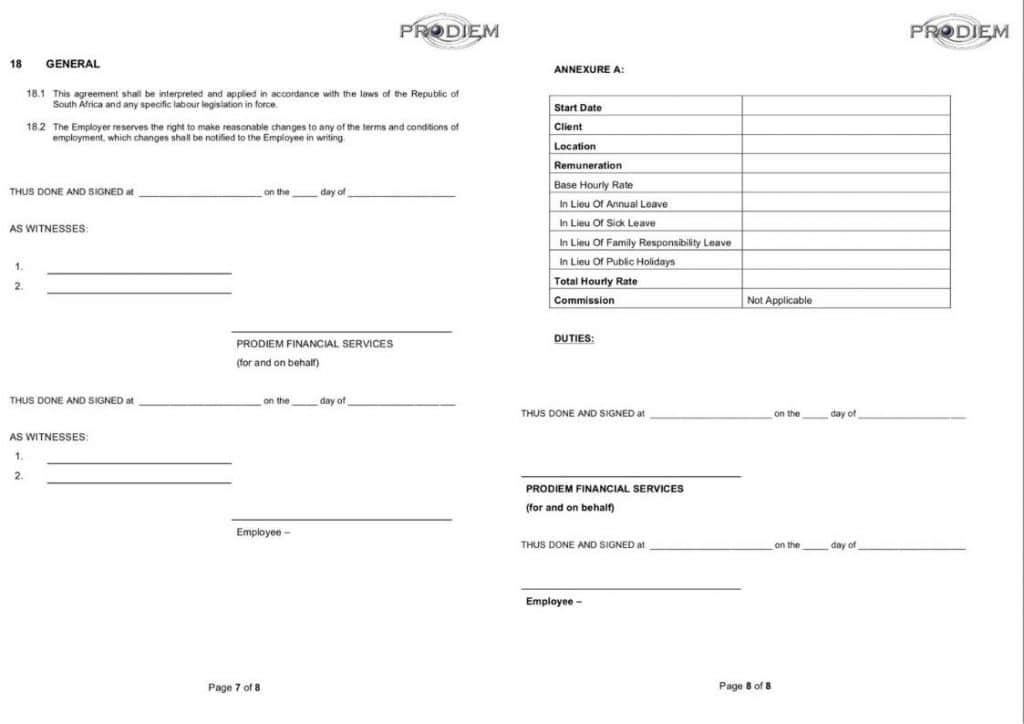 Independent employment contracts
Independent contractors should primarily be self-employed individuals who subcontract their services to other businesses. Contractors set their rates and working conditions, and they can work for many employers simultaneously. It is critical for an employer to explicitly identify whether they recruit a permanent employee or an independent contractor. The business may face dangers if the contractor turns out to be an employee.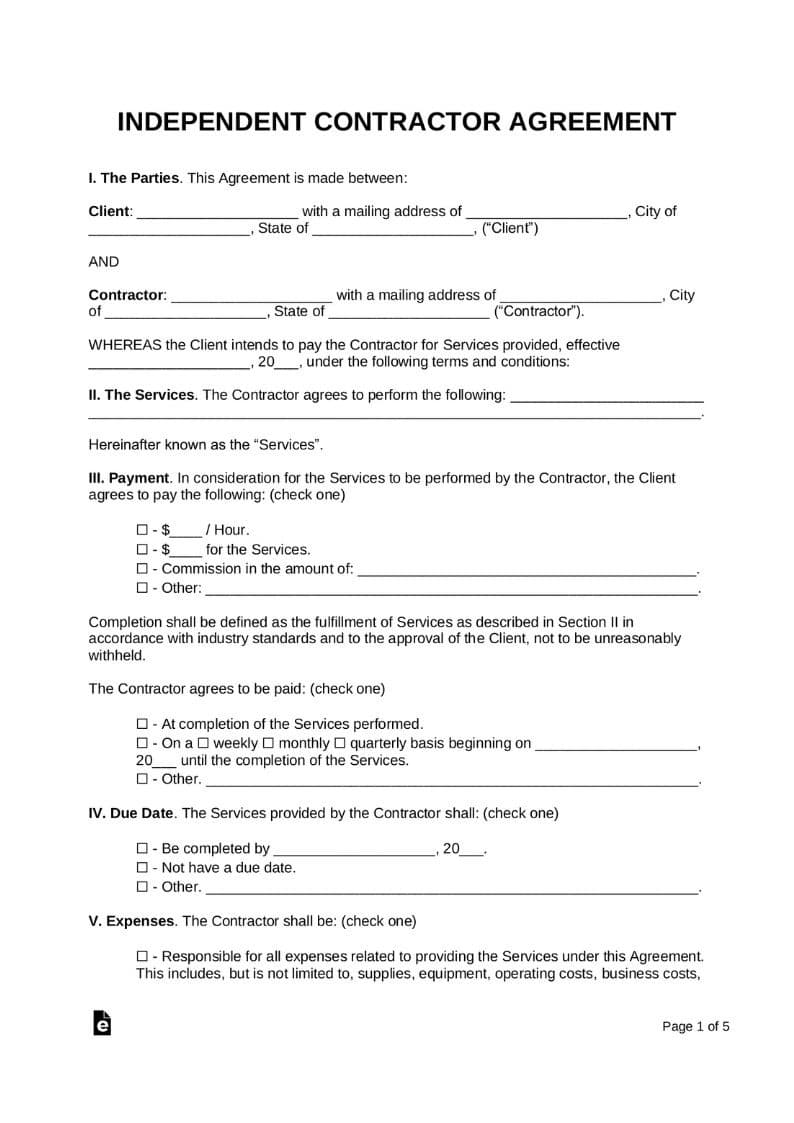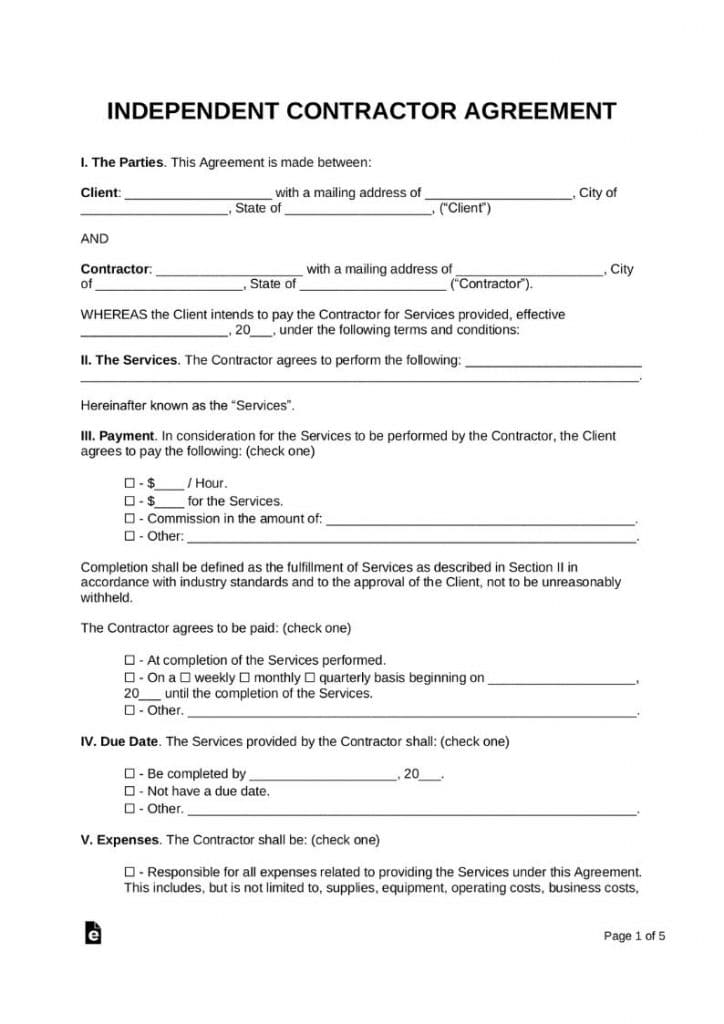 Related article: The Importance of NDA in Business World
Conclusion
The following is a complete explanation of the meaning, types, and examples of employment contracts crucial for companies as job owners and their workers. Therefore, you as a worker or business owner must pay attention to the contents of the employment contract so as not to harm you or your employees.
By using the HRM system best for enterprises from HashMicro, you can automate your company HR and employee administration tasks. This system can calculate salaries, manage leave and attendance lists, manage reimbursement processes, and other operational activities with HR Software and the most complete payroll application in Indonesia.
It can even make it easier for you by providing notifications real-time if your employment contract is about to expire so your company can quickly renew it with the feature employee contract management. 
What are you waiting for? Immediately register for a free demo of HashMicro, now!