Determining a proper salary range for employees can be overwhelming, especially when your company is still new. Every year or maybe semester, you need to make salary adjustments for your employees. Salary range adjustments are determined based on company considerations, usually after HR managers evaluate the employees.
Suppose you are still having trouble determining the salaries of your new and permanent employees; HashMicro delivers the complete ERP software, providing the best advantages and features as a solution to calculate your employees' wages. Then this article is perfect for you. Here are seven tips to determine a proper salary range for employees that you can implement immediately: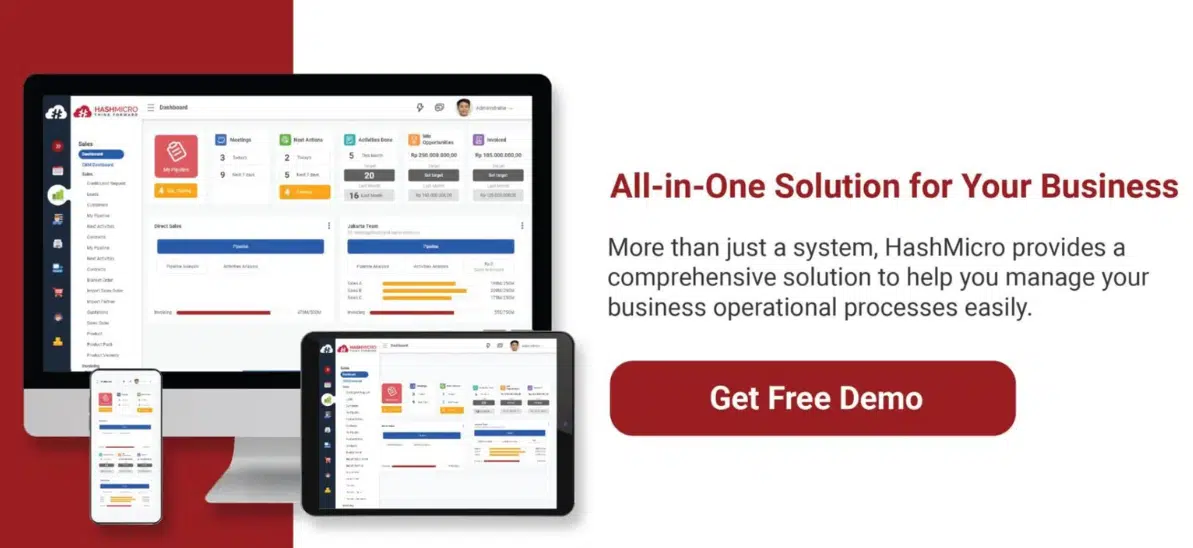 1. Stick to Minimum Wage Rates
The first step that needs to be done when looking for fresh graduate candidates for specific job roles is to stick to minimum wage rates in your region. The regional minimum wages may change every year, as your area's living cost keeps increasing. Paying your employees lower than the minimum wage rates will only give a bad reputation to your company, and you will also find it challenging to find candidates with the qualities you look for.
2. Do Some Research on a Salary Range Offered by Other Companies
In addition to paying attention to the minimum wage rates, you also need to research the salary range for specific jobs offered by other companies within the same industry. Make sure that the salary range you offer is not too low compared to the salary range offered by your competitors so that the candidates you are looking for would prefer to work for you instead of them. You can do this research on various job search websites like JobStreet or LinkedIn.
3. Determine a Salary Range Based on Job Titles
You need to be aware that your employee titles affect how much salary your employees deserve. Managerial employees normally earn higher salaries than entry-level ones. Managers or supervisors have more responsibilities than those in entry-level jobs. If you want to promote one of your employees, make sure you offer a reasonable salary according to their new titles.
4. Establish a Salary Range Based on Workloads
In addition to job roles, you also need to determine a pay range for your employees based on their workloads. The fact that their titles haven't changed yet doesn't necessarily mean they don't deserve higher salaries than what they're currently earning. Notice whether or not their workloads have increased recently. If you don't want to raise their fixed salaries yet, consider including overtime pay for those who work longer in the office due to heavy workloads.
Make it easy for all your company operations with EVA HRIS Essentials from HashMicro. Automate administrative tasks, calculate salary and taxes, and manage leave and attendance.
5. Consider Your Employee Experience
Your employee work experience also needs to be considered. This applies both to new and permanent employees. Try to think of yourself as an employee. Imagine that you have worked for so many years for the same company without a pay raise. Would you instead work for your current company or move to another company that offers a higher salary for the same job? I bet you would choose the latter surely, right?
Remember that your employees are company assets that play an essential role in the growth of your business. Therefore, you should be able to maintain those who have successfully contributed to your business. One of the most effective ways is to determine a fair salary scale for them.
6. Measure Your Employee Performance
Do you have outstanding employees who have made extraordinary contributions to your company? If so, then they are worth more than they are currently making. This will undoubtedly motivate them to gain more achievements. If you think it's not the right time to raise their monthly salaries yet, then think of giving them a bonus payment for what they've achieved.
7. Use an HR Management System
To facilitate the determination and adjustment of your employees' salaries, you should consider using an HR management system. This system is designed to simplify HR management in your company, including payroll management. Let your HR manager easily conduct an employee performance evaluation and determine the salary range based on the results. The calculation and distribution of monthly salaries will be straightforward to do.
Get started today – Try the free demo for yourself now!