The responsibilities of human resources are not limited to recruitment; in fact, they are much more complicated. Furthermore, human resources are responsible for various tasks such as employee recruitment, payroll, expense management, etc. Surely HR managers may find it difficult to manage all of those tasks. Hence, you may use powerful HRM software in Singapore to simplify HR's workforce management to make it easier.
In short, HRM stands for Human Resources Management. Moreover, HRM is software that automatically organizes and takes care of administrative tasks related to human resource tasks. It can be hard to find the right HRM software in Singapore. So, we narrowed down the list. 
This article will not only explain what HRM Software is, but also recommend the best human resource management in Singapore. Besides that, this article will also include the HRM pricing scheme for you to calculate the price.
Table of Contents
HashMicro HRM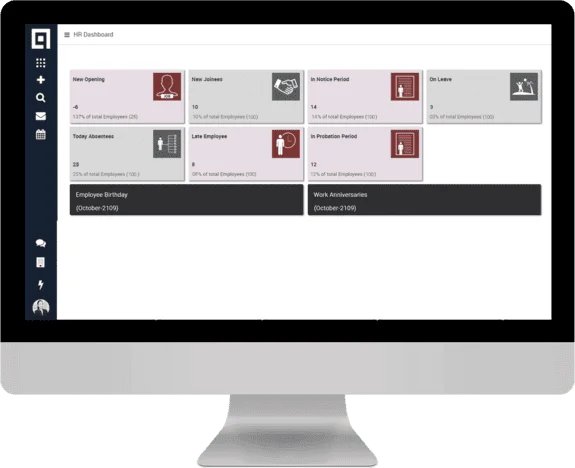 As Singapore's No. 1 HRM System for Enterprises, HashMicro provides comprehensive Human Resources Management Software that is already trusted and used by thousands of companies in Singapore. Moreover, what makes HashMicro different from other HRM software is that it provides unlimited user licenses, allowing it to be used by everyone in your company at no additional cost. Also, it is a customizable HRM software in Singapore that helps you to meet your specific business requirements.
The benefits 
These are the advantages and benefits of HRM Software by HashMicro;
Automated updates
An automatically updated employee database. As a result, it makes staff transfers, promotions, and admissions much more manageable.
2. Calendar integration
It enables you to integrate google calendar so that it will be easy for those with access to monitor everyone's meeting schedules.
3. Faster approval
All requests, such as cash advances, leave, and expense claims, can be tracked and processed instantly.
4. KPI evaluation
Employee assessments can be performed more seamlessly based on the trackable KPI of each employee.
The cloud-based features of HRM HashMicro
The HRM Software by HashMicro offers two versions, which are basic and advanced. Each of these versions has its HRM features that fit businesses of all sizes in Singapore, whether small or large companies. 
HRM-basic
Payroll management
This feature accurately calculates salaries based on working hours, overtime, and attendance. Also, you can generate CPF reports instantly. 
2. Employee database
Because of the centralized platform HRM Software, it'll be more accessible to manage your employee database, such as personal and financial info.
3. Expense management
Efficient in managing cash advances, allowance, reimbursement, and other expenses. You also can generate its reports accurately in no time.
4. Attendance management
You can rack employee attendance because it is integrated with the attendance record machine. And then analyze it automatically.
5. Employee contract management
It's easy to manage your employee contracts in real-time from anywhere. Also, getting an automated alert if the contracts are about to expire.
6. Leaves management
This feature helps simplify not only leave request management but also updates the leave balance automatically. And last, to adjust leaves policy easily. 
Also read: Top 5 ERP Software Development Services in Singapore
HRM-advanced
The employee on/off-boarding
Create the list of assets given to the employee, set up an employee portal, arrange the on/off-boarding workflow, and generate reports quickly.
2. Recruitment management
It will be easy for you to operate recruitment tasks with HRM software, such as job portals, resumes, applicant tracking, screening process, communication, and test scheduling in one platform.
3. Employee performance management
It enables you to monitor your employee performance with KPI management, run appraisals, and arrange training programs.
4. Employee transition management
It will be easy for you to arrange mutation, promotion, and demotion processes effectively. You also can set up the workflow for employees' new roles.
5. Business trip management
You don't need to feel overwhelmed over your business trip, HRM feature helps you to organize all your business trip schedules and accommodations, arrange approval processes, and generate reports easily.
6. Employee loan program
Simplify employee loan and approval process, manage cash disbursement, and automatically calculate interest.
Also read: How ERP Solve These 5 Supermarket Inventory Issues
PeopleHum
PeopleHum is one of the best human resource management in Singapore with a single interface. PeopleHum's extensive platform, which takes a human-centered approach, alleviates the concerns of its users and customers, allowing those customers and users to better prepare their businesses for the future of work. Other than that, PeopleHum is available in Arabic and English, which is also an important feature of HRM software in Singapore.
Features: 
Hire

Perform.

Manage

Engage.
Frontier e-HR
Frontier provides HRM and payroll software for small and large businesses in Singapore. Their software solutions, which have won multiple awards and are priced affordably, are HRM solutions to support standard HR procedures, including managing essential employee information and developing and engaging your workforce.
Features: 
Employee Self Service

Talent Management System 

ATS

Employee Onboarding 

Learning Management System
QuickHR
QuickHR has HRM tools to manage employee databases, process payroll, claims, and leaves, and generate HR reports. It is compatible with mobile apps for Android and iOS, in addition to desktop operating systems such as Windows and Mac. You can see a calendar view of the employees' license expiration dates, passport, identification card, or work permit details on the dashboard, in addition to the details of any upcoming training courses.
Features: 
360 Degree Feedback

Applicant Tracking System 

Employee Management 

Resume Parsing 

Automated onboarding
Payboy
Payboy is a cloud-based human resource management sotfware in Singapore that can handle all of your HR needs, such as payroll processing, managing leaves, time tracking, and making schedules. The software offers the most innovative and user-friendly user interface. Moreover, its also available on mobile apps, which makes it possible for you to manage your staff with HRM from any device at any time.
Features: 
Payroll Management

Statutory Compliances

Time & Attendance Management

Self Service Portal

Vacation / Leave Tracking

Mobile App
Also read: 5 Best Asset Software to Maximize Auditing Process
So, Which One Should I Choose?
All the human resource management (HRM) software mentioned above is the top human resource management in Singapore. In selecting any of the above HRM software, you must ensure it is compatible with your needs. We have compiled a list of the best HRM software, with HashMicro on the first rank. HashMicro, as the best HRM software in Singapore, provides complete comprehensive human resource management that is cloud-based and centralized in one platform, making it easier for you to organize your human resource-related tasks. 



Moreover, in an attempt to make your human resource-related tasks manageable, you may integrate with other software, for instance, Timesheet Management System, that will help you monitor and track employees' work hours easily and generate analysis reports of their performance automatically. You may consult with us to know more about automated HRM software in Singapore.