The supermarket business is a retail business that has great potential because its presence offers alternative products for customers that are not found in the traditional market. Although it is selling well because of its wide market share, the competition in this business is quite tight due to the rapid growth of supermarkets. Therefore, you need a good strategy so that your supermarket business can continue to grow and win the market segmentation. One of the best strategies you can use is by implementing supermarket software in your business.
The most relevant software used for the supermarket business itself is a cloud-based retail innovation system. In general, this software aims to maintain stock availability, employee productivity, and customer management of financial transactions of a business. So, why is this software considered suitable for minimarket businesses, and what are the advantages? Learn more to find the answer below.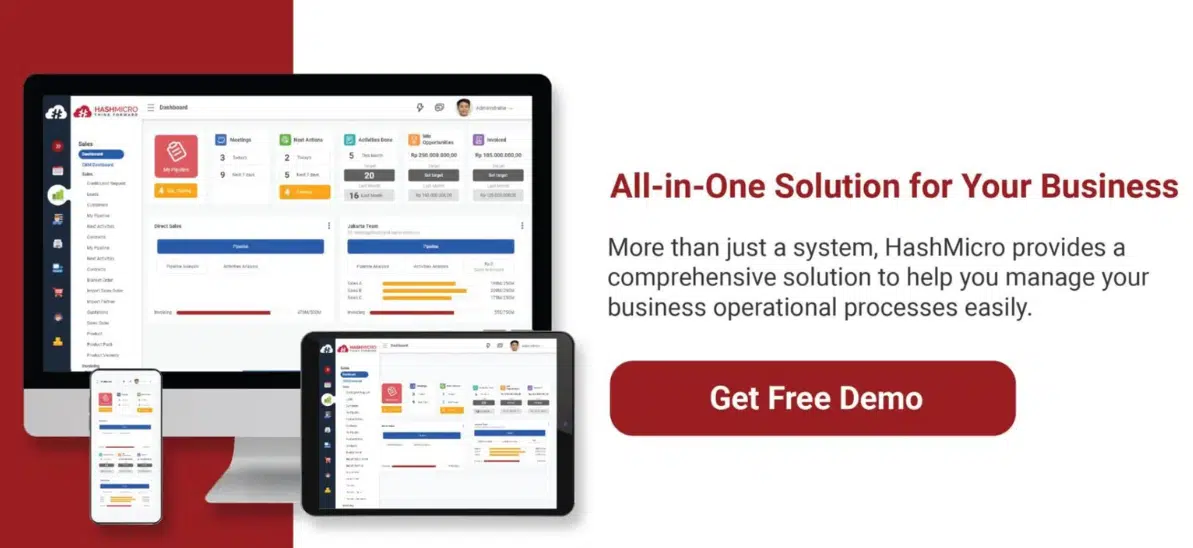 Supermarket Business Development Strategy
The supermarket business is now getting more and more fans. However, every supermarket owner needs to know a smart strategy to develop their business. If you are one of these people, you can apply several strategies to develop a supermarket business. The strategy can be in the form of changing the appearance of the store, maximizing the quality of service to expanding customer reach by opening several branch stores in strategic locations.
The development of increasingly massive technology can help you in developing a supermarket business. One of the technologies that you can take advantage of is the use of the best supermarket software in Singapore. With supermarket software, you can manage your business more efficiently even though you have to monitor a lot of branch stores.
Read More: How ERP Solve These 5 Supermarket Inventory Issues

Managing Branch Stores Easily with Hash Retail Innovation
Managing one supermarket is sometimes tiring, imagine if you have a lot of branches and you need to manage it fairly at the same time. If you don't manage it well, expanding outlets in various locations will only harm your business. In order for managing branch stores well even though you are not directly monitoring them, it is important for you to implement software in the form of online-based retail innovation software. With the supermarket software, you can control branch stores that are widely spread in various locations through one system. If the item that the customer is looking for is not available in one store, they can find it easily in another store using the same system.
Advantages of Using Retail Innovation by Hashmicro
Along with the development of increasingly sophisticated technology. The manual way of managing supermarket business has begun to be abandoned and has moved to use cloud-based minimarket software. There are various types of retail software options, but you must be careful in choosing which software is relevant to your business needs.
Download HashMicro's Retail Innovation Software Pricing Calculation Scheme to help you make the best decision. One of the best software providers that offer an essential retail system is HashMicro. What are the benefits that you can get when you use retail innovation software from HashMicro? Here are some benefits that you will get if you use HashMicro's Retail Innovation software for your supermarket business.
Improve inventory control with supermarket software
The main advantage that you can get by using supermarket software in the form of the best retail innovation system. The system helps you manage the stock of goods at various branch locations. Retail innovation software has the ability to provide detailed information. Information about various products such as when you need to re-stock the product with the right amount and time is also accurate. With a centralized and up-to-date work system, retail software can minimize the accumulation or shortage of stock items. So that you can maintain the quantity and quality of products in all branch locations.
Maximizing procurement efficiency with supermarket software
The stock of goods is really important so that supermarkets continue to sell complete products. To get a complete supply of goods, you as the procurement staff responsible for the procurement of goods must cooperate with several trusted suppliers. By using superior retail innovation software, you can submit purchases and the best offers from suppliers. You can also manage all supermarket procurement processes, from item identification to producing procurement reports more efficiently.
Increase customer retention with convenience store software
The completeness of products in meeting consumer needs is sometimes not enough to make customers feel satisfied and make them loyal. Another strategy that you can use to gain customer loyalty is to provide quality service that is fast, responsive, and accurate. Optimize the quality of your service by using retail innovation software integrated with the point of sales system. So that, you can handle the transaction process for every purchase of goods more efficiently and accurately. Not only that, but you also can increase customer retention.
Read More: Supermarket Management Software Benefit to Improve Business
Conclusion
As a businessman, maximizing technological sophistication is very crucial for your business, especially for the supermarket business. Leave the old system that works manually because it wasting of time and makes you unable to compete with competitors. Consider supporting services such as retail innovation software from HashMicro so that your business will be more attractive to customers.
Hashmicro's retail innovation software has full features that can be accessed anytime and anywhere. This software will automate various manual tasks from procurement and inventory management to customer retention. Let's move to HashMicro and download the retail innovation software pricing scheme to estimate the costs you will incur for the best supermarket business. Try out the free demo today!