In today's hyper-connected business landscape, effective customer relationship management is vital for sustained success. NetSuite CRM offers a comprehensive suite of tools and features, enabling you to streamline operations, enhance collaboration, and drive revenue growth. The software provides a unified platform to optimize your company's customer-centric strategies and achieve measurable results.
However, while NetSuite CRM offers a wide range of tools and features to streamline operations and drive revenue growth, it's important to consider both its strengths and potential weaknesses. Discover the comprehensive guide, authentic reviews, and pricing information of NetSuite CRM and its alternatives to make an informed choice that empowers your company's growth and success in 2023 and beyond.
What is NetSuite CRM?

Oracle NetSuite CRM is an integrated CRM solution with enterprise resource planning (ERP) capabilities, making it an ideal choice for growing and midsize companies. It offers a wide range of features, including sales automation, reporting, CPQ, partner management, marketing campaigns, and customer success features, all within the larger NetSuite business ecosystem. 
With NetSuite CRM, businesses can access core CRM functionalities such as contact and opportunity management, sales automation, and forecasting, as well as track marketing campaigns and customer support interactions. The CRM seamlessly integrates with Oracle NetSuite's cloud-based services, including ERP, enabling users to manage the entire customer journey from lead acquisition to order processing and customer service.
NetSuite CRM Modules
NetSuite CRM modules offer a robust set of tools and functionalities that empower businesses to streamline their operations, enhance collaboration, and gain valuable insights into their customer interactions. In this subheading, we will explore the various modules of this software and how they can revolutionize your business strategies in the pursuit of success.
Sales Force Automation (SFA)
NetSuite CRM's Sales Force Automation (SFA) module has a few highly useful features. With forecasting capabilities based on probabilities, businesses can make more accurate projections and strategically plan for future opportunities. The module also includes robust order management functionality, allowing businesses to efficiently process and track orders from initiation to fulfillment. 
Customer service and support
NetSuite CRM's customer service and support module offers a range of features. With online self-service capabilities, customers can track the status of their cases, submit inquiries, and communicate with ease. The module also enables efficient routing and tracking of support cases based on various criteria. Additionally, the module automates essential business processes through efficient case management.
Marketing automation
NetSuite CRM's marketing automation module simplifies and enhances marketing efforts with its range of features. With the ability to execute email marketing campaigns within a single system, businesses can efficiently reach their target audience. The module also provides rapid campaign tracking. This allows users to monitor the performance and effectiveness of their marketing initiatives in real-time.
E-commerce and flexible customization
NetSuite CRM's e-commerce and flexible customization module has the ability to capture micro-interactions. Because of this, businesses can gather detailed data on customer behaviors and preferences. The module also provides greater visibility into the products and services offered. It allows businesses to showcase their offerings effectively and provide a seamless browsing experience for customers. 
Advantages of NetSuite CRM
Oracle NetSuite CRM offers several standout features that make it an excellent choice for companies. Its integration with the Netsuite ERP module enhances CRM functionality by incorporating accounting, order management, and inventory tracking features. Additionally, the platform enables direct interaction between customers and partners. These advantages will lead to improved sales performance and increased customer satisfaction.
Disadvantages of NetSuite CRM
While this software offers a range of powerful features and benefits, it's important to consider potential drawbacks when evaluating its suitability for your business. Understanding these potential disadvantages is crucial for making an informed decision and ensuring successful implementation and utilization of any CRM software.
Lack of transparency on pricing
Unlike other CRM providers who readily display their pricing information, Oracle does not publish the pricing details on their website. Instead, businesses are required to contact the sales team for a product tour and pricing consultation. This means that obtaining a quote for NetSuite CRM depends on factors such as the size of the business, specific needs, industry, required add-ons, customizations, and any additional training or support required.
Cannot be used on its own
One significant limitation of Oracle NetSuite CRM is that it cannot be used as a stand-alone solution; you need to subscribe to the entire NetSuite platform. This means that companies cannot solely utilize NetSuite CRM without purchasing the vendor's entire suite of business apps. Small businesses with specific needs may find standalone CRM solutions more suitable and cost-effective. 
Complicated functionality
NetSuite CRM's functionality can be quite complex, requiring significant time and effort for setup. This level of complexity may be overwhelming for small businesses, as the platform is feature-rich and extensive. Although Oracle has made efforts to cater to the needs of smaller companies, some organizations may still find it too impractical for their daily operations.
Alternative to NetSuite CRM: HashMicro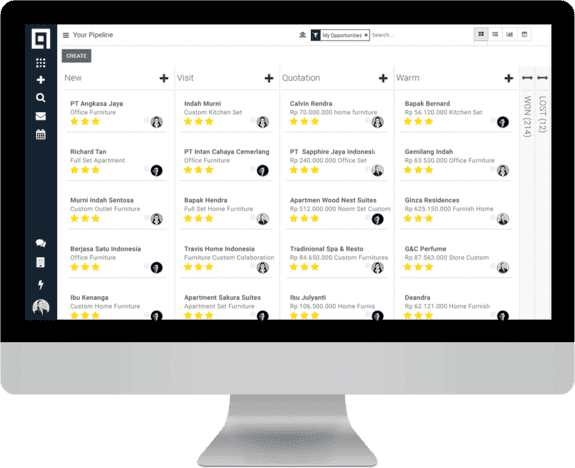 An alternative to NetSuite CRM that businesses can consider is HashMicro's Software. This fully-integrated CRM system is designed to automate the sales pipeline and maximize lead conversions. It is an effective CRM solution to enhance their sales and customer management processes. 
One of the key benefits of HashMicro CRM is its efficient lead identification feature, enabling businesses to identify qualified leads more easily. The software also offers automated reporting, providing real-time insights into sales performance. With HashMicro CRM, companies can effectively manage their sales pipeline, track sales team progress, and forecast revenue.
HashMicro CRM stands out with its seamless integration capabilities. It mainly aims to streamline workflows and enhance customer interactions, helping businesses effectively manage their sales and customer service processes. Additionally, it can integrate with various systems such as accounting, purchasing, inventory management, sales, and HRM systems.
Conclusion
In conclusion, NetSuite CRM offers a robust solution for companies in need of an integrated CRM system with enterprise resource planning capabilities. Its wide range of features makes it a comprehensive tool for managing customer relationships. However, it is important to consider the drawbacks of NetSuite CRM, which may present financial and usability concerns.

However, for those seeking alternative CRM software that focuses on ease of use and tailored solutions, HashMicro CRM emerges as a viable option. With its user-friendly interface and customizable features, the software provides businesses with the tools to effectively manage their sales pipelines, track leads, and enhance customer interactions. Schedule a free demo today and watch your business rise to the top!