As distributors strive to meet the ever-growing demands of customers, they face obstacles such as maintaining personalized interactions and efficiently tracking sales opportunities. Without an effective system in place, it's easy to lose track of customer interactions, overlook opportunities for upselling and cross-selling, and ultimately hinder business growth. This is where CRM for distributors steps in as a game-changer.
CRM software for distributors provides a centralized hub to streamline and automate various aspects of customer management. By organizing vital customer data, such as purchase history and demographic information, CRM systems enable distributors to gain valuable insights and tailor their services accordingly. From targeted marketing campaigns to personalized customer support, the right CRM solution can revolutionize how distributors engage with their clients.
In this article, we will explore the top 10 CRM systems for distributors in 2023. By leveraging these insights, businesses can make informed decisions that empower them to overcome challenges, enhance customer relationships, and drive sustainable growth.
What is CRM Software for Distributors?
Distribution CRM Software is a customer relationship management (CRM) solution specifically designed to meet the needs of distributors and wholesalers. The primary goal of this specialized software is to streamline and automate various aspects of distribution businesses, such as managing customer relationships, sales processes, and inventory. It helps businesses to gain a holistic view of their customers, enabling them to deliver personalized experiences and foster long-term loyalty.
Main Features of CRM Software for Distributors
Distribution CRM software offers a range of essential features designed to support businesses in the distribution industry. The following are the primary features that make this software an invaluable asset for distributors as well as wholesalers. By harnessing the capabilities of CRM software for distributors, businesses can streamline their processes.
Customer data management

: This feature allows businesses to centralize and organize customer information for easy access and analysis. This includes contact details, purchase history, and communication logs.

Sales and order tracking

: With this feature, distributors can monitor and manage their sales pipeline, track orders from initiation to fulfillment, and ensure timely delivery. It helps businesses stay on top of their sales activities and improve customer satisfaction through efficient order management.

Inventory management

: CRM software for distributor helps businesses optimize their inventory levels, track stock movements, and maintain accurate stock records. This feature aids in avoiding stockouts, reducing excess inventory, and improving supply chain efficiency.

Marketing automation tools

: These tools enable businesses to automate marketing campaigns, send targeted and personalized communications to customers, and track the effectiveness of marketing efforts. By automating marketing tasks, businesses can save time and resources while nurturing customer relationships.

Integration with other business systems

: Lastly, this integration capability is an important aspect of distribution CRM software. Integration with ERP systems, e-commerce platforms, and other software applications ensures seamless data flow across different departments, enhancing overall efficiency.
Why Your Business Needs Distribution CRM Software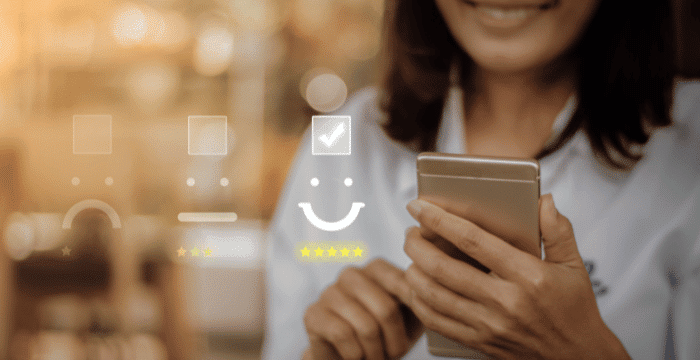 While CRM software is widely recognized for its benefits across various industries, businesses operating in the distribution sector stand to gain unique advantages from specialized distribution CRM software. Below, we explore how this technology can revolutionize distribution operations and drive business growth.
Streamlined sales process
By centralizing customer and sales data, businesses can automate and optimize their sales operations. The software enables sales teams to track leads, manage orders, and monitor inventory levels all in one place. This streamlines the entire sales cycle, from lead generation to order fulfillment, reducing manual errors and improving efficiency.
Moreover, distribution CRM software often integrates with other tools and systems, such as accounting software and inventory management systems. This integration ensures seamless data flow across different departments, eliminating data silos and fostering collaboration between teams. With a streamlined sales process, businesses can allocate sales territories and make data-driven decisions to boost sales and customer satisfaction.
Complete visibility
Distribution CRM software provides businesses with complete visibility into their sales and distribution operations. It offers real-time access to crucial data, such as customer information, order history, and inventory levels. This visibility empowers sales teams with accurate and up-to-date information. As a result, they can make informed decisions and respond swiftly to customer inquiries.
Additionally, distribution CRM software enables businesses to track and monitor sales activities across different channels and territories. Sales managers can easily view and analyze sales performance, identify trends, and evaluate the effectiveness of marketing campaigns. This comprehensive visibility helps businesses optimize their sales strategies, identify growth opportunities, and align their efforts with customer demands.
Detailed analytics
Finally, effective decision-making relies on data-driven insights, and distribution CRM software excels in providing detailed analytics. By capturing and analyzing vast amounts of customer and sales data, the software generates valuable reports and metrics. These analytics offer businesses a deeper understanding of customer preferences, buying patterns, and market trends.
With detailed analytics, distributors can identify their most profitable customers, segment their target market, and personalize their marketing and sales efforts accordingly. They can also assess the performance of sales representatives and evaluate the success of promotional activities. Ultimately, this approach enables businesses to optimize their sales strategies and enhance customer satisfaction.
10 Best CRM Software for Distributors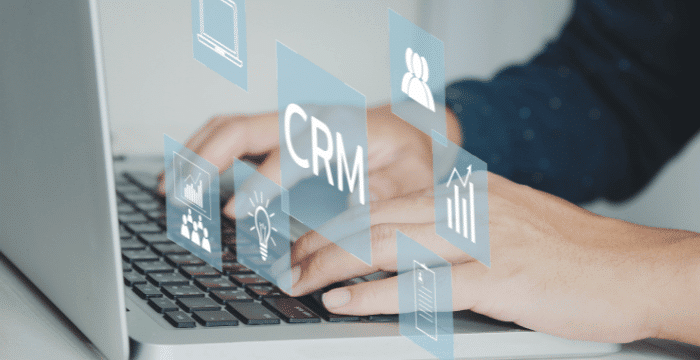 To effectively manage customer interactions and track leads, businesses rely on Customer Relationship Management (CRM) software. These robust tools serve as a backbone for distributors, empowering them to optimize their sales operations and foster long-term customer loyalty. Below, we provide a comprehensive list of the ten best CRM software options specifically tailored for distributors.
HashMicro CRM Software
HashMicro is a leading CRM software solutions provider for businesses across various industries, including distribution. It assists businesses in lead conversion and sales tracking. Key features offered by the software encompass sales pipeline management, sales team management, revenue forecasting, email marketing management, call logging management, and sales report generation.
HashMicro's CRM software has the capability to seamlessly integrate  with other essential business system. These include accounting, purchasing, and HRM. In addition, its integration with inventory management system allows businesses to provide accurate delivery dates and inform customers about product availability. By delivering on-time and accurately, distributors can enhance customer satisfaction and build stronger relationships with their clients.
Another notable feature of HashMicro is its mobile accessibility, allowing distributors to access critical information and perform essential tasks on-the-go. This is especially valuable for sales representatives who need to access customer data and update information while visiting clients or attending events. Additionally, it is highly customizable, enabling distributors to adapt it according to their specific requirements.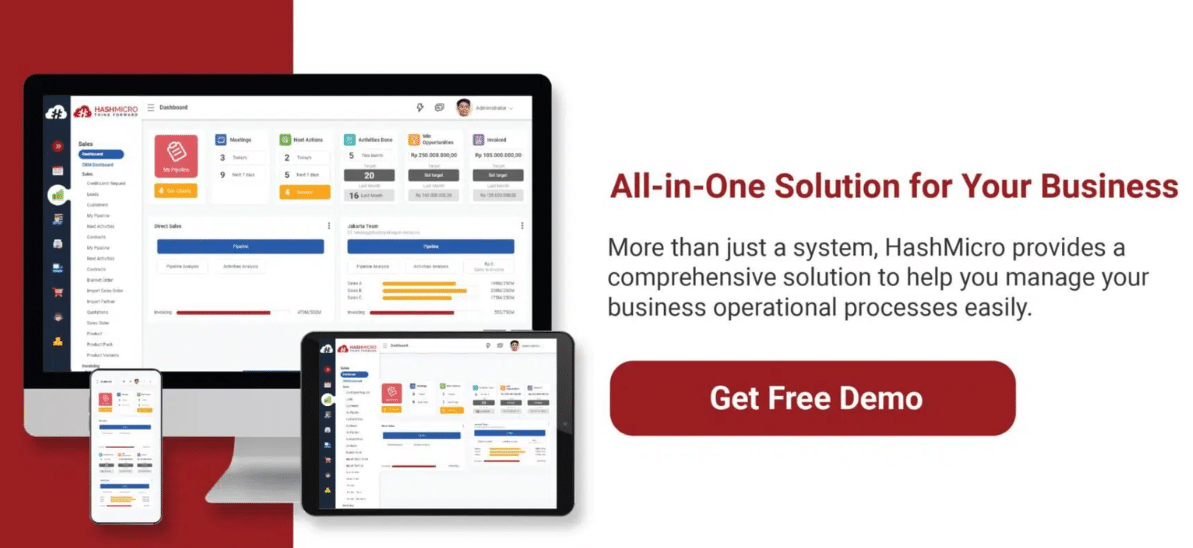 HubSpot
HubSpot is a sales-focused Customer Relationship Management (CRM) solution. It provides robust sales tools designed to enhance pipeline management. Its key features include a full-fledged sales CRM, sales engagement tools, quotation, and Configure, Price, Quote (CPQ) functionalities. Additionally, it integrates with various applications available on HubSpot's expansive App Marketplace at an additional cost.
Zoho
Zoho CRM is a cloud-based software solution that empowers small distributors to streamline their sales processes and enhance customer relationships. It offers features such as lead management, contact and account management, and analytics. Zoho CRM also provides integration with various third-party applications, such as Microsoft 365 and Twilio.
Keap
Keap CRM is a fully featured sales automation software designed to serve SMEs, startup, agencies, and enterprises. It provides end-to-end solutions designed for web apps. This software offers acquiring new leads, email marketing, and client management in one place. Moreover, Keap offers robust e-commerce capabilities that enable users to set up online shopping carts.
Freshsales
Freshsales is a sales Customer Relationship Management (CRM) solution developed by Freshworks. It comes with a range of functionalities, which encompass AI-powered lead scoring, intelligent workflow automation, and visual representation of the sales pipeline. In addition, the software also provides email tracking and analytics capabilities.
LeadSquared
LeadSquared LeadSquared is a client acquisition platform that combines the functionalities offered by both customer relationship management (CRM) systems and marketing automation tools. With LeadSquared, users can automate lead generation, marketing, and sales CRM. In addition, it offers seamless integration with various applications, including LiveChat and Zopim.
Salesforce
Salesforce is a renowned CRM software that offers a wide range of capabilities for distributors. It caters to both business-to-business (B2B) and business-to-customer (B2C) sales, marketing, and customer support operations. Its features include lead and opportunity management, contact and account management, and sales forecasting. Salesforce enables users to collaborate in real-time, as it is a Software-as-a-Service (SaaS) solution.
Pipedrive
Pipedrive is a CRM solution for distributors seeking a user-friendly system equipped with essential functionalities. It includes pipeline management and activity tracking. Pipedrive automatically tracks and organizes calls and emails, synchronizing schedules seamlessly across multiple devices. One of its standout features is the ability to visualize the entire sales process, making it suitable for small and mid-sized enterprises.
Infor
Infor is a CRM software solution provider for small to mid-sized businesses. It is equipped with features for CRM and Sales Force Automation (SFA). This encompasses efficient management of contacts and customers, streamlining of sales operations, and effortless identification of sales opportunities. Additionally, Infor CRM provides the flexibility of deployment options. It can be installed on a server through an on-premise software license or seamlessly deployed in the cloud.
Nimble
Lastly, Nimble is a CRM platform that combines relationship management with social media integration. It provides contact and account management, lead tracking, and social listening capabilities. Nimble gathers information from various social media platforms, allowing distributors to gain insights into their customers' activities and preferences. With its focus on social engagement, Nimble offers a unique approach to CRM for distributors looking to leverage social media for sales and marketing.
Conclusion
In conclusion, CRM software has become indispensable for distributors in today's highly competitive business landscape. Selecting the right one can make all the difference in enhancing customer relationships and ultimately driving success. Each of the software mentioned above offers unique features and capabilities that cater to every aspect of a distributor's business needs.

Among these top contenders, HashMicro's CRM Software stands out as the ideal solution for distributors. With its comprehensive suite of features, user-friendly interface, and seamless integration capabilities, the software empowers distributors to effectively manage their sales processes. Experience its unparalleled advantages today and get up to 50% off on the Productivity Solutions Grant to kick-start your business growth!