In today's digital age, where online shopping has become the norm, ecommerce businesses face a multitude of challenges. From capturing and retaining customers to managing complex marketing campaigns and fulfilling orders seamlessly, the demands on online retailers keep increasing. To succeed in this dynamic marketplace, it is crucial for businesses to leverage technology to gain a competitive edge. One such solution is the best CRM for ecommerce that caters to their unique needs.
A robust CRM solution specifically tailored for the unique needs of online businesses can provide the competitive edge necessary to navigate the intricate world of e-commerce and propel businesses towards success. In this article, we will delve into the top CRM options available in the market and how they can help e-commerce businesses overcome their challenges and thrive.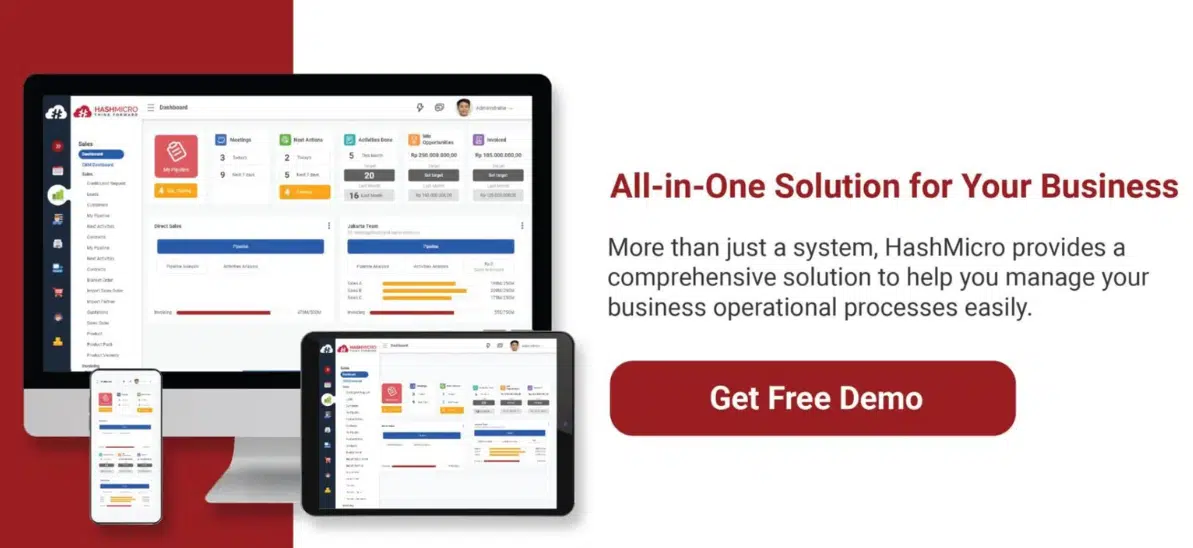 What is E-commerce CRM Software?
E-commerce CRM software is a CRM system designed specifically for e-commerce businesses. It combines traditional CRM functionality with features tailored to the needs of online retailers. The overall goal of the software is to help businesses build and maintain strong customer relationships, increase customer satisfaction and loyalty, drive sales, and ultimately grow their online business.
The software helps businesses manage and optimize their interactions with customers throughout the entire customer lifecycle, from acquisition to retention. It centralizes customer data, automates various processes, and provides tools to enhance customer engagement and sales. In addition to CRM for e-commerce, there are also similar types of CRM available. Among them are distributors CRM and startup CRM.
Features that the Best CRM for Ecommerce Must Possess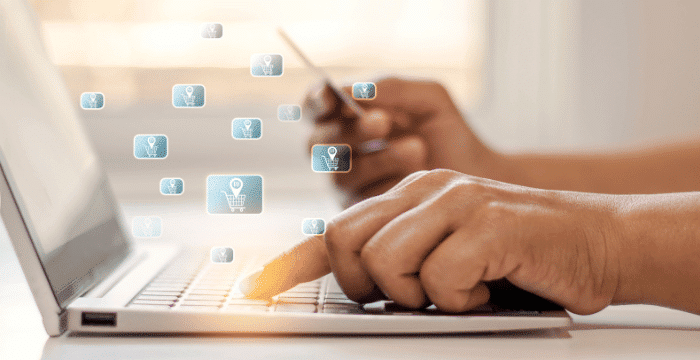 The best CRM for e-commerce must offer a range of essential features to effectively manage customer relationships and drive sales. The following are some of the key features that businesses should look for when selecting a CRM solution tailored for the e-commerce industry. These features play a vital role in enhancing customer engagement, improving marketing efforts, and streamlining order management, 
Contact management
Firstly, contact management is a fundamental feature that a CRM for e-commerce must possess. It allows businesses to store and organize customer information in a centralized database. This includes capturing essential details such as contact information, preferences, and interactions. This feature allows businesses to gain a holistic view of their customers, track engagement levels, and personalize interactions.
Email marketing
Effective email marketing is essential for e-commerce businesses to engage customers and drive sales. A CRM designed for e-commerce should include robust email marketing capabilities, such as sending personalized email campaigns, automated campaigns, as well as transactional emails. Additionally, it should provide user-friendly email builders with customizable templates, dynamic content, and personalization options.
Additionally, features such as A/B testing, email analytics, and deliverability tracking are vital for optimizing email marketing performance. Advanced segmentation capabilities allow businesses to target specific customer segments with relevant offers and promotions. With powerful email marketing features, businesses can nurture leads and promote products.
Order management
Lastly, efficient order management is critical for e-commerce businesses to ensure timely deliveries. A CRM for e-commerce should include comprehensive order management functionality. For instance, order tracking, inventory management, and fulfillment capabilities. Businesses should be able to manage orders from placement to delivery, monitor order status in real-time, and provide customers with updates throughout the fulfillment process. 
The CRM should integrate with e-commerce platforms, payment gateways, and shipping providers to automate order processing and streamline workflows. Additionally, the CRM should support returns management, refunds, and customer inquiries related to orders. With robust order management features, businesses can improve operational efficiency and minimize errors.
The Importance of Utilizing Ecommerce CRM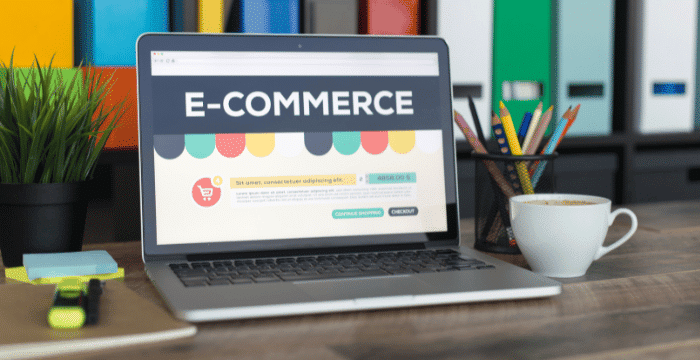 For businesses operating in the e-commerce industry, utilizing an e-commerce CRM system is essential. The system provides a comprehensive solution for managing customer interactions, sales, and marketing efforts in the digital realm. By centralizing customer data and leveraging advanced features, businesses can enhance customer satisfaction, drive sales, and foster long-term loyalty.
E-commerce CRM software automates and streamlines sales and marketing processes. It offers tools for managing customer interactions, tracking leads, and monitoring sales pipelines. As a result, businesses can automate tasks like email marketing campaigns and lead nurturing. This automation saves time and ensures consistent communication with customers. By optimizing these processes, e-commerce businesses can enhance efficiency and increase productivity.
CRM software collects vast customer data, capturing every interaction and purchase. This information offers valuable insights into customer behavior and preferences. Ecommerce CRM consolidates this data for businesses to comprehend their customers better, personalize marketing, and deliver targeted experiences. By harnessing the power of customer data, businesses can adapt strategies to meet individual needs, enhancing satisfaction and loyalty.
Lastly, e-commerce CRM improves customer support and service. It allows them to centralize customer inquiries and support tickets, ensuring that nothing falls through the cracks. With a holistic view of customer interactions, businesses can provide efficient support, resolving issues quickly. This level of customer service not only improves customer satisfaction but also helps build a positive brand reputation and encourages repeat business.
10 Best CRM for Ecommerce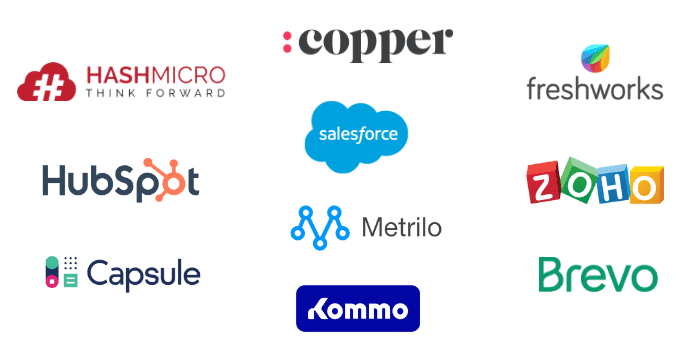 HashMicro
HashMicro is a software solution that helps you manage your customer data, sales activities, and marketing in a centralized and easy-to-use platform. This software equips businesses with the necessary tools to effectively manage and optimize their sales processes, empowering them to achieve higher customer satisfaction and increased revenue.
Its features encompass sales pipeline management, revenue forecasting email marketing management, and sales report generation. HashMicro's CRM Software offers integration capabilities with other essential business systems. This includes accounting, purchasing, HRM, and inventory management systems. This integration provides e-commerce businesses with a holistic view of customer information and financial transactions.
HubSpot
HubSpot CRM is one of the most popular CRMs on the market that offers advanced features, like call tracking, email templates, and email tracking. Moreover, its sales automation feature enables the setup of personalized email sequences and follow-ups throughout the sales cycle. The CRM integrates with other tools such as marketing automation platforms, analytics tools, and payment processors. This centralization allows businesses to manage customer relationship data across multiple channels.
Capsule
The capsule is a cloud-based CRM that empowers small to medium-sized businesses to forecast sales pipeline value and total opportunity value. The software's features encompass contact management, sales pipeline, sales analytics, and calendar management tool. Additionally, the software supports integrations for email marketing and document management, such as Outlook and Gmail. With Capsule, users can define sales processes with configurable milestones for each stage of the pipeline. 
Copper
Copper is a CRM software suitable for smaller companies. One of its standout features is its simple setup that eliminates the need for manual data entry. Copper automatically organizes emails, files, and notes for each contact, providing a comprehensive view of relationship history and enabling quick access to vital information. Furthermore, the software excels in integration, particularly with Google Workspace tools such as Gmail, Docs, and Drive, resulting in a seamless and intuitive experience.
Salesforce
Salesforce is a widely recognized CRM platform that caters to both B2B and B2C markets. Its capabilities include lead management, marketing automation, and contact management. The software also delivers various sales forecasts, including subscriber retention, email engagement, and revenue. With Salesforce, businesses can manage customer accounts, track sales leads, execute marketing campaigns, and gain access to post-sale services.
Metrilo
Metrilo is a  CRM solution tailored for e-commerce teams with advanced data analytics capabilities for customer and sales insights, including purchase frequency and revenue attribution. Its key features include customer profiles that provide in-depth information on purchase history, audience segmentation, and email automation. It provides a wide range of filters and pre-configured filter combinations, resulting in valuable sales opportunities. 
Freshworks
Freshworks, also known as Freshsales is an all-in-one platform that combines sales and marketing efforts to convert prospects into loyal customers. The top features of Freshworks CRM encompass email marketing, multichannel communication, AI chatbots, and sales forecasting. Furthermore, the software provides a 360-degree view of customers, allowing teams to gain a deeper understanding of their audience.
Zoho
Zoho is a widely used CRM platform by e-commerce brands of all sizes. It provides a comprehensive set of tools, from omnichannel interactions and customer segmentation to marketing automation. With Zoho, businesses can reach customers across every channel. The software's predictive intelligence features further enhance customer experiences by leveraging data and analytics to anticipate their needs and deliver personalized recommendations.
Brevo
Brevo is a sales and marketing toolkit for small and medium-sized businesses. It offers a range of features to manage customer relationships and streamline sales processes. These features include marketing platforms to create campaigns, sales platforms, personalized chat tools, and email API. The software also offers integrations with popular platforms such as Magento, Gmail Contacts, and WordPress
Kommo
Lastly, Kommo is a versatile CRM solution that elevates customer conversations. It leverages messenger platforms and enables businesses to establish their own code-free chatbots, ensuring 24/7 online availability. It also enables businesses to chat and email prospects directly from the CRM. This integration fosters personalized connections with customers. One of its notable features is a customizable pipeline that tracks customers and organizes clients.
Conclusion
In conclusion, with the exponential growth of online shopping, customer relationship management has emerged as a key determinant of success. Embracing e-commerce CRM is a strategic decision that can propel businesses to thrive and succeed. By effectively managing customer interactions and automating processes, CRM software empowers businesses to build strong customer relationships, boost sales, and enhance overall efficiency. 
Among the myriad of options available, HashMicro's CRM Software stands out as the ideal choice with its comprehensive features, user-friendly interface, and seamless integration capabilities. From robust customer segmentation and personalized marketing campaigns, the software delivers unparalleled value to e-commerce businesses. Schedule a free demo now to experience the transformational power it brings to your operations.