Compared to other social media platforms, WhatsApp has the most monthly users, roughly more than 1,5 billion of them. This is what drives top companies around the world to utilize this chat platform to market their products through WhatsApp marketing.
Two main keys that differentiate WhatsApp from other social media platforms are; it's more personal and the messages conveyed are authentic. Besides, the user number growth is what makes WhatsApp marketing interesting.
By using a marketing automation system, companies can increase targeted prospects, build better relationships with clients, and optimize marketing efforts. You can also send campaigns to WhatsApp contacts directly from the system.
However, WhatsApp has limitations. WhatsApp does not have advertising features thus grabbing potential customers to contact you via WhatsApp requires creativity. Moreover, WhatsApp group chat is also limited to 256 recipients at a time. That's why WhatsApp is not the best option for you to run a large-scale campaign.
Therefore you need a strategy to increase sales with WhatsApp marketing. Here are some of them:
Table Of Content
WhatsApp Marketing Strategy
Improved customer service
WhatsApp is the best platform to increase conversion rates. According to a survey conducted by Nielsen, more than 67 percent of respondents prefer to communicate via chat with businesses. Also, 53 percent of respondents prefer shopping with stores that respond to their chat.
This data proves that chatting helps you increase sales and provide better customer service. This data proves that using WhatsApp for business helps you increase sales and provide better customer service. Not only that, WhatsApp's features such as chat, voice chat, and video calls are useful to provide better assistance for your customers. You also can provide better and faster services to your customers by using WhatsApp Web on your PC or laptop.
Also, use the call logging management feature of the CRM application to log conversations in each call, increase understanding of prospects, and optimize customer service.
Leverage WhatsApp features
WhatsApp has a myriad of features that can be used to maximize your sales. For example, you can post announcements about your business on your status. You can post a status update about ongoing promotions, or tell your customers to take a screenshot of a QR code that you post on it and get a discount when shopping at your store.
Another useful WhatsApp feature is location sharing. If your customers ask where your business is located, you can share your business location via WhatsApp. Then your customers only have to open the message and Google Maps will direct them to your location.
Make interesting messages
The main advantage of WhatsApp marketing is its personal and authentic nature. But to grab your customers' attention, you have to be super creative when composing the message. Luckily, WhatsApp has the features you need.
There are various formatting options that you can utilize. For instance, you can bold or italicize to emphasize your words. To bold, put your words between asterisks (example: * bold *). As for italic, put them between underscore (example: _italic_).
You can also send videos, GIFs, and pictures along with your message, to make it more appealing to customers. But avoid spamming entirely. Send your message in paragraphs so it's easier on the eyes. Keep it brief and interesting.
Also read : Microblogs as Content For the Latest Marketing Methods
WhatsApp marketing tips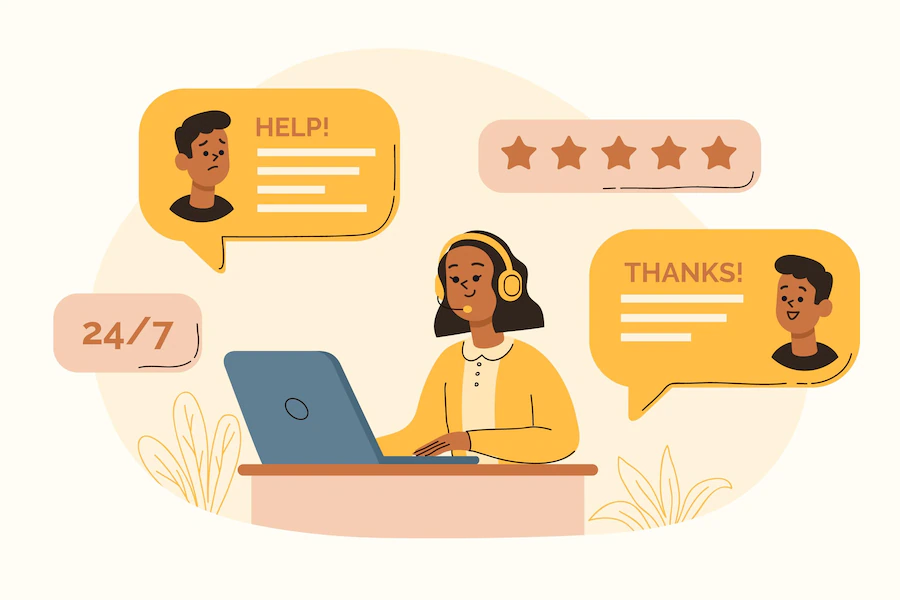 Gather your contacts
There are ways for you to gather contacts. You can hold a seminar or exhibition and make sure the participants fill in a form with WhatsApp contacts. Your seminar/exhibition may not bring in sales, but you can follow up those WhatsApp numbers and convert them to sales later.
You can also gather contacts with other social media such as Facebook and Instagram. Run a simple promo on social media that requires your customers to fill in their WhatsApp contact.
Ask customers to save your contacts
The purpose is to make sure your customers can receive your broadcast message. Make sure the participants fill in the form and remind them to immediately save your contacts on their mobile phones.
Send broadcast regularly
Remember, do not annoy your customers by spamming messages after messages. Set the delivery time properly so the recipient will not block your contact because you send them too often.
Keep messages short, but interesting enough. Customize the message content with your customer demographics. For high school and university students, use unique pictures, GIFs, or stickers but still relevant.
Also read : 7 Effective Tips for Social Media Strategies to Improve Your Business!
Conclusion
Utilizing social media as a means of marketing is an effective way to boost sales figures. WhatsApp is one of the most famous chats and social media platforms in the world so many businesses take advantage of this to market their products and services.
To improve customer service, there are also those who integrate WhatsApp services with the software used in the company. For example, integrating WhatsApp with the Helpdesk system to facilitate communication with customers.
Consult your software needs with our team, fill out the form below and our team will contact you.