Almost every business today is required to have a good strategy for maintaining relationships with customers. One of the reasons is the increasing number of businessmen which makes the competition even more competitive. So we need a program like CRM Software. What is a CRM system? CRM can help the business to be able to retain its customers. This is where CRM has an important role for every existing business.
Customer relationship management aims to improve company management to be more optimal. Customer relations management is essential for companies, especially enterprise companies. This is because the company will find it difficult to manage customer data manually. CRM means customer data management. The data companies manage are very diverse and varied in the application of CRM. This is what makes companies need a CRM system. This article will thoroughly explore CRM System, why it is so important to businesses, and what features the program has.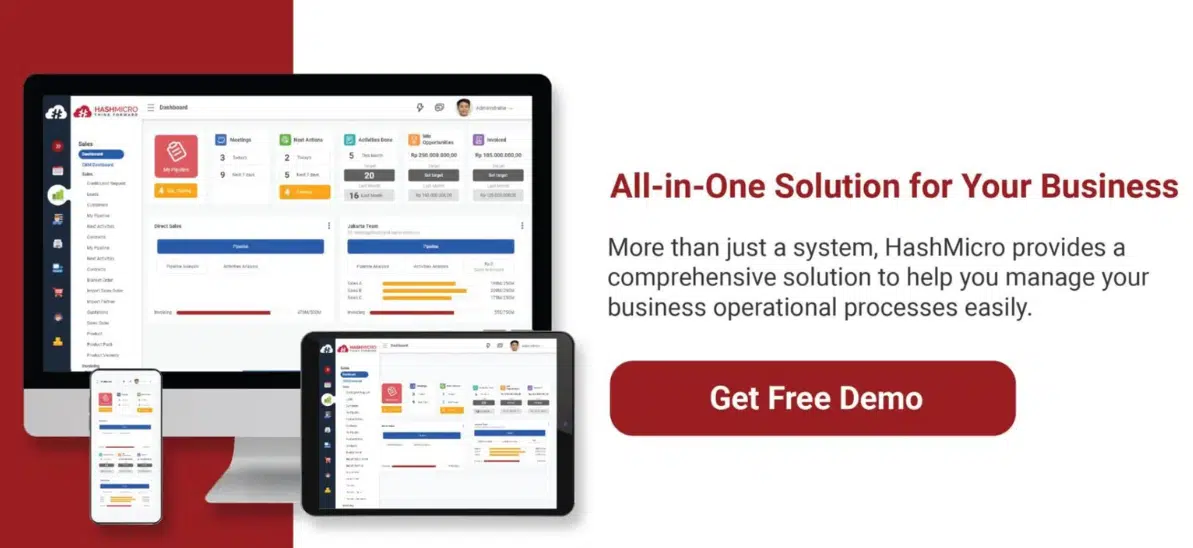 Table of Contents
Understanding CRM System
What is CRM System? Customer Relationship Management is a method to manage company interactions from potential customers to existing customers. In addition, this program can help to attract business sales prospects, convert them into customers, retain existing customers, and create satisfied and loyal customers. CRM software is used to manage data, automate, and synchronize sales, marketing, also customer service. CRM can be used in many industries. For example, there is even CRM software for personal trainers.
In addition, CRM solutions can also make it easier for managers to determine the best marketing strategy. CRM software has complete features such as salesforce. Salesforce CRM is an essential CRM feature for recording product sales in real time. CRM systems can provide very accurate data about any sales you can apply to your business. Customer relationship management software can also provide data about customer needs in the market. Managers can see what products are selling well in the market to determine what customer relationship management programs they can apply to their business.
Also Read: What is Cloud and The Advantages for Singapore Companies
Customer Relationship Management (CRM) Software Purposes and Functions
After knowing the meaning of Customer Relationship Management, we must also know its purpose. CRM itself aims to find out as much as possible about what and how customer needs and behavior are. So that later from the customer's data, companies can provide optimal service and maintain relationships with existing customers. Because the key to the business's success is also very dependent on how much we know about the customers we have and meet their needs.
Meanwhile, the function of CRM is to improve customer experience, namely by increasing customer loyalty so it can lead to customer retention. Which provides benefits for the business in the end. This system is also a process of identifying potential customers. By guiding them throughout the sales process via the sales funnel, until finally, a close deal occurs. Customer Relationship Management itself spans many areas within the organization such as; sales, customer service, and marketing.
Read the related article: What is ERP and Why is It Important for Businesses?
CRM Software Features
In CRM applications, the common features that can be found are:
1. Contact management
With contact management, companies can track and change customer information. Such as contracts, invoices, and other documents related to customers. This feature in the CRM system is a must-have feature for the CRM system. This is certainly none other because Customer relationship management software serves to improve the relationship between companies and customers. The company can contact customers at any time in bulk either via email or WhatsApp. This is so that customers remember if they have purchased and used products from you.
2. Database management
Database management features can greatly help all departments within the company to access the same information easily and centrally. Furthermore, if you want to manage data comprehensively, you can use ERP Software. In addition, the software also allows you to customize the design, manage, and track the process of data transfer.
3. Prospective customer management
With this feature, companies can track where leads are coming from and see their progress down the funnel through the sales pipeline. One of the important features of a customer relationship management program is sales. Companies can record and process sales data automatically with the help of salesforce CRM. This feature of CRM systems can be easily applied by companies to find out where their sales are coming from. It is useful to see the prospects of each website with CRM tools.
Customer relation management functions so that the company gets maximum sales. In addition, customer relationship management is also useful to make it easier for companies to analyze and process sales data optimally. Real-time data from the CRM system combined with cloud CRM makes the company's sales management more optimal. Cloud CRM serves to simplify the process of installing a CRM system and simplifying the operation of CRM software.
Benefits of Customer Relationship Management (CRM) Software
There are several benefits that we can get from using a CRM system, here are the reviews:
1. Well-managed customer data 
CRM system can help you to collect, store, and analyze all data from your business customers. In addition, you can view your customer data as a whole. The data we can find usually starts from customer profiles, purchase history, conversations with your team, and marketing opportunities, also analyzing reports. Because with the software, all customer data is in the same system. With that, based on the customer data we have as entrepreneurs, we will be able to develop the right strategy both to determine promotions and the right type of product for these customers.
2. Lot easier in making sales reports 
Based on the description of the features, we know that CRM System is equipped with special features to look at business sales activities. You can monitor the progress of your sales. With automation, all data processing can be done with just a few clicks. Without needing to input sales data one by one, we can analyze and evaluate business strategies more easily. To simplify the sales process, use sales software for your business. The software helps you optimize cash flow and calculate sales commissions accurately based on sales targets.
3. Predict sales performance
With a lot of sales data, of course, it will be very useful for a business. Because how to measure the success of a business is to the maturity of its marketing strategy. Since this CRM system helps businesses by processing sales data, we can design a marketing strategy based on previous sales data. In that way, the strategy that we will develop will have readiness before we execute it. 
Maximizing Customer Relationship Management with a CRM Software
A CRM system can help businesses to improve interactions with customers by enabling the company to access relevant customer data and ensuring that customers receive positive experiences. By gathering customer data, a CRM system helps businesses to understand customer needs and create more effective marketing strategies.
Additionally, a CRM system helps businesses to improve customer retention and expand their market share through cross-selling and upselling. By utilizing a CRM system, businesses can optimize their customer experience and build stronger relationships with their customers.
Measuring ROI and Success of a CRM Software Implementation
One way to measure the ROI of CRM system implementation is by calculating the operational costs and benefits generated, such as increased sales, customer retention, and reduced marketing costs. Additionally, measuring the success of a CRM system can be done by analyzing the system usage by the sales team and customers, customer service performance, and customer satisfaction rates.
By doing so, businesses can evaluate whether the CRM system has helped them achieve their business goals and improve operational efficiency. Measuring the success of a CRM system is essential to ensure that your investment in it is beneficial and provides long-term advantages for your business.
Choosing the Right CRM Software for Your Business Needs
Choosing the right CRM system for your business involves several factors such as the size of the business, budget, required features, and specific business needs. There are several types of CRM systems available, including cloud-based CRM, on-premise CRM, and open-source CRM. The choice depends on your business needs and preferences.
Additionally, choosing a reliable and trustworthy CRM vendor is crucial to ensure security and adequate support during implementation and usage. Considering all these factors carefully and making decisions based on your business needs and priorities will help you choose the right CRM system and provide the best benefits for your business.
CRM Risks and Challenges
The use of CRM software carries risks and challenges, such as implementation issues, costs, data availability, regulatory compliance, user training and adoption, user errors, and poor data quality. Companies need to pay attention to these factors to minimize risks and optimize the use of CRM software.
Conclusion
Of course, after knowing what CRM is, how it works, and how it benefits people's businesses. We should become aware of how important CRM is for business people. Because in that way, the business we live in can continue to grow and compete in this highly developed and competitive era.

Please ask the right CRM solution provider if you still have questions regarding CRM software. HashMicro provides free consultation for those of you who are planning to implement a CRM system in your business. Click here to find out the consultation methodology provided by HashMicro.