The existence of a franchise in Indonesia is currently quite capable of keeping up with other businesses. This business has great potential to compete with various existing business industries. Beverage, food, and even laundry franchises are some examples of business opportunities that are currently busy. To find out more about franchising, let's see this article!
Franchise meaning and Terms in It
So, what is franchise? A franchise is a business formed by an organization, then purchased and owned by individuals for profit. A franchise is a type of business that runs with many individuals but still carries the same brand. This will make the business picture look bigger. So in general, a person who runs this business gets the right to use the trademark in accordance with the applicable agreement.
This business is quite profitable for most people. No wonder, nowadays many young people are running a franchise business as a medium that brings income for them. The contemporary culinary business is one of the most popular and has many customers.
There are several terms that you need to know before starting a franchise business that can help you understand the systems in it:
Franchisor
This term refers to the franchisor who gives the individual the right to use the business mark and also provides the supporting tools used in the business.
Franchisee
These parties are individuals who receive the rights from the franchisor to operate, manage and use the trademarks and systems in the business.
Franchise fee
When a franchise starts operating, there is a fee to be paid. This fee is a franchise fee. The franchisor will receive payment fees in accordance with the existing conditions.
Of course, these costs have their own functions. There are several processes in business that require fees from a franchise fee, including:
Operational costs for equality between franchises
Making audits and conducting business evaluations
Franchise development and marketing activities
Read: 7 Ways to Start a Successful Franchise
Franchise Legal Instruments in Indonesia
The franchise business had previously been popular in the United States in the early 1960s. As a result of the many existing franchise businesses, there were many violations of the law that occurred at that time. For example, the fraudulent practice of selling fake licenses has never been tested. This incident led to the failure of investors who invested their funds in the business. Therefore, in 1960 the government formed the International Franchise Association (IFA).
In Indonesia itself, the government has established a legal instrument for the Regulation of the Ministry of Trade of the Republic of Indonesia Number 71 of 2019 concerning the Implementation of Franchising.
The business needs to meet the criteria that the Indonesian Minister of Trade has designed for this business, including:
Have business characteristics
Can provide benefits and have a minimum of 5 years experience, and have business tips in dealing with business problems
Have a standard offering of goods or services in writing
Franchise managers can easily apply the business
There is support by the franchise manager, such as: training, operational guidance, and promotion
Registering Intellectual Property Rights.
Indonesia itself allows franchise founders from within and outside the country. However, the government requires both parties to have a Franchise Registration Certificate (CRF). CRF is a document that can prove that the registration of the offer prospectus and the franchise agreement has met the requirements.
Franchise Agreement in Indonesia
In addition, the franchise manager is also have to register a franchise agreement. This agreement is written in Indonesian and contains the following information:
Company names and addresses of all parties in it
Name and type of Intellectual Property Rights
Forms of business characteristics such as management systems, marketing, and etc
Area of ​​business establishment
Agreement time period
Extension, termination, or termination of the agreement
Problem-solving system
Reward payment system
Franchisee training
Ownership and heirs
The parties can apply for CRF through the Online Single Submission agency. OSS is an integrated electronic business licensing system.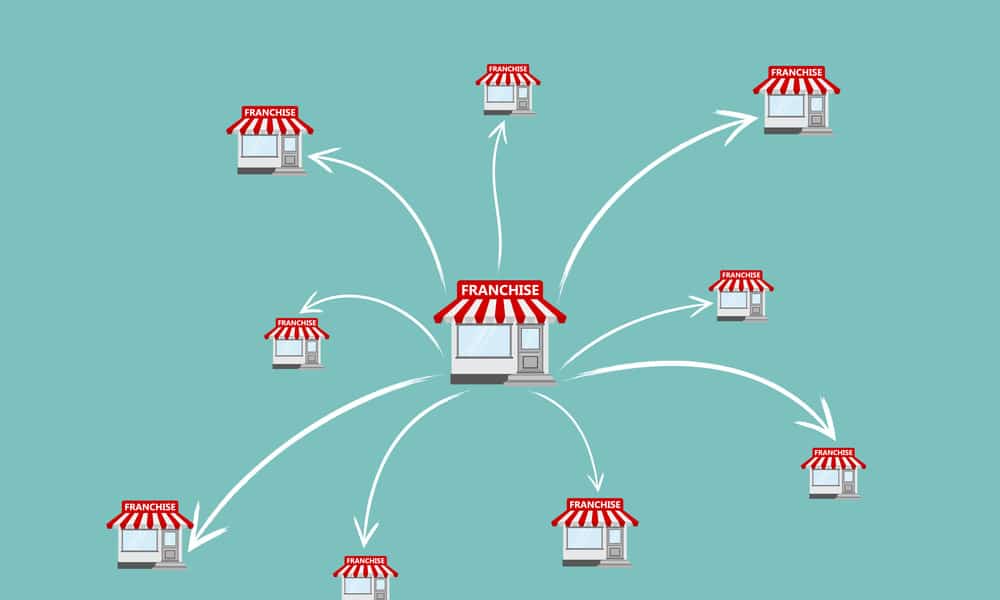 Advantages and Disadvantages of Franchise Business
In every thing you take, it must have advantages and consequences at the same time. Therefore, make sure you know what benefits and consequences you will receive in every decision you make.
Advantages of doing a franchise business
Here are some of the advantages that you can feel when you run a franchise business:
The business has been structured. Franchisees no longer need think about how the sales system should work. The franchisor has set the standard in running his business. Starting from the form of service, offering goods/services, and business and financial management has been tested.
A brand that is already familiar to the public. People are usually familiar with franchise brands, so this franchise business already has the trust of consumers. In addition, business actors do not need to bother doing large-scale promotions because generally well-known brands already have their own market.
Get help and support from the franchisor
This business is easy to run because all the requirements and procedures of the franchisee are available. They will also receive training in running a business.
Weaknesses in the franchise business
However, there are consequences that they really need to face in running this business, such as:
Businesses are always tied to the franchisor. You cannot develop or change this business system because everything has been arranged by the franchisor
Requires a large initial capital and profit-sharing. This happens in every franchise business. For information, the bigger the franchise brand you buy, the greater the initial capital and royalties you have to pay.
Business reputation is interdependent with other franchisees. Of course, this is a risk that you have to accept in a franchise business. At some point, you may have to share in other people's business mistakes.
Steps to Start a Franchise Business
There are several things you need to consider before starting this franchise business. Here are the steps you need to do before starting a franchise business so that the business runs smoothly:
Create a perfect business system
In any business, you need a system that can help all your business activities. If the system you choose is not right, it's not impossible that your franchise will have to go out of business.
Have a good business proposal
In this proposal, you need to write down the budgets you need to open a franchise business. This proposal will be closely related to the level of credibility and trust of the franchisee.
Inform anything in detail
With detailed information, prospective franchisees will easily find out the system and capital they need to set up their business. It is very important for you to explain the business system, the form of the procedure, even the amount of stock and etc.
Just focus on one franchise area
Business field licensing needs to be done specifically. In addition, by having one line of business, the business will be more focused and its business development more secure.
Determine your business branding strategy
Branding is important in many businesses. Branding can make investors and potential franchisees give their trust to your business. Immediately make sure what branding strategy you will use!
Read: Brand Imagery: Definition and Interesting Facts That You Should Know
Support Technology for Your Business
Point of Sales (POS) Application
Generally, this application is widely used in the retail, service, and culinary business sectors. It's different from recording sales that you do through a calculator and computer. With this application, sales data for each franchise branch will be directly integrated.
With EQUIP POS Software, you can collect sales data in real-time and use a cloud-based system. Your business processes will be integrated making it easier for us to analyze trends.
Digital marketing
This app can help you carry out effective marketing activities. You can use this application when releasing new products, advertising, and conducting promotions with an automatic and easy system.
As the name implies, marketing will take place on E-mail, and other social networks to reach a wider range of customers. This application is able to know the performance of the website and measure the marketing insights that you do.
Collaboration app
This technology can help the process of creating and sending documents to all franchise branches instantly. This application provides various formats, such as documents, excel, sheets, and slides.
Of course with applications that can integrate this, you will get features, such as email, drive, and calendar. In fact, this application also provides video conferencing so that it can support remote meetings with all managers and franchise owners.
Online accounting application
The online accounting application will provide various features by integrating all business branch systems. That way, you will easily record financial statements for each branch.
The advantage of this application is that it has features to display real-time data, report financial conditions, manage inventory, and manage assets in detail.
Streamline your time to manage your business finances with unlimited precision through the best online Accounting Software with HashMicro which is a leading provider of automated solutions to simplify your business operations.
Read: The Best Accounting Software – Factors to Consider
Conclusions
The popularity of the franchise today does have the potential to be one of your choices in business. However, there are many things that you need to observe and prepare before starting this franchise business. Coupled with the many business branches that you will have later, you need to think carefully about what system you should use.
One solution that can help you simplify the system that integrates your franchise business is ERP software. By having many modules, you can choose the system you need in a franchise business. Among them is to use EQUIP POS Software and online Accounting Software that provides extraordinary features for your business.