A lot of people believe that a diner business will never cease to exist. As long as people need to eat, your diner business will never run out of business. But in reality, it's not that simple.
Among ten people starting the diner business restaurant, more than half of them will fail eventually. The reason is simple, they don't have adequate preparations before starting the business.
Before starting a restaurant business, it's a good idea to consider a POS system because this system is very easy to use and suitable for all types of businesses, one of which is the F&B business. In addition to the POS system, what should be considered and prepared before starting a restaurant business? Here are seven of them:
1. Pay attention to your food quality
Quality food can be noticed from its taste and ingredients. That's why, before you open up your diner make sure you test them to various people. If you think your food tastes great, other people may think otherwise.
Food quality can be divided into two terms, real quality and perceive quality. Real quality is the food taste itself. For example, rendang will taste great if you use a lot of coconut milk when making it.
Perceive quality prioritizes safety and dining comfort, aside from the taste. It's nutrition and the serving method is the thing you have to consider when you have this kind of customer. That's why perceive quality is important for middle to the upper class of society, while lower-class emphasizes more on the taste or the real quality.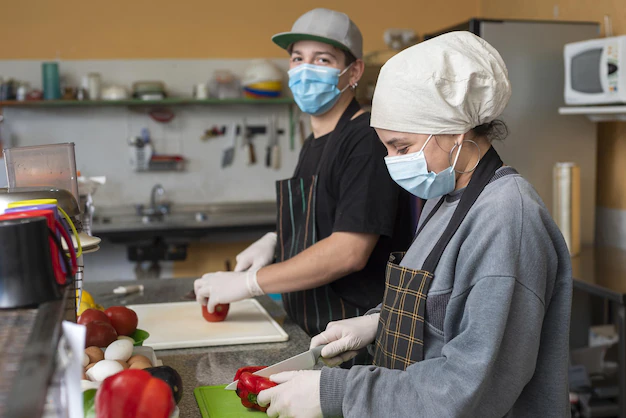 2. Consider the location of your diner business
In theory, the diner location should be strategic. A strategic location will make your customers find your diner business easier. But recently, this factor is that important anymore.
Since the booming of online transportation in South East Asia, it doesn't matter if your diner business location is not strategic. Your customer still can buy from you with the help of online transportation. But, it's still important to adjust your food to your target market.
3. Build a good impression in the eye of your customers
Make it easier for your customers to remember your business. Impressions can come from many things, such as how you packed the food, how you service your customers, to your diner interior or exterior display.
It won't be enough to just rely on the taste of your food to build a unique impression. You have to do more! You can make your menu looks unique, give your food a codename, or change the interior design.
4. Promote your diner business
If you just want to run a small diner business, the three tips above are more than enough. But if you want to grow your business, then promotion is a must.
There are lots of ways you can do promotions for your small restaurant, and one of them is through social media marketing. You can invite an Instagram celebrity or a reviewer to endorse your business.
You also can try to promote via billboards or distributing pamphlets on the road to attract potential customers. Choose the best methods for your business.
Related article: 5 Tips to Manage Restaurants during Christmas and New Year Holidays
5. Recruit the best staff for your diner business
When starting the business, you probably can handle everything by yourself. Shopping for ingredients, cooking, and delivering the meals all can be done by you.
But as your business grows, those tasks will overwhelm you in the end. This is the time you need help, such as a chef to cook your meals, couriers to deliver them, and a waitress to serve the visitor.
Recruitment can also be done with HR systems that optimize file selection automatically. By doing that, you can focus on developing your business. Such as figuring out which is the best promotion methods for your diner business or managing your money.
6. Adjust your business to your customer lifestyle
Make sure the diner ambiance is suitable for your customers. You don't want to give the wrong impression to your customer, right?
If you target millennials as customers, then free wifi is a must-have in the diner. Another example is providing dining chairs for babies if your target is families. It's important to make your customers as comfortable as possible while enjoying meals.
Related article: How to Gain Competitive Advantage in the Food Business
7. Consider your customers buying power
If you are considering starting a diner business somewhere around campus, then you must not go overboard with your pricing. Consider lowering the price of your meals to attract more customers.
But if the diner is located around an office complex, then it doesn't matter if you put your price rather higher. With this kind of consideration, you can attract your target customers easily.
Conclusion
By paying attention and considering some of the things above, then you have avoided failure. Running a restaurant business is not an easy matter, but that doesn't mean it's impossible to become a successful restaurant businessman.
Also consider using Restaurant Software from HashMicro to make managing your restaurant easier. With the help of this software, you can manage your business more efficiently. Find out more about restaurant software by filling out the form below.