The food and beverage industry in Singapore's catering business provides big opportunities for expansion for existing restaurants or small businesses as a result of using software for Inventory Management. As a result, the catering business is constantly busy with activities, from creating menus and handling orders to preparing food and running a restaurant. Managing inventory is an essential part of ensuring efficiency in a catering business. By taking some time to plan and manage your inventory, you can help build your business by improving customer service, reducing costs, and increasing revenue. For that reason, it's time to take your inventory management more seriously. Maintain a close eye on it and check to see that every one of your outlays is contributing to the growth of your business. 
The catering industry requires more efficient and accurate inventory management practices during the increasing competition. The following are the four most effective ways for catering businesses to centralize their inventory management with smart catering software and its benefits. Also, if the software's ease of inventory management may pique your interest, then download the pricing scheme here to discover the software's estimated price.
Also read: The Food and Beverage Industry in Singapore of 2022
Table of Contents
Types of Inventory Management Systems
Inventory management software can ensure that all your stock is safely stored in the correct locations. Therefore, you will always be aware of your products' current location and status. There are primarily two categories of inventory control systems, and these are as follows:
1. Periodic 
Small businesses typically use a periodic inventory management system with modest inventories. As its name suggests, this type of inventory management system involves checking in on the current status of the inventory periodically. There is no set standard for how long businesses should maintain inventory records; it could be three months, six months, or longer. However, the problem is that the date updated is always out of date at any given time.
2. Perpetual
Unlike periodic types, perpetual types are the most effective inventory management system for businesses of all sizes. Perpetual IMS keeps constant tabs on stock levels and sends out instant updates on the availability of any good or service. It works well for any company and contributes to a higher revenue graph. An accurate stock count helps you make better decisions about where to go. The HashMicro Inventory Integrated Software is a good example of this type of inventory management software.
Why do Catering Businesses Need Inventory Management?
When it comes to having an efficient inventory management system, a catering company has specific requirements that must be met. The most important reason a catering company needs a good inventory management system is to keep real-time tabs on everything to increase its sales figures. If you want to scale up or expand your catering business, you will undoubtedly need more inventories, stocks, and other supplies for your catering business. Implementing Hashmicro Catering Software is a smart move if you want to simplify the management of your company's inventory and keep better track of the inventory.
This software will allow you to generate accurate reports, simplify the planning of menus, obtain data on sales in real-time, and optimize the quality of your stock and raw materials to meet the demands of your customers. The software contains highly useful features that will help to simplify and expedite various business processes. Additionally, it's customizable, so you can customize it based on your business's requirements. 
4 Ways How Catering Software can Centralize Inventory Management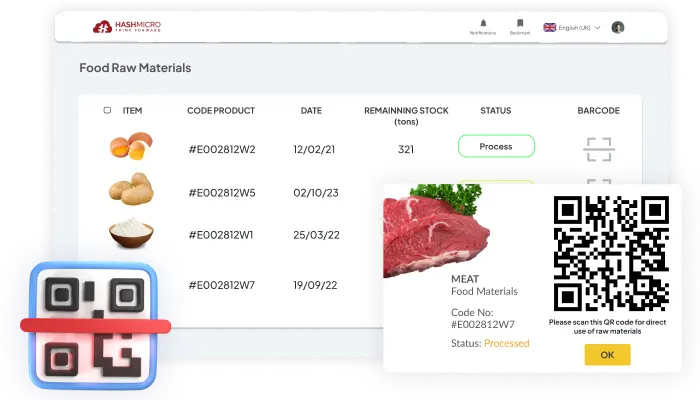 1. Controlling the catering orders and menu packages 
Streamlining the ordering process in your catering business with a centralized inventory app is an effective way to manage orders quickly without hiccups. Aside from customer orders, you also receive menu packages through a single platform. Your consumers should be able to place orders quickly and easily using an online gateway that features real-time updates. Using IMS in the catering business means you can satisfy your customers' needs by optimizing your stock, completing orders more quickly, and maintaining an on-time delivery procedure.
2. Utilizing barcode management
Another way to maximize your catering inventory is by utilizing barcodes for every inventory. You can generate LOT and serial numbers automatically with the help of the barcode management feature, which makes it much simpler to keep track of products across all locations. By integrating it with barcode tools, you'll get real-time data, which will provide you with additional information regarding the inventory of your catering business. Additionally, just scan the barcode, and you can easily monitor your stock and track your inventory's movement across multiple locations quickly and accurately.
3. Managing recipe
To provide the best taste of meals to your customers as a catering owner, you must first provide high-quality food in your recipe. Keeping track of your recipe's expiration date is challenging, indeed, but doesn't mean it's hard to do so. Managing recipe with the centralized app, smart catering software, is the most effective way to help you with your expiration date concern.  Because of the expiry date tracking and FIFO management feature, the smart catering software ensures that the quality of food ingredients is always maintained. Not only that, but the centralized platform allows you to update the menu in all branches, create extensive categorization, and effectively manage meal packages. It's time to standardize food serving processes and tastes across all branches.
4. Optimizing the level of inventory 
With the assistance of a centralized platform, one more way to make the most of the utilization of your inventory is to monitor the stock level and make certain that it satisfies the demands by utilizing accurate forecasting. Forecast the amount of inventory you have to provide during a specified future period.
Also read: Benefits of POS System For Restaurants in Managing Business 
Conclusion 
Controlling stock levels and minimizing wastage are central functions of inventory management software. The software's inventory management feature allows you always to offer advanced menu and recipe management in catering establishments. The system is an all-in-one platform that can manage recipe and inventory control for catering and customer service.
Furthermore, HashMicro's Smart Catering Software can send alerts when the stock drops below a certain level, create purchase orders, and/or detail what needs to be ordered between specified dates. In addition, integrated it with the POS system for further optimal results in the catering business. Additionally, to know the estimated price it offers, you may download the pricing scheme or consult us to get a demo version for free by clicking here!