A catering company is a business that offers various fast food and beverages on a big scale for any occasion, such as for meetings, events, or large-scale needs. The catering activities include, but are not limited to, raw material preparation and selection, compounding and processing, packaging and distribution, and services such as food preparation, checking, and replenishment. It will be easy to operate catering activities by implementing the best catering management system. 
Performing all of those tasks manually while managing your time can be stressful. Therefore, as the owner of a catering business, you must find ways to improve the efficiency of your operations. And how to do it? The answer is simple; catering management software is the right solution you've been looking for to strengthen the growth of your catering business. This article will cover the benefits of the system and the pricing scheme of how much this system costs. In order to help you maximize the workforce and make an excellent strategy for your catering business, let's take a look at these benefits, advantages, and features of the most comprehensive catering apps in the market.
Table of Content
How to Grow Your Catering Business Effectively?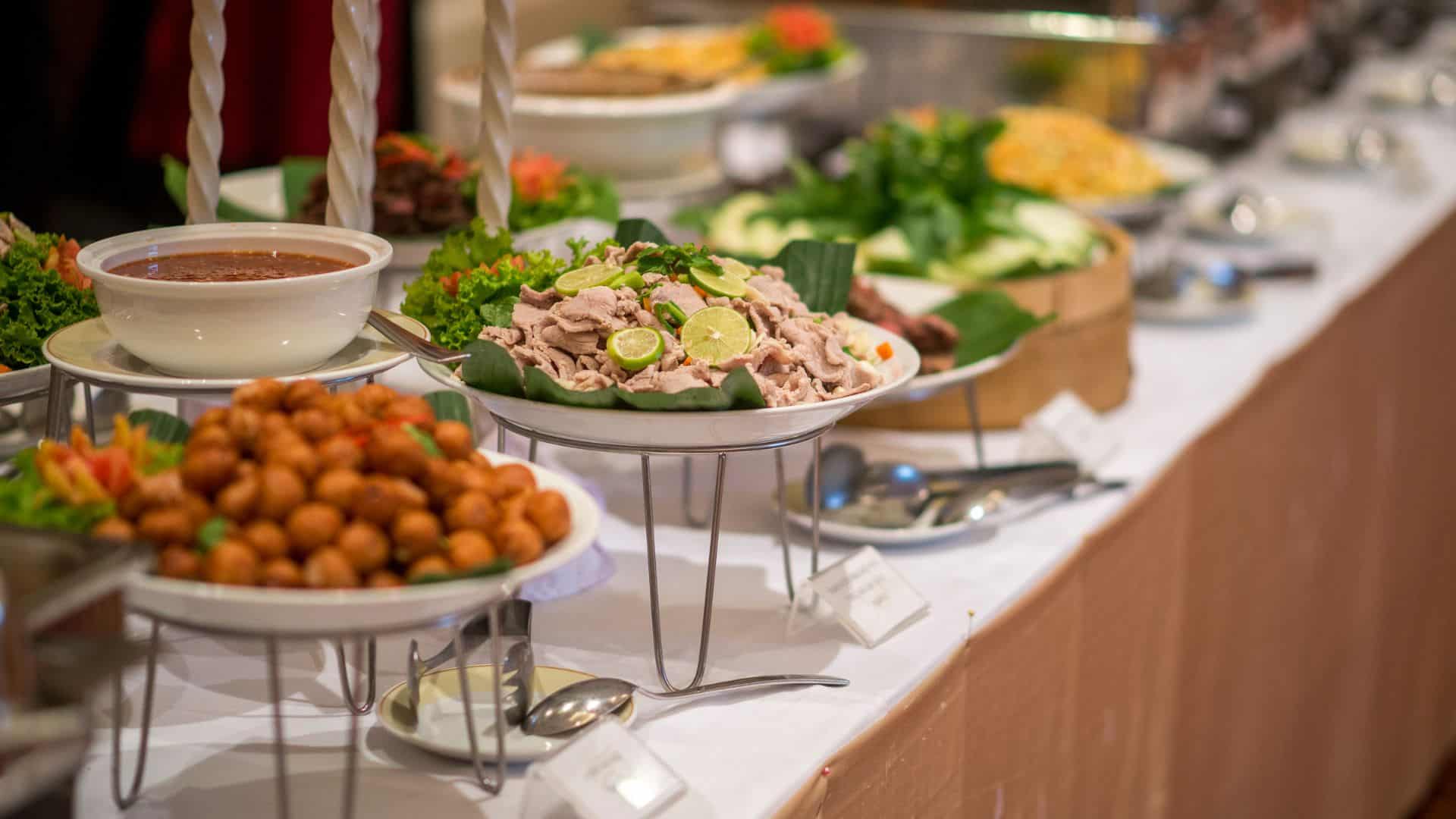 Back to the main topic on how to grow your catering business effectively? This article covers six ways to increase your catering business effectively with the help of The Catering Management System's features and advantages, and we will explain below;
1. By Managing Customer Order and Discount Management
Speaking of the customer order in the catering business, surely the amount of orders they will receive will be massive. Catering businesses must make hundreds or even thousands of fast food and beverages immediately before the due time. Managing an enormous amount of orders in the catering business manually will take a lot of time and reduce productivity. Such an ineffective and inefficient way needs to be changed into a digitalized managing customer orders called The Catering Management System. The system will not only manage customer orders but also create personalized promotion programs and calculate them in transactions automatically.
2. Using Fulfilment Management
Managing fulfillment means prioritizing orders based on preparation and delivery times. With this method, you can help your catering business be more organized in handling orders. The features in this system assign couriers with accurate delivery routing, thereby lessening your "will it arrive on time?" concerns. Because on-time delivery is something customers value highly, implementing this strategy will help your catering business attract more clients. Besides, they want the food they ordered from the catering company to be ready to eat before the occasion starts. 
3. Monitoring Kitchen Operational Activities with Display System
We all know that the kitchen is the busiest place in the food and beverages industries, especially in the catering business, where food is prepared on a large scale. Throughout the day, a big order of various processed and prepared foods is ready. Therefore, it is crucial to monitor kitchen operation activities and keep the kitchen up-to-date and well-managed to meet customer demands. And how to do it? The best catering management system in Singapore is the solution.
Such a method will enable all your chefs to prepare orders and set the turnaround time with the help of a configurable kitchen display system. As a result of using the system, it will let your customers have a seamless ordering process through the online portal with real-time updates. And will let you know your revenue, expenses, bills, orders, cooking process, and other details in one display system. 
4. Managing The Menu 
The menu is the most fundamental aspect of operating a restaurant-based business, including a catering business. Because food and beverages are what catering businesses serve and offer. But here the question is, how to inform your customers regarding the available food and beverages in your catering business? The answer; is by listing it in a menu. 
What you must include in the menu is information about the food and beverages you provide in the catering business. What will be the food in the catering package? Will it be a cuisine-specific or multi-cuisine type of food? Either way, the menu for your restaurant must be well managed by using the menu management strategy. Which lets you update the menu in all branches, create extensive categorization, and manage meal packages effectively.
5. Managing The Recipe
If a menu is the basic foundation of a restaurant, then a recipe is what built that foundation. And for this reason, you should manage the recipe using automated catering software if you want to increase business growth. The system ensures that it standardizes the serving processes and tastes of the food in all branches and manages cooking priority efficiently.
The function of catering management software extends significantly beyond that. And integrating with FIFO management will enable you to track and maintain the quality of food ingredients. The FIFO features also will alert you regarding the quality of foods that are about to expire or have expired. As a result, your sales will increase, and your customers will be satisfied with the high-quality foods your catering business serves. In addition, though it is not necessary, it will be better if your restaurant has its own recipe for each dish on the menu to stand out from other restaurants or competitors. 
6. Generating In-Depth Report
Generating an in-depth report on the catering system is beneficial. With easy-to-read reports, you can analyze the growth of your catering business. This method allows you to determine your company's growth over a specific period. Including the growth of sales profits, the successful completion of orders, and the inventory turnover. Because the greater your understanding of the business growth of your catering business, the more effective your future business strategies will be. 
Also read: Tips to Avoid Catering Business Problems.
Conclusion
In the past, it was challenging for catering business owners to keep things under control and maintain the business, particularly when managing massive orders of food and beverages while ensuring timely delivery. However, with the implementation of modern technologies in the business world today, it is now easier to manage the catering business effectively.
A digital solution called catering management software can assist catering owners in terms of food service in managing all the challenges and difficulties that come while operating a catering business. These challenges can include managing orders, deliveries, and tracking inventory. It is sufficient evidence to convince you of the catering management system's usefulness and advantages. Download a pricing scheme or try a free demo if you consider using it.