Sales operations management is the business activities and procedures that enable sales organizations to operate successfully and efficiently and support business strategy and objectives. Sales operations are primarily concerned with giving strategic direction and minimizing friction in the sales process, with efficiency as the ultimate objective.
In this highly competitive industry, there is pressure on sales operations to react to changing markets. Consequently, pushing sales with innovative tools and techniques boosts sales and creates income. Using CRM software in the sales operations process allows for developing how technology and data analytics may facilitate the sales process to remain competitive.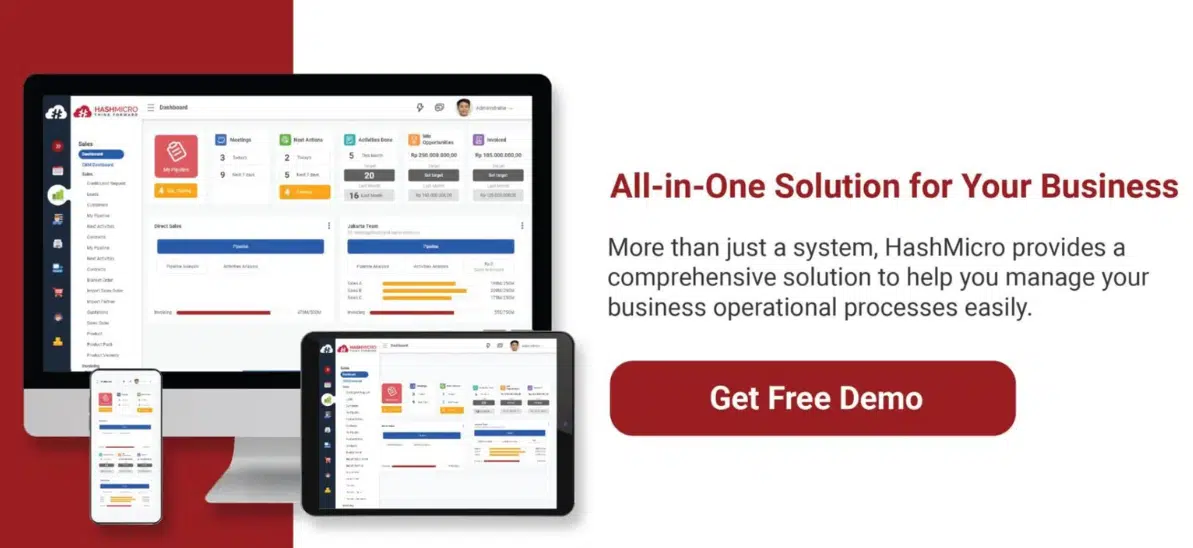 HashMicro

HashMicro is one of Singapore's top ERP and CRM solutions vendors. HashMicro provides comprehensive, adaptable software for all your business needs. This vendor offers a complete CRM system in Singapore, which enables you to maximize your sales operations management. The system provides several additional crucial functions, such as call log management, revenue forecasting, sales funnel management, sales team management, and call log management. The availability of numerous amazing features might assist your company greatly and boost earnings. Other HashMicro CRM solutions provide the benefits of lead identification, automatic reporting, total traceability, and straightforward configuration.
Through CRM, HashMicro software connects all teams with clients, enabling them to provide superior customer service. This system is compatible with others, which is an advantage. Thus, the commercial operations of your company can be productive and efficient. Additionally, compared to the costs of establishing alternative systems, this system's implementation is significantly more affordable. If you are seeking a CRM solution at the forefront of the market that helps boost customer loyalty, the Singapore CRM system offered by HashMicro is your best option.
Salesforce
Salesforce is yet another software vendor that might assist with business processes related to sales in Singapore. CRM system from Salesforce can connect enterprise teams with customers, allowing businesses to create a superior experience for those patrons. In addition, Salesforce can assist you in staying connected with each customer journey through the use of the many services that they have made available to you. The customer relationship management system (CRM), email marketing, employee management, inventory management, and reporting are just some services available to you. With this system, you can sell more efficiently and quickly, connect every trade channel, produce more engaging marketing, and enjoy a wide range of additional advantages.
Synergixtech
Synergix Technologies is Singapore's preeminent full-service, web-based, and cloud-based ERP system software and solutions for small and medium-sized enterprises (SMEs). The customer relationship management (CRM) services offered by Synergixtech include channel construction, maintenance, and empowerment. Synergix's CRM includes sales management, campaign management, and opportunity management, which are effectively handled and ensure that leads are exploited to their full potential.
Tigernix
Tigernix is a Singapore-based software service provider. The company's software includes enterprise resource planning, customer relationship management, school management system, volunteer management system, asset management system, asset predictive analytics system, facility and property management system, and several other similar applications. Tigernix offers customer relationship management (CRM) services, which include decoding hidden data relating to consumer behavior, building customer relationships, and facilitating your brand's trustworthiness.
Also read: What is CRM Software? The Definition, Purposes, Features, and The Benefits for Your Business!
Xero
One of the few companies that offer accounting software and a CRM software solution is Xero. This solution is easy to implement and can potentially increase your firm's productivity. This software works primarily as a database, allowing users to record information about existing and prospective clients. They can retain all of the information regarding your clients and follow (or record) your interactions with them. As a result, the software's functionality is mostly limited by the tasks people give to it.
Conclusion
CRM systems are essential in today's enterprises. This system handles business-to-business communications so that you can grow sales and improve its sales operations. A Singaporean vendor is required to obtain the best plan. There are HashMicro, Salesforce, Synergixtech, Tigernix, and Xero options. If you are seeking a CRM with numerous effective features that can boost a company's prospects, HashMicro has the best CRM system in Singapore in this area.
HashMicro's CRM-Sales is a system that enhances sales team productivity to generate smarter, faster, and more effective sales with a sales management system. The full integration of the HashMicro system has converted more qualified leads. So, by using HashMicro CRM-Sales, you will get an optimized sales process, in-depth analysis that informs profitable prospects, sales accuracy, and automatic reminder settings that facilitate customer payments. You don't have to worry about managing your sales operations with Singapore's No.1 Sales Management Software. Contact us now and get a free demo!