Managing customer relationships is one of the biggest challenges faced by B2B companies. Unlike B2C companies, which deal with individual consumers, B2B companies have to deal with multiple decision-makers, complex contracts, and long sales cycles. They also have to nurture leads, provide personalized service, and deliver value to their clients. All these tasks require a lot of time and effort. That's why B2B companies need a CRM system that can help them streamline their processes. 
But with so many CRM systems available on the market, how do you choose the best one for your needs? In this comprehensive guide, we will review the top 10 B2B CRM systems and compare their features, pricing, and customer reviews. Whether you are looking for a cloud-based, on-premise, or hybrid solution, we have got you covered. Read on to find out which B2B CRM system is right for you.
What is B2B CRM?
B2B CRM, or Business-to-Business Customer Relationship Management, is a powerful tool designed to help businesses effectively manage and nurture their relationships with other businesses. It enables companies to centralize and streamline their interactions, communication, and data exchange with their B2B customers, suppliers, and partners. B2B CRM systems provide comprehensive solutions to track and analyze interactions throughout the customer lifecycle, from lead generation to customer retention.
B2B CRM has many features that can help you improve your sales performance and customer satisfaction. Some of the common features include:
Lead generation and management

: B2B CRM captures and qualifies leads from various sources, such as web forms, email campaigns, social media, etc. It also helps you assign and track leads to your sales team, and monitor their progress and status.

Contact management

: B2B CRM allows businesses to organize and centralize their contact information for B2B customers, suppliers, and partners. It provides a unified view of all interactions and communication history, ensuring a holistic understanding of each relationship.
Sales and pipeline management

: B2B CRM streamlines the sales process by tracking leads, opportunities, and deals. It enables businesses to manage their sales pipeline, track progress, forecast revenue, and identify potential bottlenecks, ensuring efficient sales operations.
Collaboration and communication

: B2B CRM platforms facilitate seamless collaboration within teams and across departments. They provide tools for shared calendars, task management, document sharing, and real-time communication, enhancing teamwork and enabling efficient coordination with B2B partners.
Analytics and reporting

: B2B CRM systems offer robust analytics capabilities, allowing businesses to gain valuable insights from their customer data. Through customizable reports and dashboards, businesses can analyze sales performance, customer behavior, and trends, empowering data-driven decision-making.
Why Your Business Needs B2B CRM Software
While CRM software is often associated with managing customer interactions in business-to-consumer (B2C) scenarios, its benefits extend to business-to-business (B2B) environments as well. B2B CRM software offers numerous benefits that can significantly impact a business's success. The following are the three key reasons why your business needs B2B CRM software: 
Improve business efficiencies
One of the primary advantages of B2B CRM software is its ability to improve overall business efficiencies. By centralizing and automating various processes, such as lead management, order processing, and inventory management, CRM software enables businesses to streamline their operations. 
With a comprehensive view of customer interactions and sales pipelines, your team can collaborate more effectively, identify bottlenecks, and optimize workflows. This increased efficiency not only saves time but also reduces costs, allowing your business to operate smoothly and focus on core activities.
Enhance customer experience
B2B CRM software plays a vital role in enhancing the customer experience. By capturing and organizing critical customer information, CRM software enables your team to provide personalized and targeted interactions. This level of customization helps build stronger customer relationships, fosters loyalty, and increases customer satisfaction. 
Additionally, CRM software facilitates effective communication by automating follow-ups, sending timely reminders, and tracking customer interactions. This ensures that your team never misses an opportunity to engage with clients.
Provide detailed analytics
Finally, CRM systems collect vast amounts of data on customer behavior, sales performance, and marketing campaigns. With this data, businesses gain valuable insights into their customers' needs, preferences, and buying patterns. 
These insights can be used to make data-driven decisions, identify cross-selling and upselling opportunities, and develop targeted marketing strategies. With robust reporting and analytics capabilities, B2B CRM software empowers businesses to measure and track KPIs, identify areas for improvement, and optimize their overall business strategy.
How to Choose the Right B2B CRM Solution
Selecting the right B2B CRM solution is crucial for businesses looking to optimize their B2B sales, marketing, and customer management processes. With numerous options available in the market, it's essential to consider certain factors to ensure that the CRM solution aligns with your business requirements. Below are some of the key considerations that can help you choose the right one for your business:
Define your business needs

: Firstly, assess your business needs and objectives. Understand the specific challenges you want to address with a CRM solution. Consider the size of your organization, the complexity of your sales processes, and the number of users who will access the system. Clearly defining your requirements will help you narrow down the options and choose a CRM solution that meets your unique business needs.

Scalability and customizability

: Ensure that the software is scalable and customizable to your business growth. As your organization expands, you'll want a CRM system that can accommodate a growing customer base, increased data volume, and additional features. This flexibility allows you to mold the CRM software according to your unique requirements, ensuring a seamless fit within your organization.

Integration capabilities

: Lastly, consider the CRM solution's integration capabilities with your existing business systems. Seamless integration with other tools such as marketing automation platforms and ERP systems can streamline data flow and provide a unified view of customer information. Assess the CRM solution's compatibility with your current technology stack to optimize cross-functional workflows.
8 Best CRM for B2B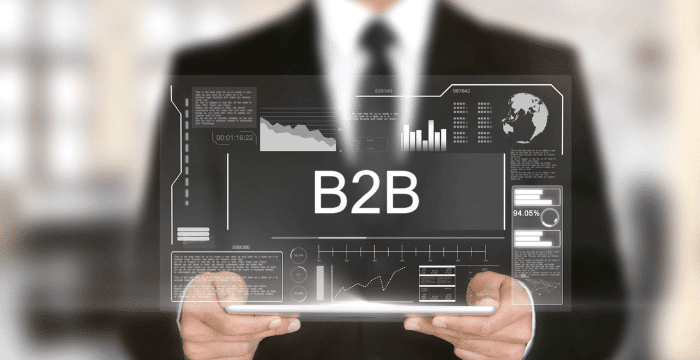 With countless CRM solutions available in the market, it is crucial to select the right one for the success of your business. While there are numerous CRM options available, let's explore eight of the best CRM software solutions for B2B, highlighting their specifications and notable features.
HashMicro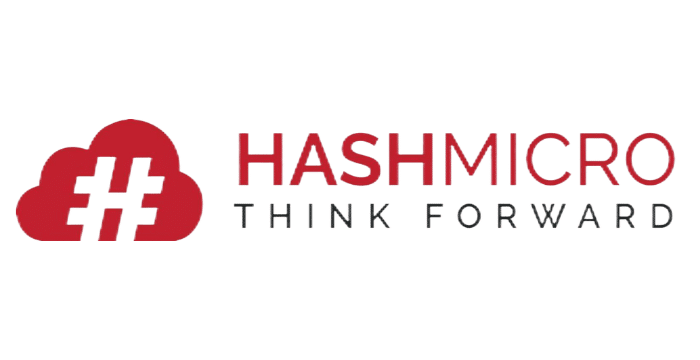 HashMicro is a CRM software provider for businesses across various industries including B2B companies. The software provides a centralized platform that enables businesses to streamline their sales, marketing, and customer service processes efficiently. Here are some of its key features:
Sales team management

Sales report generation

Sales pipeline management 

Revenue forecasting

Email marketing management

Integration with accounting, purchasing, HRM, CRM-sales, and inventory management system
The software's robust analytics and reporting capabilities enable businesses to gain insights into their sales and marketing efforts. It empowers them to generate real-time sales reports. These reports provide comprehensive insights into various aspects such as sales activities, team performance, profits, and losses, among others. By leveraging its robust analytics tools, businesses can stay informed, monitor key metrics, and drive continuous improvement in their sales operations.
Being cloud-based, HashMicro's CRM Software provides businesses with the flexibility and convenience of accessing their CRM system through the Internet. It is also highly customizable, allowing businesses to tailor it according to their specific requirements. Furthermore, it is scalable, enabling businesses to adjust and expand their CRM capabilities as their needs evolve and grow.
Insightly
Insightly is a leading CRM solution provider for B2B businesses, offering easy setup and a range of features to enhance customer relationships. Some of its key features include data visualizations, automatic lead routing, marketing activity tracking, and bulk email management. With workflow automation and lead routing capabilities, it enables businesses to create remarkable experiences. By utilizing business intelligence, Insightly enables users to track sales goals.
Nutshell
Nutshell is a CRM and email marketing platform designed for B2B sales. It provides a centralized location for managing contacts, sales, and marketing activities. Key features of Nutshell include a customer database, lead distribution, email marketing, and performance metrics. The platform includes a visual and customizable pipeline tool that allows users to track customer progress throughout their lifecycle. Additionally, Nutshell offers collaboration tools, analytics, and marketing automation. 
ZenDesk
Zendesk's CRM solution for sales, known as Sell, empowers businesses to increase their deal closures. It enables businesses to manage customer interactions, track support tickets, and provide personalized customer experiences. With ZenDesk, By leveraging Sell, businesses can access the essential tools required to streamline their sales processes. Its features allow businesses to store customer information, track communication history, and collaborate with team members. 
Salesforce
Salesforce is one of the leading CRM platforms, while also serving as a tool to manage relationships with customers, leads, and business partners. It offers a comprehensive view of prospects and customers, allowing quick access to their history. Moreover, it includes a B2B commerce feature facilitating self-service purchases in B2B interactions. As a result, your teams can access shared contact profiles via a database and track information about incoming leads for qualification purposes
Nimble
Nimble is a versatile CRM platform suitable for B2B of all sizes. It offers shared contacts, prospecting tools, sales forecasting, sales pipeline management, and predictive analytics features. With Nimble, businesses can access calendar appointments, client analytics, and a graphical sales pipeline in a consolidated dashboard. Additionally, it integrates contacts from Office 365, G Suite, and social media into a single database.
ActiveCampaign
ActiveCampaign serves as a CRM and emails marketing software, providing a comprehensive communication hub for B2B companies. It consolidates multiple communication channels, including calling, and emails, into a single platform. The software incorporates customer experience automation that monitors each customer's journey and prompts timely actions during the buying cycle. Its features encompass analytics and ROI tracking, campaign planning, and social media integration.
Copper
Copper, formerly known as ProsperWorks, is a CRM software built specifically for Google Workspace users. It seamlessly integrates with Gmail, Google Calendar, and other Google tools, providing a unified experience for B2B businesses. Copper offers features for managing leads, tracking sales opportunities, and automating repetitive tasks. Also, with its integration with Google Workspace, Copper simplifies workflow for businesses already using Google tools, allowing them to streamline their processes, collaborate seamlessly, and share Google contacts effortlessly.
Conclusion
In conclusion, utilizing CRM software is important for B2B companies as it enables them to streamline sales processes. It is crucial for B2B companies to carefully evaluate their specific needs and requirements before making a decision. By selecting the right CRM software, businesses can ultimately achieve greater success in the competitive B2B landscape.

With its robust features, user-friendly interface, and customizable solutions, HashMicro's CRM Software stands out as the ideal choice. From lead generation and contact management to analytics, it offers a powerful CRM system that caters to the unique needs of B2B companies. Invest in the software today to witness the transformation of your B2B operations and get up to 50% off on the Productivity Solutions Grant!