Equipment, small or large, is one of the most important assets of a construction company but is often overlooked. Too often, contractors exclusively focus on projects and labor, whereas good construction equipment management is also an important key to the success of the construction business.
In this article, we outline a few effective ways that can be implemented into your construction tools management process for better visibility and profitability.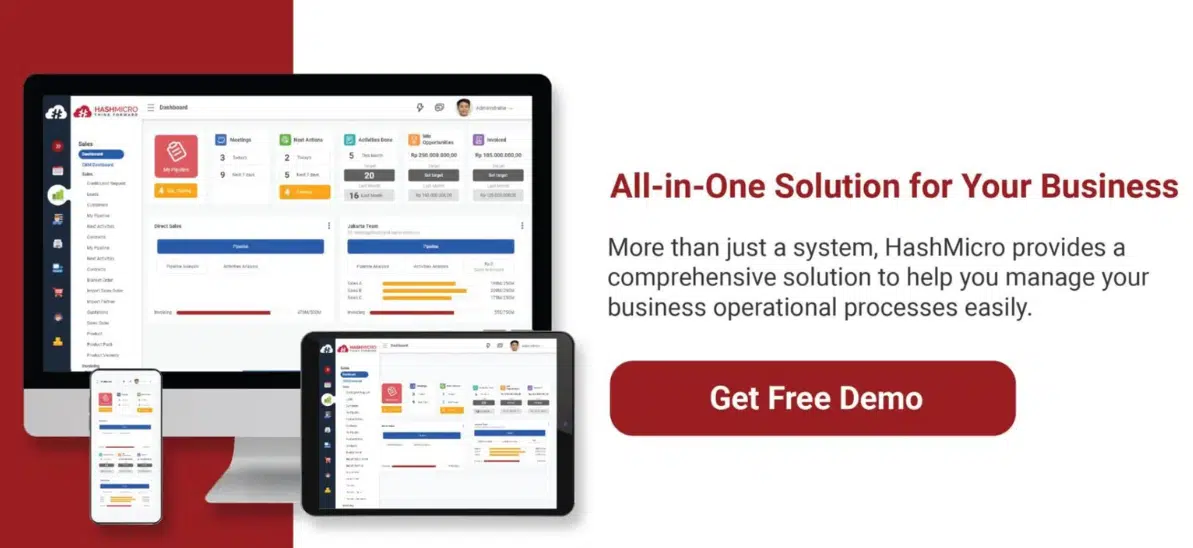 Table of Content
1. Manage Equipment Requests & Delivery Centrally
When you have many worksites and each of them requires different equipment and tools every day, it is important for you to have a centralized system that can handle requests for the distribution and allocation of equipment. An inventory management system can handle these tasks.
The inventory management system is one of the most important software systems for construction companies. It helps construction managers to monitor equipment availability, handle equipment requests, and allocate them to each work site.
HashMicro's Inventory Management Software is available on mobile devices, making it easier for construction managers to track equipment. With the integrated software, they can easily find out how long it takes to send equipment to every work location.
Read the related article: 5 Important Software Systems for Construction Companies
2. Determine the Cost of Equipment Use 
You need to realize that every work location has its own challenges and unique needs. This will be taken into consideration when you manage bills and equipment requests as well.
For example, you might want to set a different rate for each job site and project. You may have a standard rate for an excavator, but due to remote work locations or project densities in certain areas, rates may be higher. However, they must be controlled based on various variables, including hours, days, weeks, months, excess hours, or duration.
3. Get Your Construction tools Inspected Regularly
It's inevitable that your equipment return damaged sometimes. And, of course, you shouldn't let this continue.
Therefore, your pickup and return process must include an inspection to assess the physical repair of assets before loading them onto the truck. If you require each work location to sign off on the condition of the equipment at the time of delivery, then there should be no argument as to who had ownership when the damage took place.
You can change your work sites for loss of revenue during the equipment's downtime. It's like some other construction companies do, but this depends on the policies and procedures of your company.
In order to make the inspection process for your construction tools easier, consider using an automated asset management solution. HashMicro's Asset & Fleet Management System makes it easy for you to record various problems. Like related to your equipment and determine whether or not the equipment requires maintenance.
4. Schedule Periodic Construction Equipment Maintenance
Throughout the life of your equipment, routine maintenance, as well as checks, are critical. Maintenance scheduling is very important for the longevity of your equipment.
With the right asset management system, you can schedule maintenance of your equipment on a regular basis, depending on the type of equipment. The system provides notifications when approaching maintenance time, ensuring that your equipment and tools maintain well. By effectively managing and scheduling maintenance for your construction equipment, you can minimize unexpected breakdowns, optimize equipment performance, and ultimately ensure smoother and more efficient jobsite maintenance operations.
5. Calculate Your Equipment ROI
it is also important to know which tools are most often used and profitable for your company and which ones are rarely used and less profitable. So in this way, you can control the procurement of tools and materials for each of your projects more wisely.

Conclusion
With HashMicro's Asset & Fleet Management System, you can analyze the value of your construction tools through real-time analytics reports. You can easily compare the costs incurred to maintain the equipment with the income you generate from the use of the equipment. In addition, you can use Accounting Software that has financial dashboard features, cash flow forecasting, fast bank reconciliation, analytical reporting, etc. With a system that has been integrated with inventory systems, purchasing systems, and CRM-Sales systems. You can start HashMicro's Accounting Software demo for free now.