Construction companies in Singapore are on the rise. As the industry continues to grow, the demand for construction companies increases. They contribute to the country's development with infrastructure, making way for new growth and creating more jobs. With that said, construction companies need to keep up with technological innovation so they can stay relevant in their industry.
Get Hash Construction Suite Pricing Scheme
This industry is predicted to continue growing in the coming years. However, the challenges that construction companies face today include those centered on building a sustainable business. With the challenges in mind, you might be wondering how to build a successful construction business in Singapore. If you feel like your business isn't growing as well as you'd like, this article is for you.
Also read: 5 Best ERP Software and Their Benefits in the Construction Industry
An Overview of Construction Companies in Singapore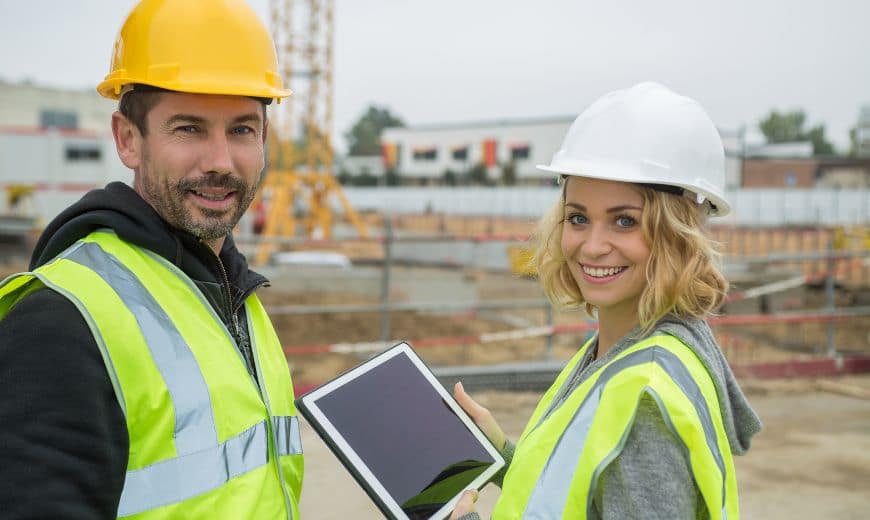 Construction is one of the largest industries in the world. It is also one of the most demanding sectors, not only because of the high start-up costs but also because of its ever-changing disruptions. In Singapore, this companies play a massive role in economic growth and stability.
In the first quarter of 2022, the Singapore Department of Statistics (DOS) reported that the construction industry constitutes 3694.60 SGD Million to Singapore's GDP and employs approximately 170,000 people, making it one of the largest industries in Singapore. The construction industry's success has seen an increase in private and public sector projects, with many companies in Singapore taking on these large-scale jobs.
The Tips for Construction Companies in Singapore
For your construction company in Singapore to thrive, you must always look for resources and methods to help you maximize your operations and improve efficiency. Here are some of the essential tips for making that happen:
1. Stay updated with the latest technological advancements
Construction companies should stay updated with the latest technological advancements to remain competitive and provide better service to their customers. It sites have become more digitized due to the increased use of smartphones, tablets, laptops, and other devices. This has made communication much easier for both consumers and contractors alike. 
This increase in communication between consumers and contractors has also led to greater transparency, which helps build trust between parties involved in a project. More than ever before, this companies need to be aware of these developments and incorporate them into their workflows whenever possible. This includes using a reliable Construction Management App to help plan projects, as well as create accrual reports.
2. Focus on safety
Safety should always be your number one priority in construction projects. You need to ensure that your employees are adequately trained to deal with any potential hazards on site. Therefore, companies are required to provide adequate training for workers, as well as equip them with the proper safety equipment. This companies must also ensure appropriate communication between workers to address any hazards promptly before they become serious problems.
3. Avoid budget overruns
Construction companies must stick within their budget when carrying out projects, so they don't incur additional costs down the road. For example, if a company starts a project with a budget of 200,000 SGD but later discovers that the actual cost of completing it is 300,000 SGD, then there will likely be problems with cash flow throughout this project. Extra funds will have to be allocated from elsewhere to complete it successfully. It's therefore crucial for that companies to stay within their budget.
Also read: 6 Significant Benefits of ERP Software in the Construction Industry
Budget overruns are common in the construction industry and can cause severe problems for your business. If this happens, it will strain your finances, leading to further issues down the line, such as being unable to pay employees or suppliers on time. It would also be wise for you not to over-commit yourself financially, as this could result in bankruptcy if things go wrong. You may want to consider implementing an integrated Construction Software that will help you keep costs down while ensuring that everything runs smoothly during the project duration.
4. Manage client expectations
When working with clients for projects such as construction or remodeling, it's crucial to manage their expectations from both a timeline perspective and a budget perspective. If you can be upfront with clients about what they can expect from your services, you'll be able to avoid any unnecessary conflict down the line. 
Managing client expectations is the key to ensuring that both parties will be happy with their arrangement. At the end of their project or service agreement period, they will also be satisfied with the results they get.
5. Consider ISO certification
This certification aims to ensure that your company meets international standards of quality management and procedures. It helps you comply with regulations set by the government, such as Singapore Building and Construction Authority (BCA). Additionally, achieving ISO certification can help you build credibility with your clients and may open up opportunities to bid on larger projects.
Get Hash Construction Suite Pricing Scheme
Conclusion
In Singapore, the competition for construction companies is getting tougher by the day, and many unique challenges exist to overcome. By following these tips, we hope you will have a better chance of having a successful of this business in the country.
As mentioned above, in order to achieve your goal, you must choose the right construction software. Significantly, the one that has the capabilities to handle all aspects of your business. The good news is that HashMicro's robust Construction Software offers all this and more, right within the core of its suite. Fill out the available form now and take your construction business to the highest efficiency level.