Construction 4.0 is beginning to force itself, even though BIM has been a critical facilitator for the industry's digital revolution. Even if experts agree it will be a significant transformation for the sector, it is challenging to describe it nowadays. This revolution has its roots in the First, Second, and Third Industrial Revolutions, which featured mechanization, electricity, and automation, respectively.
The Fourth Industrial Revolution (Industry 4.0), predicated on universal connection, promises to advance corporate practices significantly. However, we will examine the advantages of construction management software in this guide and the finest software for a construction company.
Software for construction company assists them in planning, scheduling, monitoring, and executing various construction projects. It is software that gives construction companies oversight of all their projects and helps them efficiently manage resources and building projects. HashMicro's Construction Software allows the team sees everything in one place, from project management to marketing to customer support.
Streamline Your Construction Business Processes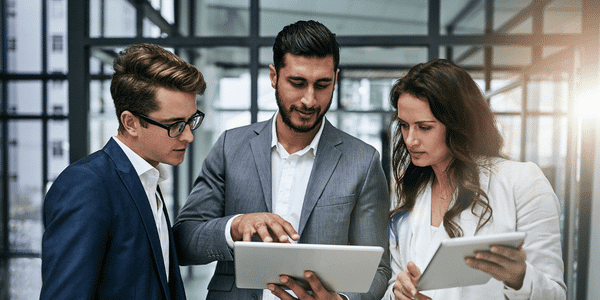 It might be challenging to stay on top of your assignments if you don't have a central spot to work from. This neglect can lead to missed deadlines, budget overruns, and other problems due to poor process management. However, construction project management software is different.
Everything about your whole building project is kept in one place. This makes it simpler to organize your company operations and manage your projects from beginning to end. Depending on the software for the construction company, you can add feedback and suggestions to tasks, track project progress, and automate operations to eliminate human labor.
Also read: 6 Important Software Systems for Construction Companies 
Boost Collaboration and Improve Communication
Managing a construction crew is more difficult when many teams operate in different places with competing deadlines. While on-site or in the office, groups may cooperate more successfully by utilizing construction management software.
Contractors can notify you about material delivery, task completion, or schedule issues without using a computer. You may even work with other stakeholders like architects, contractors, and clients, depending on the software for your construction company.
Also read: 6 Main Benefits of ERP Software in the Construction Industry
Make More Informed Decisions
Managers can make wise business choices by using the information recorded in the software for a construction company. This might be anything, such as determining whether to recruit additional personnel or how to distribute resources properly.
Software for Construction Company Feature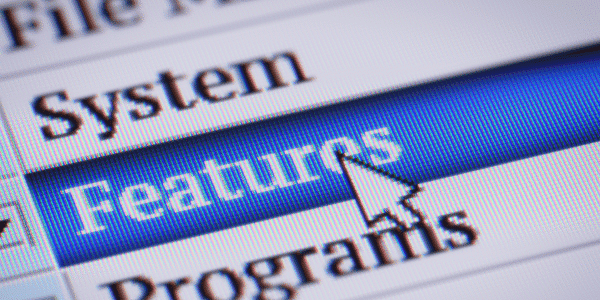 Choosing the best software for a construction company may be intimidating, particularly with the variety of available software solutions. In light of this, we have listed a few of the precise attributes you need to demand from the software for the construction company.
1. Cost management & financial management
The best construction software for a construction company should include cost management, estimating, and forecasting to give a complete financial picture of each project.
Gains in productivity, time savings, and comprehensive reporting are all facilitated by cost management. During the bid filing and approval procedure, keep an eye on the relevant financial information.
You presumably also monitor your project's payroll, invoicing, and budgets. When tracking manually, you face a more significant chance of making mistakes. You may use Financial Management Software to acquire precise projections and spending monitoring.
2. Project management & scheduling management
The project management process describes the prices and methods a business will use to complete a project. When not all of your teammates are present, it could help your business build outstanding teamwork.
RFIs, purchase orders, project process tracking, subcontractor monitoring, approvals, and bids help define the project's schedule and financial goals.
3.
Inventory management & equipment management
Inventory Management Software for a construction company to assist them in deciding which goods to order, when, and in what amounts. It keeps track of product purchases to sales.
Equipment management systems may monitor and manage the tools and small equipment crucial to your company's performance. The ability to monitor material management often goes hand in hand with inventory and equipment management.
Using inventory and equipment management, you may monitor and control what happens to your supplier supplies and go over your bids and expenditures. Additionally, you may follow your equipment to find out who uses it, where they utilize it, when their warranty ends, and potentially just whether they need to fix it.
Also read: Why You Need Construction Software in Singapore
4.
Document management
A Document Management System is a cloud-based, paperless system. It helps to complete your paperwork, including contracts, financial papers, RFPs, and other submittals. The document management system is software for a construction company that tracks, manages, and stores documents.
This software decreases the risk of losing or misplacing your essential papers and protects physical storage from damage. You can quickly search and recover all documents by employing centralized electronic storage, such as cloud storage and software provided by document management system manufacturers.
Software for a construction company also improves your company's productivity with quick document withdrawal, particularly in administration and document management.
5.
Customer relationship management
Customer relationship management (CRM) may automate some of the processes essential to satisfy your client's expectations while also giving your team access to the resources they need. As a result, managing Communication and record-keeping are more straightforward.
Some CRM Software for a construction company assists contractors with scheduling and client reminders. According to specific systems" search and history functions, contractors may monitor each client's progress and communications. Because they may dramatically boost their company, CRM features and procedures are very popular among contractors.
Software for Construction Company from HashMicro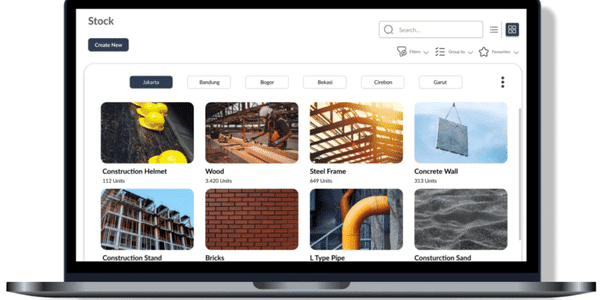 HashMicro is a global corporation specializing in ERP (enterprise resource planning) software. It has assisted over 1750 enterprise-level companies in streamlining their end-to-end operational process.
Your team may efficiently utilize the user-friendly interface and configurable template offered by HashMicro Construction Project Management Software. HashMicro offers cutting-edge advancements like automatic stock forecasting by using the finest practices of the building sector—management of S-curves and contract management.
The unlimited user feature, which enables as many people as possible to use the software without paying extra costs, is one benefit that this software gives that others don't. Additionally, this system's ability to precisely monitor internal transfers across sites in real-time makes it ideal for businesses that oversee several building sites.
All corporate personnel may use the software, which has Artificial Intelligence (Al) aid, to assist them at every stage of the construction process. To guarantee optimum effectiveness with the least amount of human effort, you may connect several additional HashMicro modules with the Construction Project Management program.
The company may use the accounting and inventory software from HashMicro to build an optimal construction management suite. The help of these complementary modules may improve your organization's real-time material distribution and construction expenditure management.
Conclusion
Construction Management Software for a construction company is crucial for making your project successful. Although most management software for a construction company may share specific capabilities, each has a few standout qualities that make it stand out from competing products. Each organization will also have its challenges, objectives, and priorities. Your solution must meet the demands of your business. 

One of the best construction systems in Singapore is HashMicro Construction Management Software. It provides the widest variety of features and accessibilities to improve the construction flow in your business, from selecting a vendor through real-time project monitoring up to the assessment stage.
Getting rid of needless manual administrative labor is easy; a few clicks can manage everything. HashMicro now provides the most significant rate for you, combined with a free demo whenever you like. Increase the effectiveness of your construction projects right away to become Singapore's top construction firm.