Supermarket Management Software makes the shopping experience easier and more convenient. Managing a grocery company may be challenging if the most effective procedure is not found. A firm must fully control all its facets to prevent unforeseen problems. With the help of supermarket software, all requests and issues may be handled.
Retail Point-of-Sale Systems are revolutionizing how consumers purchase and merchants run and monitor their operations. HashMicro POS Software can do more than handle sales; it can also provide business analytics, foster client connections, and aid in expanding your company. One of the best ways to operate a store is supermarket software.
Table of Content
What is Supermarket Software?
This supermarket management system enables the transmission and control of huge commodities, simplifying sales management and reducing manager stress. It improves supermarkets' efficiency. It must offer the fundamental information management function for workers, memberships, and products so managers can add, remove, and amend employee information, and employees may add, delete, and alter membership and product information.
To make the chaotic supermarket data particular, visible, and logical, supermarket software makes it extremely easy to manage, enter, output, and discover the data. Any hardware platform may be used to install and operate the web-based supermarket management system. The effectiveness of remotely monitoring all operations and transactions is moderate. This function is very useful for supermarkets with several locations and branches.
Anyone with access may thus keep tabs on every branch's operations from wherever. There is no need to be concerned about data security with a cloud-based system since it safeguards all the data. Any data may be restored more easily, thanks to automatic data backup. Strong passwords and two-step authentication are further security measures.
Also read: Top 7 Supermarket Management Systems in Singapore 2022
Benefits of Supermarket Software
Owners and managers of physical establishments may profit greatly from retail point-of-sale software. A POS may now do more than simply process sales; it can also provide business analytics, foster client connections, and aid in expanding your company. Find a feature-rich POS that can keep your daily operations operating smoothly, whether you're starting your first store or moving to a new location. For guidance on what to search for, review the following list of the top advantages of retail POS software.
Automated sales processes.
The most apparent advantage of POS systems is that they speed up and simplify transactions for you and your clients. Automate all crucial point-of-sale retail tasks, including barcode scanning, invoicing, billing, sales orders, refunds, and additional client perks like promotions. No more manual processes are used!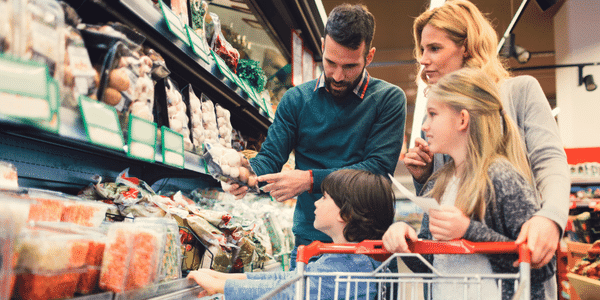 Sales and inventory tracking.
POS systems track all your transactions and provide you with information about your daily earnings. Your stock counts are updated automatically when a barcode is scanned into a system with inventory tracking capabilities.
Card-reading capabilities.
Mobile POS systems might be useful if you manage retail and lack the room for a big cashier. Connect your card reader to your device, keep your POS app open, and when asked, ask your client to swipe, dip, or touch their credit card to complete the transaction. Many POS systems can turn your smartphone or tablet into a POS for receiving credit card payments.
Integrations with other platforms
You may better comprehend your cash flow if your POS can interact with the other software platforms used by your business, such as its accounting services. As a result, you'll know precisely how much money your business has in the bank due to sales.
POS Software for Your Supermarket
A retail point of sale refers to the physical or online place where a customer transaction occurs. Simply put, POS is where a customer gives a retailer money for a product or service, whether it's cash exchanged at a brick-and-mortar store or a credit card payment online. Retail POS Systems can incorporate both hardware and software needed for payment processing. POS hardware helps facilitate transactions and can include tools like cash registers, tablets, and barcode scanners.
Point of sale software is the application that stores customer data. Retailers can use this software to monitor transactions and analyze sales or inventory data such as volume, amount, and frequency. Retail employees utilize POS systems to find product information, create sales orders, accept payments, and send receipts. Point-of-sale systems allow retailers to perform more transactions in less time, helping to increase sales by speeding up the purchase process.
Also read: Supermarket Management Software Benefits to Improve Business
Conclusion
Managing a supermarket would be difficult if you could not find the most efficient way. Supermarket software can be the answer to working and running a business. This software offers many advantages in developing a supermarket business. Retail POS software does more than just complete transactions. A good Point-of-Sale System by HashMicro simplifies the buying experience for the customer and provides retailers with invaluable business insights.
The retail POS landscape is evolving. Advancements in cloud-based and mobile systems have given retailers more flexibility and control over their sales transactions. Retail point-of-sale systems allow you to create a unified experience for your customers, regardless of where they shop. Connect with your buyers online and in person with a multichannel retailing strategy. Contact us for a free demo and chat with our business professionals regarding your company's needs.