Sellers often use quotation letters to present their products or services to potential buyers. However, a seller can also make a quotation letter based on a request from a prospective buyer. Huge companies will undoubtedly conduct several transactions. So the manual quotation is obsolete. Using invoicing software will help you streamline your transactions.
An invoice application is a software system designed to create and distribute invoices to customers fast and conveniently. In addition, the letter offering the price of goods is usually used by companies or business actors to offer goods and their prices to consumers in need, whether business actors, companies, or institutions. You can download the HashMicro ERP Invoicing software price scheme to know your costs in using this software.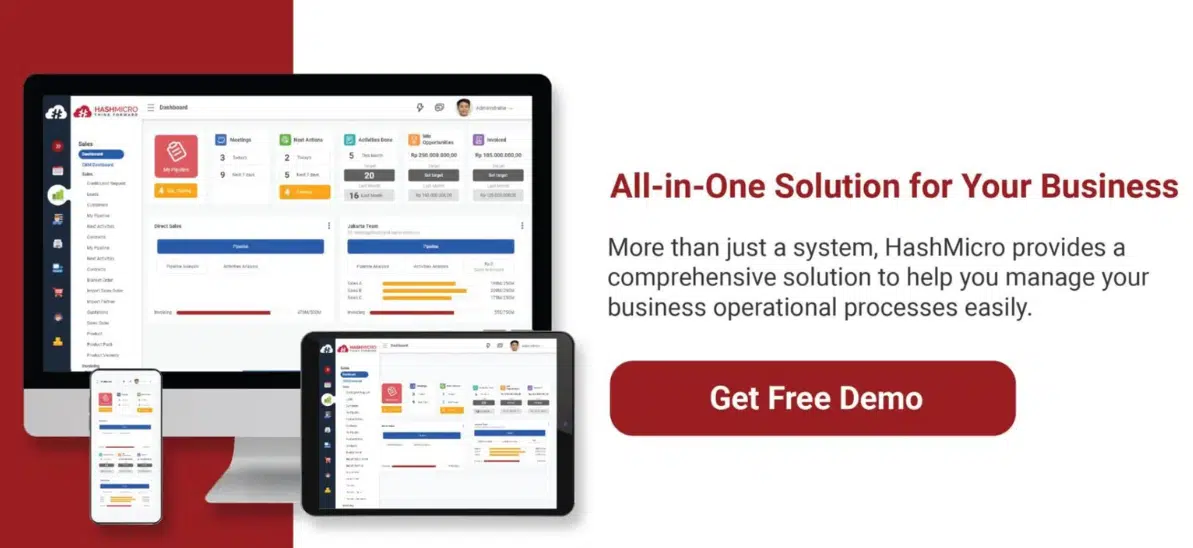 Table of Contents
Definition of Quotation Letter
By definition, a quotation letter is an editable document that contains the prices of all goods or services that a company offers, including details about those prices, discounts, and delivery times. This document is usually the seller edits and sends to potential customers based on their request for specific goods or services. This letter can also support the promotion of the latest products that have just been presented to the public.
The importance of a price quote letter is a reasonable reason for entrepreneurs to submit it to related parties. The supplier must prepare a price quote, taking into account the benefits. Create enough profit spreads so that there is room for price reductions if a customer requests a price cut. It is essential to clarify that somewhere in the attached quote sent to the prospect, it is explained that the price you charge is fixed.
Types of Quotation Letter
Different types of quote letters can be used for specific reasons depending on industry requirements. Types include offer templates for prices, sales, purchase orders, business trips, and general corporate events. The following is an explanation of the various types of quotations.
An offer
Firstly, a quotation letter is a type of letter most people know in the business world. In this letter, the seller or company that sells a product offers a specific product price to another party, usually a particular shop, company, agency, or institution.
Depending on the relationship between the company and the customer, this offer letter should contain the company name, customer information, expiration date, description of the goods or services, prices, and other relevant information.
Sales offer letter A sales offer
The letter is a document that contains a summary of a buyer's order, usually sent to them each time they order a particular product or service from a seller. This document also provides an overview of the costs associated with fulfilling orders from potential buyers.
Purchase
Order A purchase order (PO) is the first official business document and offer that a buyer issues to a seller stating the type, quantity, and price they agreed to for a product or service. It's an official document that allows the buyer to buy now and pay later.
Business Travel Offers Business
Travel quotations are documents that contain travel, accommodation, and transportation costs for a business trip. Usually, a travel agent will send to the owner of a business interest or a company that regularly takes its employees abroad for business.
Corporate Event Offerings
Finally, there are corporate event deals that event planners commonly use to provide cost information for corporate event planning. The quote contains an overview of the cost of decorations, food, location, mc, and other things required by the event. Thus, the offers that event planners send are usually a combination of quotes by different people and are an integral part of the event.
Read related article: Business Consultant Is: The Role That Business Owners Should Know
Components in Quotation Letter
When writing this letter, there are several things that the company must pay attention to when writing this letter in writing, namely:
Date of bidding
The bidding time was information in the form of the date and month when the offer took place. Companies need to be careful when delivering products to consumers. In this way, the company can deliver products to consumers on time. Products that are not delivered according to the initial agreement between the seller and the consumer will undoubtedly disappoint the consumer. This can reduce consumer confidence in the business.
Validity Period
The body of the letter must also include the validity period of making a product. For example, if the selling company and the consumer agree on a one-month production period, it must be considered. Furthermore, if the sales company does not comply with the validity period, consumers will be disappointed. This can cause consumers to be reluctant to repurchase the company's products.
Bid
Number The bid number component has a function to identify each transaction made. As a rule, each offer has a different term. Therefore, offer numbers allow companies to prioritize product execution over time.
Customer ID
It would be better if the letter contains information about the identity of the client. This can be a unique number that differs from customer to customer. In addition, the existence of a customer identity can make it easier to identify the needs of each customer.
Customer address The customer
Address must also be include in the quotation letter. Why? Because customer addresses help companies to deliver products that customers have ordered. So that it can facilitate the company in shipping.
Product description
Every product that is available in the price quote letter must be present in the product description. Its purpose is to provide information about the products that the seller is offering. This allows consumers to know the pros and cons of a particular product.
Terms & Conditions
General terms and conditions must apply to every product the company offers. The selling company and the consumer should discuss this information. Furthermore, if both parties agree, the product will be the seller supply company. And consumers are subject to all applicable provisions.
Contact Person
If the consumer needs further information about the product, the consumer can contact the selling company through the available contacts. In this way, consumer confidence can be maintained if your company provides a contact person who can be contacted.
And of course, you can use Document Software from HashMicro to manage this stuff more effectively.
Conclusion
That is the discussion of the price offer letter. We understand how a price quote letter becomes very important for a company that has a product to sell to its consumers. Preparing a price quote like it has become an obligation for every entrepreneur.
If you have a company that requires good document management and system purchase, don't hesitate to contact us. HashMicro Provides the best e-Invoicing Software that can help your business needs. Click here if you want to register and join us. Don't wait – Test the free demo now and explore!