The canvas method was first introduced by Alexander Osterwalder.  It can encourage as many employees as possible to be involved in developing the business model of his organization. The business model canvas has a big role for all entrepreneurs. For instance, as being more structured with one another, accelerating business design, and making it easier to determine future business strategies.
Starting a business is a challenging task. In addition to having capital, you also have to be good at planning, managing, and also developing the business. To easily simplify your entire business operational process, from E-Procurement to Meeting Management you can try using Hash Core ERP software. 
Also read: The Easy Guide to the Business Model Canvas
Table of Content
The Purpose of Creating a Business Model Canvas
BMC itself has helped many entrepreneurs from beginners to successful entrepreneurs. This element also helps businesses to validate the components of the field they are engaged in. Of course, Alexander has strong reasons why he created a business model canvas, such as:
• Improve Company Focus and Performance
 In the BMC itself, it is written that BMC can increase the company's focus and of course be an impact and encourage the company to be better. This happens because the business model canvas itself has summarized the business.
• Can Know the Value of Proportion
The value of the proportion has the meaning of the placement between consumers and existing products in a business. By applying this method, you can find out the value of the proportion.
9 Important Elements of a Business Model Canvas
1. Customer segment
The first element of BMC is the customer segment. This is about who the target market of the product you are going to sell is. The purpose of the existence of customer segmentation is to create a marketing method that is much more targeted and on target. Thus, companies do not need to waste advertising or promotion costs.
For example, you are running a food and beverages business and food is one of the basic human needs that must be met. For this reason, the f&b business market is very wide open so that marketing can be maximized so that it can attract more customers.
2. Value Proposition
Starting a business / business, you must find out whether the product or service you offer can be useful for society or not. This happens because a product or service must have value so that you can find out the benefits that consumers get when using your business.
In the second element of BMC, there is a value proposition, there must be a balance between the product and the target market. If this has been established, then there will be a balance in the business.
If you pay close attention, the value proposition has 2 diagrams. Pie charts and squares, each of which has a specific purpose. In the pie chart, there are customer jobs, pain, and gain. Customer jobs consist of problems and desires that consumers want.
Pain discusses the perceptions obtained from customers in negative elements so that we have to return to the first point, namely Customer jobs to better understand the types of customers. Gain, discusses the positive perception of customers. In a sense, customers are satisfied with the products or services you offer.
In the box diagram, it is divided into 3 parts, namely, products and services, pain relievers, and gain creators. Products and services focus on what is offered to customers and doing good service. The pain reliever is responsible for presenting the negative view of consumers to the product, and the gain creator is the extra value that is in the product which will later be conveyed to consumers.
3. Channels
The 3rd element in BMC is channels. In this section, the value proposition that we have set can reach the market. In these channels, you must focus on how the products you offer can reach the "community", you must have a strategy to introduce these products to the public, both through offline and online media. Channel selection should not be arbitrary, but must be appropriate in order to reach the target market.
4. Revenue streams
 Revenue stream is a stream of income from the business or business that you run, which is related to where the funds come from such as production sales, investments, asset sales and so on in order to get sustainable funds.
5. Key Resources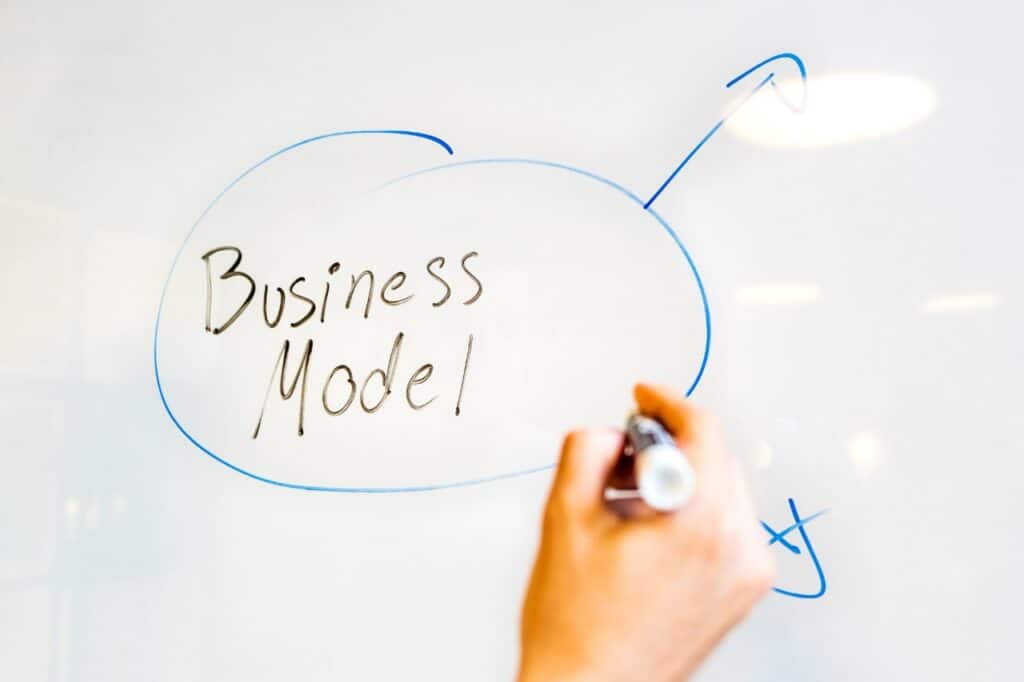 Key resources are aspects of BMC that companies should have to create value for customers, so there are several things that must be considered, such as:
Physical assets: Factory facilities, buildings, vehicles, machinery.
Intellectual property rights: Trademarks, patents, copyrights, customer databases and partnership databases, company confidential information
Human: Labor
Financial: The company's financial resources cash, credit, bonds, stocks
6. Customer Relationship
Loyal customers are the most crucial thing in a business so you must establish good relationships with customers. It requires close and intensive supervision to communicate with customers. Like, asking customers back about the product itself. In addition, you also have to build good relationships, because loyal customers are the most crucial thing in the business world. Get every conversation with each prospect logged to help sales reps understand leads better and to optimize your customer service with using CRM-Leads software
7. Key Activities
In this 7th element, you have to focus on the business you are running, focus on your strategy, how do you get suppliers, how do you promote your business to increase branding in your business. In fact, Key activities themselves are closely related to the activities carried out by the company from the beginning of the process of forming goods to research and development of new products.
8. Key Partnership
This element of BMC relates to the parties you can collaborate with with the aim of supporting and optimizing the allocation of resources, reducing competitive risk and uncertainty, and improving performance. A good key partnership will form a more stable business cycle.
9. Cost Structure
The last element you should pay attention to is the financial structure. What is the process of going in and out of costs for your business to run. You can manage costs efficiently in order to minimize expenses.
Of course, your income and expenses must match so as not to lose. So that with the cost structure, your financial statements are stable and clear. This element is related to the Key Resource element.
In the key resource element, you must ensure that the company has the best Human Resources or employees who can develop over time. The reason is because employees are one of the company's assets that affect the development of a business.
Conclusion
The business model canvas is a great tool to help you understand a business model in a straightforward, structured way. Using this canvas will lead to insights about the customers you serve. What value propositions are offered through what channels, and how your company makes money. The production process is also more directed, flows neatly, and will certainly produce products in the form of goods and services of higher quality. 
The application of BMC will make it easier for entrepreneurs to manage their business. however, it will be difficult without well-managed data. Therefore, HashMicro ERP Software can help businesses to manage data equipped with Business Intelligence features that accelerate decision making, explain a concept and method for improving the quality of business decision making based on data-based systems.
Also read: How To: Business Model Canvas Explained