An organization requires strategies to optimize supply chain management to improve everyone's task who is involved in it. It includes the suppliers, manufacturers, distributors, and consumers. The aim of this strategy development is to minimize production and distribution costs as effectively as possible, while still meeting customers' demands. 
There are several challenges that prevent companies from making it happen. Some of them are mass-customized production, pressures to keep innovating, fast-moving technology, and more. 
One of the technologies that must be considered by current company owners is ERP System. This system can allow you to automate your entire business process from upstream to downstream.
These systems help minimize risk and human error, save time and operational costs, improve accuracy, improve data security, and much more. In fact, the real-time data generated by these systems can help you make wiser decisions for the future of your business.
To keep the company running, there are at least 5 steps that the managers can implement in order to have strong supply chain strategies.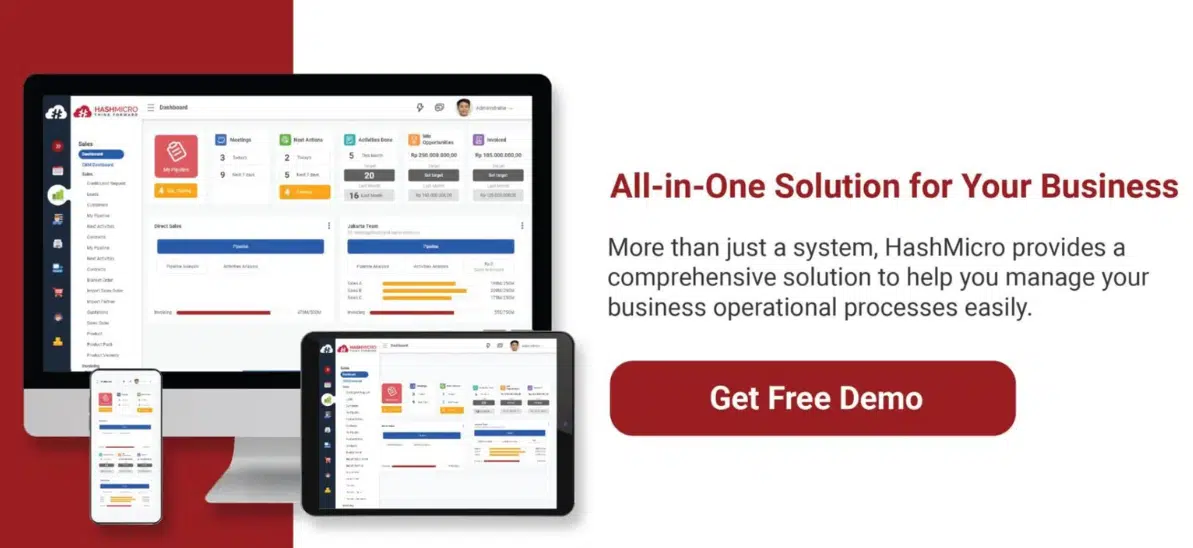 Table of Content
1. Demand-oriented planning
The basic principle of the optimal supply chain is not about creating or managing demands. Instead, it's about responding to it. So, the plan should be based on demand. To be effective, the manager should treat this demand fulfillment as a project. There will be deadlines, objectives, goals, and actionable tasks. 
It begins with reviewing the sales data in the previous period to get the estimation. Then, plan all the tasks that are needed. Don't forget to stock the inventory, especially those that have high lead time. 
Moreover, you have to perfectly understand your business operations when you fulfilled the demand previously. Then, use all your business information to predict your ability to meet the upcoming demand. 
2. Visibility and control
This point is relevant to the first point. We've also talked about how demand prediction can be retrieved from sales history data. It implies that you need advanced, centralized, and thorough data management. Luckily, it's not something impossible with Supply Chain Management. 
This system provides you with information about your business information in real-time. This data helps you attain firmer control and fast decision-making. It improves risk prevention and mitigation plans, hence resulting in effective supply chain management. 
3. Build a strong partnership with the suppliers
An indicator of business success is a healthy partnership relationship with the suppliers. This relationship should be maintained and strengthened on a routine basis. It's crucial though there is no direct financial benefit. 
Building this kind of relationship only takes a two-way communication between the buyer and seller parties. Later on, this healthy partnership will make an easier transaction process, increase both parties' performance, and minimize conflict.
4. Focus supply chain management on customers
Other than fulfilling customers' demands, building a relationship with your customers is important too. Customer management with the help of the Customer Relationship Management (CRM) System, for example, increases retention, provides ease of customer acquisition, and raises transaction value. In addition, you can use a CRM system to gain complete visibility into your lead management.
Personalization and fast response make excellent customer management. Personalization makes customer service more relevant and tailored based on the customers' needs. It also helps you analyze customer behavior to maximize sales. 
5. Conduct a routine review and ensure risk mitigation
The people involved in supply chain management should always do a routine review of procedures and policies. The purpose is to make sure that both are relevant, efficient, and function well. 
This activity will prevent bottlenecks and streamline business operations in the company. Moreover, it also mitigates theft, fraud, and others. 
In order to plan a mitigation plan in supply chain management, there are several steps that you should analyze: 
Identify potential risks
Evaluate its occurrence probability
Estimate financial impact if the risks happen
Prioritize risks
Create prevention acts
Another risk prevention act is to automate your supply chain management using software. Human errors might cause risk to your supply chain. Reduce error risk caused by humans by using HashMicro's supply chain management software. Click here to try the free demo!

Related article: 5 Common Risk Mitigation Failures and How to Solve It