Almost every product on the market comes from a supply chain. Supply chain enhancement software involves turning raw materials into finished products and distributing them to consumers. It links companies to their suppliers to manufacture and deliver goods. They coordinate activities, resources, and data. It also creates the most efficient and cost-effective supply chain procedure, which is crucial since companies will lose time and money when a single supply chain link fails.
Accordingly, supply chain management centralizes internal and vendor inventories, production, distribution, and sales to save costs, improving businesses' competitiveness and benefit customers. As a result, you can get these benefits by using HashMicro's Supply Chain Management System. Start the partnership by downloading the price scheme.
The 5 Stages of Supply Chain Enhancement & Maturity
A supply chain includes steps that illuminate a company's efficiency and quality. Here are the five important stages of the supply chain.
Planning
Before starting the supply chain process, companies must make a plan to manage each step effectively. This plan has to include the required workers to do the job, the overall costs, and profits. To make an efficient plan, a company can use a set of metrics: a cash-to-cash time cycle, perfect order rate, and inventory-to-sales ratio.
Sourcing
After making a comprehensive plan that outlines the specific needs and requirements for materials and services, companies must find suitable quality materials, services, and suppliers that can provide them at a good price. This is an essential step in ensuring that the products and services that the company delivers meet the quality standards of the customers and the industry. High-quality materials at good prices are essential for creating products that are both cost-effective and of high quality.
Manufacturing
The manufacturing process transforms raw materials into finished goods or services. It includes testing, assembling, and packaging to ensure products meet quality standards. Companies can optimize this process using tools like automation, robotics, machine learning, and supply chain enhancement software that can help with inventory management and logistics tracking.
Delivering
After packing, the company has to deliver their products. This stage is also known as logistics which includes transportation and warehousing. The elements specific to logistics are transport management, freight audits, and order management.
Returning
Additionally, the returning process is a crucial aspect of the supply chain as it directly impacts a company's reputation. This process includes several steps, including authorizing product returns, coordinating their shipments, evaluating returned products, and issuing refunds. Each step must be carried out effectively and efficiently to minimize disruptions and meet customer needs.
Supply Chain Enhancement Software Types for Your Business
A supply chain consists of many models that need efficiency and responsiveness. On the other side, the supply chain won't be very effective at producing many volumes if all it does is respond to individual or tiny requests. This part will discuss each model of the supply chain.
Continuous flow model
The assembly line model is a manufacturing method specifically designed for high-volume environments. It is built for efficiency and stability, allowing for the quick and consistent production of a single product or a limited range of products with little design variation or adjustment. The focus is on efficiency, as each worker performs a specific task in a specific sequence, allowing for the efficient and repetitive production of goods.
Fast chain model
The fast fashion model is an effective strategy for companies that change their product lines frequently. It allows them to quickly adapt to changing trends and styles in the market by flooding it with new and trendy products before the trend ends. Another key point is the sense of immediacy and speed that drives it, allowing companies to produce, market, and distribute new products as quickly as possible. However, it has been criticized for its negative environmental impact and lack of sustainability.
Efficient chain model
The efficient chain model is appropriate in highly competitive businesses where end-to-end efficiency is the ultimate goal. This approach primarily relies on production predictions, and the cost of raw materials and commodities has a significant role.
Agile model
The fast fashion model is a retail strategy geared towards companies that change their product lines frequently. It is characterized by its ability to adapt to changing trends and styles quickly and aims to flood the market with new and trendy products before the trend ends.
Custom-configured model
The custom manufacturing model allows for custom setups in production and assembly, which enables the production of small batches of high-quality products. This model is particularly beneficial for companies that produce unique or specialized products that cannot be produced using traditional mass-production methods.
Flexible model
The flexible manufacturing model combines the strengths of different production methods to adapt to changing market conditions. Also, it can handle high or low-demand seasons by adjusting production accordingly, which makes it a versatile and efficient model. However, to be successful, it needs the right tools, suppliers, and personnel to manage and adjust the production process effectively.
Also read: 5 Strategies to Optimize Supply Chain Management
The importance of Supply Chain Enhancement Software for Your Business
The supply chain's importance highlights the need for Supply Chain Management Software. When controlling the supply chain's procurement process, you want the best software for your purposes so that you, vendors, and suppliers all get what they need. Supply chain management has benefits beyond saving time and money. They can automate processes, improve inventory management, give network visibility and transparency, and enable communication and cooperation. These benefits depend on the software and features you use.
Supply Chain Enhancement Software Feature
A supply chain system is a solution your company needs to monitor every step of the supply chain process. Besides monitoring, this system also automates tasks to help a company become more efficient. With all of its features, it will become hard to pick the best software for your company. Below are the eight features a system must have.
Integration skills across the supply chain
A digital solution should integrate suppliers, OEMs, shippers, warehousing centres, and customers across the supply chain. It should connect to all your other applications, including corporate software, third-party apps, legacy systems, help desk, and email, regardless of information source, OS, or platform. This can improve chain connectivity and information flow.
Capacities for collaboration in real-time
Real-time information prevents bottlenecks, missing goods, and angry consumers. With real-time capabilities, companies can respond rapidly to supply chain changes. Effective supply chain enhancement software should let different stakeholders collaborate on a project without regular back-and-forth contact or manual modifications.
Ability to optimize processes
By automating everyday, repetitive operations, staff may focus on revenue-generating ones. Businesses can automate operational activities and tedious tasks using AI and machine learning. Also, logistics and transportation optimization tools move things efficiently and cheaply. This is significant given rising fuel prices and fluctuating national and regional laws that might impede shipments.
Forecasting and analysis
A good supply chain enhancement software should provide built-in analytics and forecasting tools to help you:
Recognize the state and performance of your company.

Locate any

bottlenecks

Make use of your current strengths.

Recognize consumer demand and schedule upcoming production

Find systemic inefficiencies.

Determine occurrences that are likely to happen.
Customization
As a result, customizable systems allow companies to adapt to changes and have software that fits their specific requirements. Also, this feature encourages companies to have systems tailored to their business, resulting in better experience, performance and efficiency.
Cloud-based access and mobility
A cloud-based supply chain enhancement software can help you monitor and manage your company's transactions whenever and wherever you are. Additionally, a cloud-based system costs less money and time to set up than an on-premise solution. Access to your company through your phone also helps you stay updated on your company's activities. So your company can take care of any alerts and issues easily.
Security
Data security is the most important aspect a business needs in software. Before picking a supply chain enhancement software, your company should give asses if the system has good virus-scanning, data encryption, network monitoring, fault tolerance, and audit trail, besides all of the necessary basic features.
Scalability
After all, it would be best if you chose software that can grow with your business. Afterwards, as your business expands, your supply chain enhancement software should be able to handle the increasing work that comes with it without affecting the software's performance. 
Supply Chain Optimization Software from HashMicro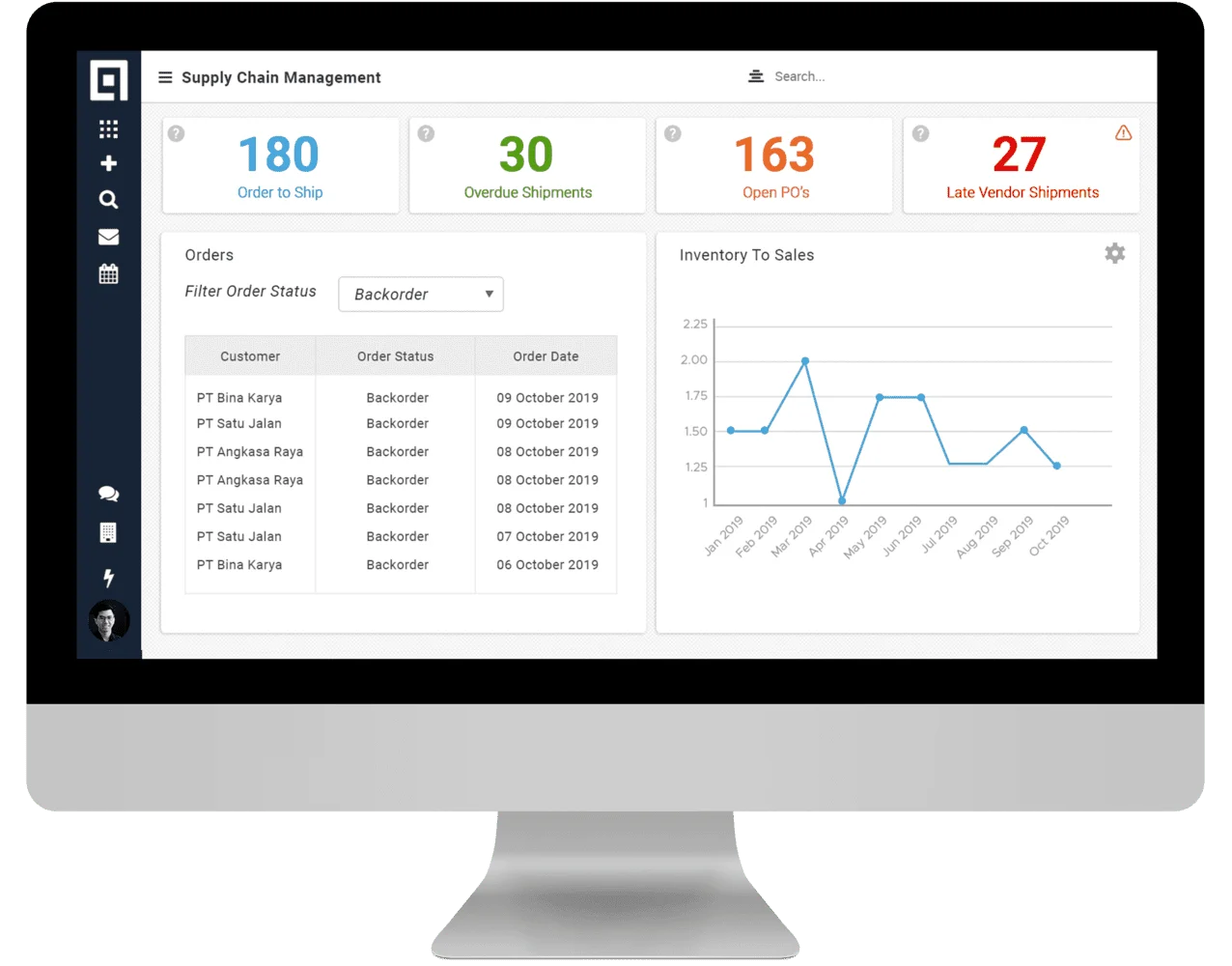 After all, HashMicro's Supply Chain Management Software provides a comprehensive solution for companies looking to stay ahead of quick-moving markets. With cutting-edge analytics and total insight into your supply chain, our system allows you to accurately forecast, plan, procure, and deliver the right products at the right time. After all, by integrating a Sales Management System, Procurement System, Inventory Management System, and Transportation Management System, our software equips your company with the tools it needs to improve efficiency and streamline its processes.
Conclusion
A supply chain is a process that businesses have to go through. Because of that, a Supply Chain Management System is essential for companies to be able to fulfil their objectives effectively. All of a sudden, companies have to choose a system that yields the best result. HashMicro's Supply Chain Management System has many features that can easily help your company's supply chain process. Download the price scheme or start the free demo by filling out the form.