Supply chains are more challenging now than they have ever been before because of the globalization of the market. Over half of all supply chain managers claim they can only see their direct suppliers, not those they rely on. 1
Any company that relies on a supply chain must swiftly and precisely coordinate the activities of numerous participants (suppliers, manufacturers, consumers, logistics providers, etc.).
For example, fleet management software can help streamline and automate many of the tasks associated with managing a fleet of vehicles, including routing, scheduling, and maintenance.
This can lead to improved operational efficiency and reduced costs, as well as improved customer satisfaction due to faster delivery times and more accurate ETAs. Nevertheless, when complexity grows, openness and efficiency suffer.
Given the expected growth in global market complexity, it will be challenging to ensure the smooth operation of supply chains.
Table Of Content
What are the potential advantages of blockchain technology in supply chains?
Enterprise resource planning (ERP) systems have driven significant progress in supply chain information exchange since the 1990s, with corporations like Walmart and Procter & Gamble at the forefront. But, in huge supply chains with complex transactions, visibility remains a problem.
Blockchains are distributed ledgers. The blockchain updates all computers with the same ledger. Chains of code block record transactions in this ledger.
Since each block only exists about its predecessor and successor, its data cannot be modified. Hence, blockchain technology is a verifiable, anti-tampering, transparent corporate tool, notably in supply chain management and inventory management software.
We will discuss how blockchain benefits supply chains. Here's a quick overview.
#1. Transparency
Blockchain technology is a decentralized, transparent, and honest distributed ledger. Each partner must submit their product-related data and information.
Accurate data collected digitally enhances transparency and cooperation.
Using blockchain, it takes only minutes to display the latest version of a product. The current status of a product is transparent to all partners.
Everything from the product's location to its manufacturing process to its expected delivery date may be viewed in real-time on a single platform.
#2. Streamlined Operations
Blockchain systems use encrypted "blocks" in their construction. These are saved iterations of the document that refer back to earlier chunks in the file. This makes them extremely hard to forge and makes it secure.
A hacker would have to update hundreds of copies simultaneously, which is nearly impossible without the software detecting it. This is why Bitcoin and other large financial institutions employ blockchain.
#3. Speed
Smart contracts are codes that can be stored in a blockchain and executed by its network. When the prerequisites for action in a smart contract are met, the contract will update itself automatically.
By using this function, time-consuming manual confirmations can be eliminated.
#4. Fraud prevention
Since blockchain is a distributed ledger with several copies, changing a specific transaction would require modifying all of the copies simultaneously, making it nearly hard to do so.
Because of this, implementing blockchain in the supply chain is a foolproof and secure process.
#5. Analytics
Blockchain goes beyond the capabilities of traditional databases. Forecasts and predictions can be made using historical data, and bottlenecks in the supply chain can be identified.
Complex methods of analyzing the provided data are made available.
Supply chain cost reduction and revenue expansion are two areas where firms find these data analytics very helpful.
Implementations of Blockchain Technology in the Supply Chain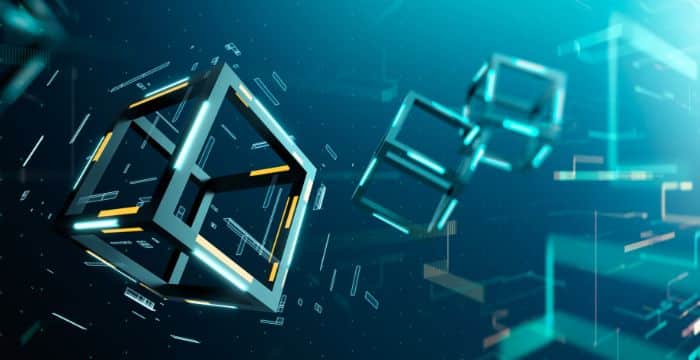 Blockchain technology is still in its infancy, but businesses already use it in numerous supply chain sectors and processes. Some potential of blockchain technology in the supply chain are:
#1. Supply Chain Management
Blockchain technology improves supply chain management due to its immutability, speed, and consensus.
Because of its information exchange and processing strengths, blockchain can serve as a central hub for the supply chain's various communication networks. Engaging a blockchain development service can help businesses leverage the benefits of this technology in their supply chain management, enhancing transparency and efficiency.
Moreover, a study found that blockchain can mitigate the effects of behavioral uncertainty, fraud risks, data loss, human error, privacy protection, inventory management risk, and informational asymmetries that can disrupt supply chains.
As a result, it's a powerful tool for supply chain management and monitoring.
#2. Cost Savings
Blockchain enables trade across national boundaries. Companies can cut out the middleman this way. By eliminating the need for middlemen, they can save both time and money.
#3. Fraud prevention
Verifying a product's origin is crucial for ensuring its quality and dependability.
The correct provenance of items may be verified due to the blockchain's Real-time tracking capacity of tracking every step within a supply chain.
Expediting the process of verifying the legitimacy of the goods in question helps in Fraud prevention.
The OECD found that in 2016, counterfeit and pirated goods accounted for 3.4% of global commerce and 6.7% of total EU imports.
This highlights the urgent need to prevent counterfeiting and a goal blockchain technology may achieve.
Blockchain's capacity to validate certifications and official papers helps avoid documentation fraud because every transaction is subject to authentication controls.
#4. Keeping up moral standards
Consumers have higher expectations for the morality of the companies they do business with from FMCG products to agencies such as pitch deck consultants To create an effective presentation for your supply chain management or blockchain technology, you can explore a variety of blockchain PowerPoint templates to find the perfect design suited to your business needs.
61% of consumers report looking for brands that share their commitment to sustainability and higher purpose and conducting environmental, social, and governance (ESG) practice research prior to making a purchase.
Customers seek assurance that the products they purchase are not subjected to unethical manufacturing and distribution practices.
Using real-time tracking in blockchain, businesses can track where their goods come from and how they go to customers.
Blockchain Challenges
Blockchain's benefits haven't convinced everyone to try it. It's new, and firms don't like change.
Blockchain has three main challenges:
Blockchain programming is complex. To properly set up the blockchain, companies must conduct lengthy training or outsource blockchain development.
International laws apply to blockchain. Global companies may struggle with this. Trade groups should standardize supply chain blockchain usage going in the future.
Blockchain is network-based. Its worth increases with usage. All supply chain partners must use the platform to flourish.
At the moment, not all companies have adopted blockchain. Yet as more and more significant corporations integrate this technology into their infrastructure, we expect its popularity will only increase.
Final Take Away
The use of blockchain technology enhances corporate processes as well as interactions with clients. Blockchain technology can provide a safe and efficient product transfer between companies.
We estimate considerable growth in blockchain in the future years, despite the fact that the technology is still in its infancy. Blockchain development in the USA is creating high-end solutions for the decentralized version.

Get in touch with us today to find out how our data consolidation services may shorten your company's supply chain and boost its performance.