As a retail store or restaurant owner, the point of sale (POS) system for restaurants is one of the essential parts of your business. A POS system will keep your business running smoothly. The conventional POS system has been innovated into mobile POS, which is undoubtedly much better than traditional POS. So, what is mobile POS?
Also read: 5 Ways POS System will Make Your Retail Business Runs Better
Table of Contents
Definition of Mobile POS
mPOS stands for Mobile Point of Sale. This system is a mobile device, such as a smartphone or tablet, that wirelessly serves as a cash register or POS terminal. When a seller or business needs to accept payments, even on the go, mPOS becomes the solution. 
Mobile POS systems rely on Wi-Fi or a data connection to process payments. However, some mobile POS software providers offer an offline mode that allows you to continue receiving payments even when your internet connection is lost. To use this system, you can simply choose an mPOS software provider, download the app, and connect your card reader to your mobile device. Once done, you can start receiving payments.
Mobile POS vs Conventional POS System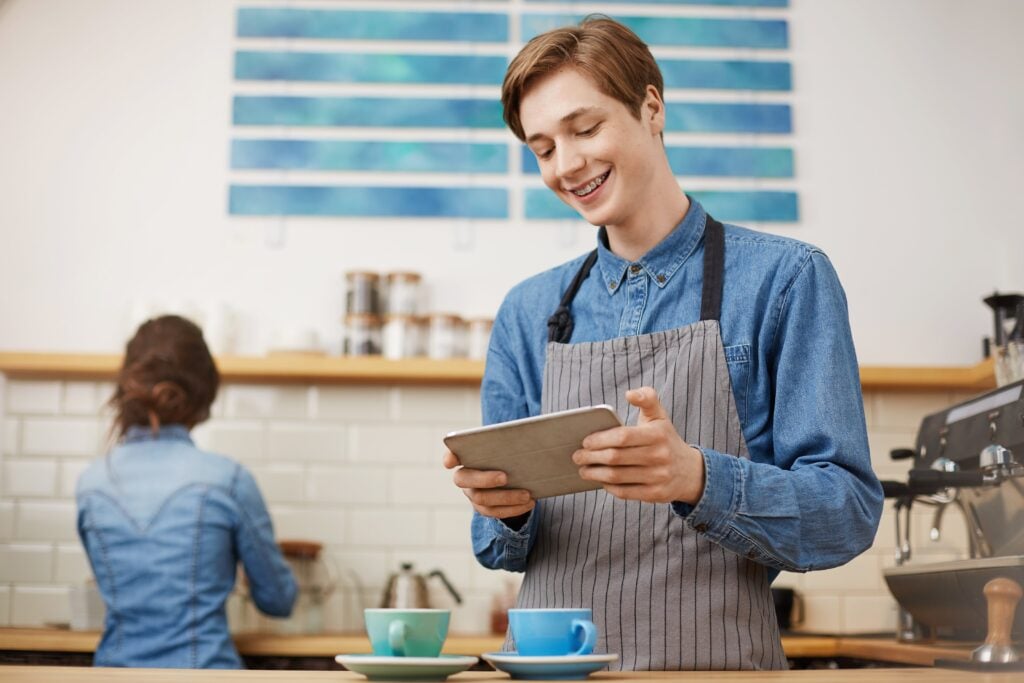 Mobile POS is becoming the new version of conventional POS systems that are simpler, cheaper, and easier because you can access them whenever and wherever you are. This system can replace conventional POS devices that are pretty large and heavy when mPOS uses a compact device such as a tablet or smartphone. Mobile POS provides convenience to transact efficiently, even cashless or cardless.
One of the mobile POS advantages is that employees can contribute to organizing and running the business with the touch of a finger. Because of the rapid influence of technology in the business world, many predict this system will continue to grow and reach other business segments. Not only for large companies but for micro and small businesses. A combination of easy-to-use systems and more affordable, mPOS empowers all enterprises to manage their business effectively and efficiently.
Also read: ERP Software for Small Business
Mobile POS Benefits for Your Business
Fast and affordable
Usually, consumers will queue up to pay for their orders because of the long payment process. With the mobile POS system, consumers no longer need to queue to make payments. Cashiers can simply enter the bill amount into the mPOS, then the customers pay when they are at the cashier. In addition to being faster, installing this system is also relatively more affordable, even without rental costs. Compared to EDC machines from banks that require deposits in advance. Registering as an mPOS user is not difficult, in contrast to banks which require a lot of documents and take a long time.
Reduce errors
Manual cashier systems are very prone to errors. The errors that occur include incorrectly entering the nominal payments and/or consumer orders. These kinds of mistakes can cost your business. However, you do not need to worry because the mobile POS system will check whether the entered payment amount is correct to the actual customer's order. So you can minimize errors that occur accidentally, and your customers will be satisfied with the service you provide.
Monitor business activities in real-time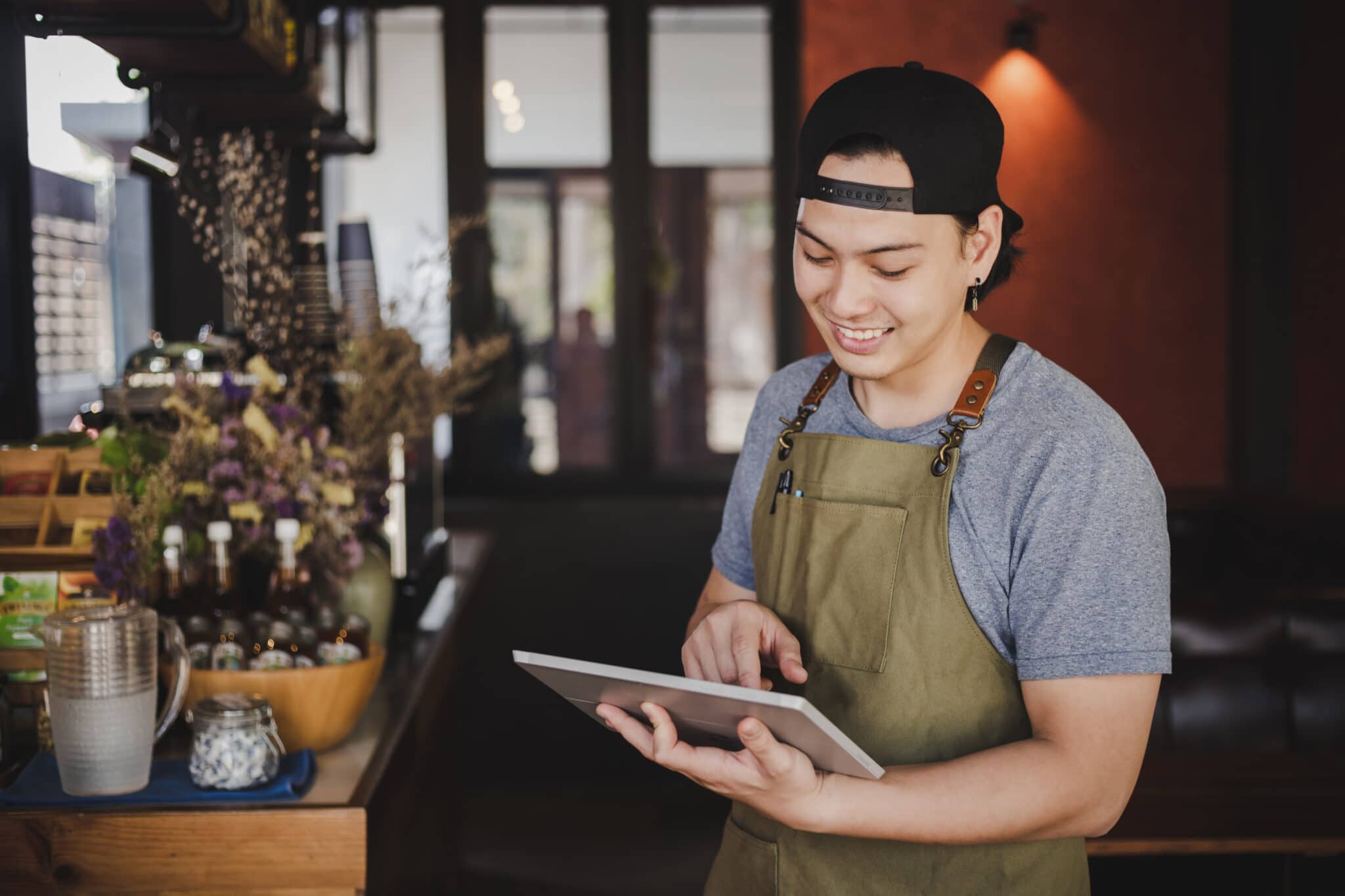 You can also monitor employee performance, as well as business activities through the mPOS system. This system connects all the employees, and the transactions they make are also recorded directly in the sales report. This allows you to get more detailed information about sales to make better decisions for your business.
Promotion to increase sales
The mPOS system allows employees to perform more promotional actions and increase sales. Employees can let customers know about your product anytime and anywhere. The many conveniences of mobile-based point-of-sale systems offer, make it an attractive option today. You can use mPOS to grow your business and increase customer satisfaction.
E-invoice
Another advantage of mobile POS is that businesses can email invoices to their customers. This is indeed more practical than printing payment receipts on paper. By using an e-invoice, you can save time and money. In addition, e-invoicing in the MPOS system can help protect the environment from excessive paper consumption. E-invoices also allow companies to store transaction data better and more accurately than paper notes.
Store customer information and profiles
Customer information here does not mean storing customer personal information—business stores customers' information like the names of loyal customers. In addition, a mobile POS system can help you find out how satisfied your customers are with your business. Knowing customer satisfaction provides you with information on product development plans that can help improve customer satisfaction. Customers certainly want to have a satisfying and memorable shopping experience. Likewise, you want to make your customers happy. Therefore, it is crucial to provide the best experience to your customers. By using mobile POS in your store, you can help customers feel comfortable. In other words, you can use Customer Relationship Management (CRM) applications to gain complete visibility into your lead management.
Conclusion
The mPOS system is an innovation of conventional POS. In its application, this system utilizes mobile devices, such as smartphones or tablets that function as cash registers or wireless POS terminals. Of course, this system is beneficial for business continuity and increases customer loyalty. HashMicro provides mobile POS solutions to optimize your retail business. With an easy-to-use user interface, this retail POS system is easy to understand, lightweight, and fast to simplify the process of your business transactions.