People often get confused with the terminology of POS and ERP, not to mention the POS ERP program. Especially ever since the rise of the emergence of businesses that do not require walk-in customer interaction, these terms have become a common topic in business conversation. Now, if we take a look at the detailed information, these two things are poles apart.
ERP software creates efficiency and productivity in every company's operational activities through various main features and helps you to streamline your business processes & drive your company's growth significantly. On another point, POS is more specific.  POS Software is customizable to meet every business needs. You can process payments, manage promotions, monitor the inventory, and generate comprehensive reports in one platform automatically. There are several types of POS software such as POS-Retail and POS-Restaurant.
In this article, we will simplify and compare the two for you. 
Table of Contents
Point-of-Sales (POS) Definition
The point of sale (POS), an integral part of the point of purchase, refers to the location at which a customer makes a payment for goods or services and where sales taxes may become due. Usually, marketers place a high value on points of sale (POS) because consumers frequently make purchases of high-margin products or services at these strategic locations.
Historically, businesses placed POS near store exits to increase the rate of impulse purchases made by departing customers. Diverse point-of-sale locations, on the other hand, can provide retailers with additional opportunities to micro-market specific product categories and influence consumers earlier in the sales funnel.
Now, it can take place in a physical store, where point-of-sale terminals and systems are used to process credit card payments, or in a virtual sales point, such as a computer or mobile electronic device. The latter is usually an option for stores or businesses that do not have a physical store for holding such interaction with their customers.
Also read: 6 Ways ERP Software Can Make Deskless Workers Life Easier
Point-of-Sale (POS) Benefits
Modern point-of-sale systems are frequently programmable or extensible via third-party software programs. These systems can be customized to meet unique requirements. For instance, many retailers use point-of-sale systems to manage loyalty programs that reward frequent buyers with points and offer discounts on future purchases.
By automating the transaction process and tracking critical sales data, electronic point-of-sale software systems streamline retail operations. A fundamental system consists of an electronic cash register and software that manages the data collected from daily purchases. Retailers can enhance functionality by implementing a network of data-collection devices, such as card readers and barcode scanners.
What can Retailer do with this system
Retailers can monitor pricing accuracy, inventory changes, gross revenue, and sales patterns, depending on the software features. Using integrated technology to track data enables retailers to identify a pricing or cash flow discrepancies that could result in profit loss or sales interruption. Retailers can use point-of-sale systems that track inventory and purchasing trends to avoid customer service issues such as out-of-stock sales and to tailor purchasing and marketing to consumer behavior. In addition, you can also take advantage of retail POS software designed specifically for the retail industry so that your business becomes efficient.
For this, cloud-based POS systems are increasingly in use, particularly for large online merchants, to track and process numerous purchases. Cloud-based systems can greatly reduce the upfront costs of implementing a POS system for many businesses. 
ERP Definition
ERP offerings have evolved over the years from physical client server-based software to cloud-based software that enables remote, web-based access. In its simplest form, the definition of ERP (Enterprise Resource Planning) system is that it is the bridge that connects each and every computer system in a large organization. Without an ERP system, the optimization of each department's system would be only for its unique tasks.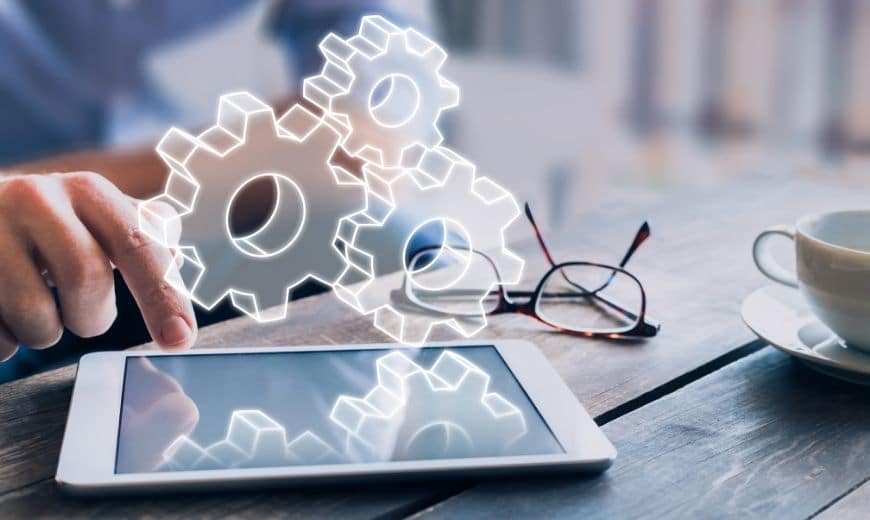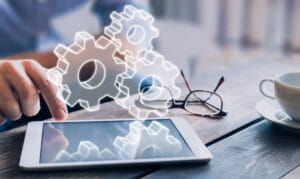 On the other hand, with the ERP system, each department still has its system. But, it only takes one application and one interface to access all of the systems. ERP gathers data on the activity and state of various divisions and makes it available to other parts for productive use. By connecting information about the production, finance, and human resources, ERP applications can assist a business in building its awareness. 
Also read: International Trade: Definitions, Benefits, Negative Impact, Type and Policy
ERP Benefits
With its ability to act as a bridge for various departments, companies also apply the system for various reasons. The reasons are mainly expanding business, and obviously, improving their operations. In addition, ERP applications are said to be able to eliminate costly duplicates and incompatible technology. Often, the process integrates accounts payable, inventory control, order monitoring, and customer databases into a single system.
Furthermore, ERP systems are effective to facilitate communication and information sharing between departments and the rest of the company. With ERP systems, companies could efficiently improve their productivity and their accuracy in making decisions.
Even if it comes as a system, ERP could easily be one of the money-making factors. Accurate and comprehensive reporting enables businesses to plan, budget, forecast, and communicate the state of operations. Which then the information will be available to both internal stakeholders and external stakeholders, such as shareholders.
POS vs ERP Program: Which One is Better?
It is critical to distinguish between point-of-sale software and other business management systems such as ERP. In brief, both may have offered similar features, but they are targeted at distinct markets.
POS software refers to the new generation of automated cash registers. It manages multiple payment methods, records, and tracks customer orders, manages promotions, and generates an invoice, among other functions. While on the other hand, as the name implies, an enterprise resource planning (ERP) system is a software solution that manages day-to-day business operations such as formulation, procurement, sales, research and development, quality control, and compliance. ERP connects independent but interdependent departments and ensures the smooth flow of informational data between them.
Conclusion
Up to this point, the two might look very different. But, we hope the explanation provides the best answer to the confusion on the similarities of these two. We can conclude that POS software refers to the new generation of automated cash registers. In comparison, ERP is a software solution that manages day-to-day business operations such as procurement, sales, etc. To support the idea, now it is possible to combine the two into one thing. POS ERP program could provide immediate access to real-time data, such as customer information and purchase history, which enables staff to make more informed recommendations. That would then lead to the enhancement of cross-sells and upsells as a result. 
You should also choose the best POS ERP program to conduct company transactions quickly and efficiently for the company. Sometimes you will find obstacles if you do not use the right POS ERP program. The obstacles include a slow process, non-customizable, and difficulty monitoring all transactions. The solution to this problem is the Point of Sale Software from HashMicro.
Great Offer
HashMicro's POS ERP program can be your choice to be able to process payments, manage promotions, and generate comprehensive reports on a single platform automatically. This POS system is customizable, so it is very suitable for use by various types of industrial sectors. You will also get many benefits, such as offline/online transactions, a web-based system, easy controlling all branches, and useful analytic data. By using this program, you can overcome the obstacles in your company. Immediately switch to the Best POS ERP program from HashMicro for the best transaction experience!
You can also choose the right ERP vendor after calculating the ERP software pricing scheme. Tell us about your type of business and industry and we will offer you the best business solutions. If you want to get a free demo of our tour product, click here!