Wholesale distribution ERP is software that manages logistical operations, front and back-office activities, and other business processes in wholesale and distribution fields. It optimizes inventory management, distribution planning, and invoice administration. This kind of software is used to determine the demand for a product and to guarantee that things that have been purchased are supplied on time. Most departments are responsible for inventory, warehousing, and logistics and use enterprise resource planning software designed specifically for distribution.
In the chain of product distribution, wholesalers and distributors play a critical role. Distribution companies have seen many possibilities and complications as technology has advanced. Without wholesale distribution ERP, wholesalers and distributors cannot monitor thousands of orders quickly, reduce overhead costs, and increase customer satisfaction. They might increase their maintained inventory as they create more stockouts. On the other hand, HashMicro ERP Trading Software can ensure that the distribution process goes smoothly, improves inventory management efficiency, and increases the amount of money your business makes.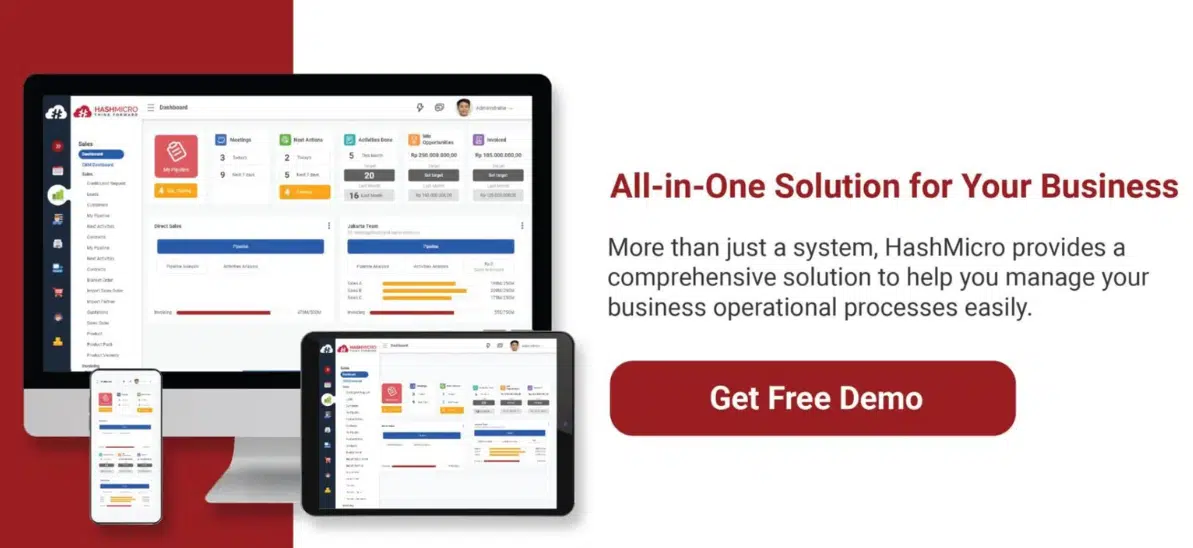 Lack of Real-Time Visibility into Processes
It's crucial to have real-time insight into business operations, particularly for wholesalers and distributors with as many moving components as your company has. It becomes difficult for you to coordinate these operations without it successfully. Additionally, suppose your wholesaler or distributor uses different spreadsheets or software systems for various activities. In that case, these silos are created, making it not easy to get the real-time information you need to conduct your company successfully.
ERP software breaks down the information silos that impede the real-time information flow you need by collecting data across all areas of your organization, including finance, procurement, inventory, and sales. You may assess the profitability of your different warehouses, product lines, or business units using the reporting and visualization features of ERP software. You can also identify cost overages that influence profitability in any area of your wholesale or distribution company. With the help of ERP software, you can receive real-time, complete insight into your wholesale and distribution firm, allowing you and your staff to take significant actions that will benefit your organization and provide you with a competitive edge.
Ineffective Inventory Management
Another significant industry-specific issue that wholesalers and distributors must address is inefficient inventory management. Stockouts during periods of intense demand, overstocks during periods of low demand, increased expedited shipments, inadequate early inventory planning, and missed reordering deadlines are all expected outcomes of poor inventory management. Additionally, inefficient management reduces reaction times and results in erroneous inventory reporting.
By automating crucial processes like stock monitoring, highlighting important inventory patterns, and improving demand forecasts for inventory goods, Wholesale Distribution ERP software optimizes inventory management. It also expedites response times, creates precise inventory reports, and guarantees you have enough of a product on hand when demand is high and fewer overstocks when demand is low. A warehouse management system (WMS) may also be integrated with your ERP software, making it easier to control inventory using barcode scanners and mobile devices in your warehouses.
Limitations and Bottlenecks in Supply Chain Process

Nowadays, it may not be easy to manage supply chains successfully due mainly to the need to satisfy consumer expectations. Shorter lead times, same-day delivery, and more e-commerce fulfillment reveal supply chain constraints. These cause supply chain bottlenecks. Using ERP software's inventory management module, your wholesale and distribution company can improve supply chain management.
For instance, ERP software may automate placing purchase orders with suppliers when inventory levels are low and the execution of such charges. You may handle incoming and exiting inventory stock and dispatch goods to clients with assistance.
Low Customer Satisfaction Due To Poor Service
Meeting the high expectations of consumers is crucial. Consumers of today want what they want when they want it and won't settle for anything less. Customers will quickly switch to a rival if you cannot provide such speedy service. 
Utilizing ERP software enables you to provide the type of customer care that customers like. ERP software optimizes inventory management and supply chain and eliminates delays due to untracked orders or product shortages. ERP software allows your wholesale distribution company to complete orders swiftly and effectively, boosting client retention.
How ERP Software Resolves the Pain Points
The challenges faced by wholesalers and distributors are many and unique to each sector. Among their main pain points are problems with inventory management, supply chain interruptions, inefficient workflow processing, and unhappy customers. For wholesalers and distributors to expand, the pain points must address these problems. But it's easier said than done to deal with problem areas. To achieve this, wholesalers and distributors must address their root problem, a lack of insight into business processes.
ERP software gives wholesalers and distributors today the insight into business operations they need to remain competitive. Additionally, it streamlines their operational procedures, dismantles informational silos, and removes bottlenecks such companies often have. More significantly, ERP software aids wholesalers and distributors in resolving problems unique to their industry that might halt expansion.
Also read: 7 Main Benefits of ERP Software in the Wholesale Industry
Conclusion
Wholesalers and distributors can swiftly monitor thousands of orders using wholesale distribution ERP software. The software also saves overhead expenses and improves customer satisfaction. This software gauges consumer demand and ensures on-time delivery of ordered goods. It speeds up reaction times, generates accurate inventory reports, and provides enough products when demand rises.

By using ERP software, you may provide consumers with the customer service they want. You can optimize managing incoming and outgoing inventory stock and distributing items to customers. Hash Trading and Distribution can provide for you to assist you in maintaining control and streamlining your business's trading process. You are welcome to use our company's free demo to start using our ERP immediately.