Companies that sell goods or services to other businesses rather than consumers are known as wholesalers. A wholesaler market, for example, is a corporation that distributes fruits and vegetables to various grocery stores in the vicinity. The majority of wholesalers provide bulk items at a low cost and offer consumers of these products discounts as they acquire more. As a wholesalers in an increasingly competitive digital environment, manually running a wholesale business will make your business lag behind the competition. Therefore, Hash Trading & Distribution provides convenience in managing your various business operations. With the best wholesales trading system, you can get detailed information about which sales channels are most effective and play a crucial role in product sales. After that, you must get a price calculation for your system based on your business requirements.
Types of Wholesalers
Wholesalers are one of the links in the supply chain that most items transit through on their journey to the market. Wholesalers in wholesaler market enable the transportation, quantity preparation, storage, and sale of commodities eventually destined for clients as mediators between manufacturers and consumers of goods. The best wholesale business innovation is meant to help your company significantly improve its efficiency. Wholesalers play an essential role in a wide range of businesses, including vehicles, supermarket items, plumbing supplies, electrical supplies, and raw farm produce. Hash Trading & Distribution provides convenience in optimizing the trading/wholesale market that you manage. You must improve your inventory visibility and supply chain with an integrated ERP software for wholesaler. Merchant wholesalers, agents, brokers, and commission merchants, and manufacturers' sales branches and offices are the three sorts of wholesalers.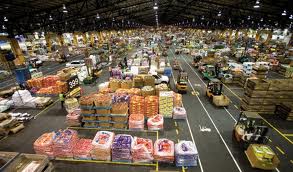 Source: ghaziabadonline.id
Merchant type wholesaler
Merchant wholesalers are businesses that specialize in purchasing, acquiring title to, storing, and physically handling large quantities of products in order to resell them in smaller quantities to retailers, industrial, commercial, or institutional concerns, and other wholesalers. All terms are using to describe these types of wholesalers in marketing depending on their services, wholesalers, jobbers, distributors, industrial distributors, supply houses, assemblers, importers, and exporters. Merchant wholesalers divides into two categories: service (also known as full-service wholesalers) and limited-function or limited-service wholesalers. The latter category of wholesalers, divides into sub-niches, provides varying levels of service in areas such as product delivery, credit approval, inventory storage, market and advisory information, and sales.
A broker and agent type wholesaler
Agents, brokers, and commission merchants are also independent middlemen who do not take part in the commodities in which they trade, but instead are actively involved in negotiating and other tasks of purchasing and selling while operating on behalf of their clients. They are frequently rewarded in the form of commissions on sales or purchases. Agents, brokers, and commission merchants frequently represent the non-competing products of a number of producers to various stores. This sort of wholesaler is particularly common with producers with minimal cash who can not afford to retain their own sales personnel.
Wholesaler type of branch and mini offices
Manufacturers own and run manufacturers' sales branches and offices but are physically isolated from production sites. They are employed largely for the purpose of distributing the producers' own products at the wholesale level. Some have warehouse facilities where they maintain inventories, while others are only sales offices. Some of them also wholesale allied and additional items obtained from other producers.
Benefits of Wholesaler Market
The importance of wholesaling can be attributed to a number of factors. To begin, all commodities & supplies required for their manufacture must travel via a middle agency and wholesaling system. As a result, the efficient operation of wholesaler market links directly adds to a society's economic well-being. Then, most small manufacturers find that their immediate geographic region is insufficient to retain a consistent consumer base. Smaller manufacturers must have avenues to build market segments of prospective clients in order to sell their goods and they must ensure that their items are of the quality customers need at rates they are ready to pay. Wholesalers' job is to connect businesses to a larger market to figure out where clients are and how to get in touch with them. Wholesalers in wholesaler market provide value by storing commodities that may be accessed by purchasers at a lesser cost than direct trade.
It builds brand awareness
Working as a wholesaler is a fantastic approach to spread the word about your goods. Consumers may view your goods at a number of venues rather than having to buy entirely from a single store, whether virtual or physical. It may help a wide spectrum of customers who might otherwise be unaware of your product develop a relationship with it. You must boost your sales team productivity with the most complete Sales Management System in Singapore. With that, you can define your sales targets more clearly, assign tasks to the right sales reps, and monitor the each salesperson's progress.
Using a drop-shipping
As a wholesaler market, you may take advantage of the drop-shipping technique of selling. A store or merchant is selling the product, but they don't own the inventory. Instead, they will send the order to you, and you deliver the product to the consumer. You enjoy the benefits of being a retailer (such as targeted branding and a direct channel to the client) while a specialised retailer takes care of the front end. The inventory remains your property.
When drop-shipping, the system at the heart of your business should provide you the ability to distinguish your drop-ship orders from the others. You should be able to separate these orders at a glance, quickly and easily, whether it's with a drop-ship symbol against orders, a distinct order status, or a report filter. This enables straightforward and effective reporting, as well as your team's ability to handle orders fast and accurately in accordance with your drop-shipping protocols.
Allow globalization
It is considerably faster and easier to develop into worldwide markets when selling items wholesale. Your relationship with the customers that purchase your products is essentially determines any expansion and growth. If they sell internationally, you will as well. It is because all you are doing is transporting the items to where they need to sell.
Ensure that your accounting system supports multi-currency transactions so that you may sell to a variety of clients in numerous currencies swiftly and effortlessly. Another advantage of selling wholesale is that your items will be shipped abroad in a single huge container, rather than hundreds of individual retail deliveries. This might be a less expensive approach to sell globally, depending on your processes and product prices.
How Softwares Can Help Your Business
The unseen order fulfillment procedures between business-to-business (B2B) and business-to-customer (B2C) are referring to as wholesale order management (B2C). Accepting orders, updating inventories, and delivering items are all part of this procedure. 46% of wholesalers to track their order cycle are using manual techniques. 19% of people don't keep track of their cycles at all. Because of the magnitude and complexity of the wholesale sector, data collation and fulfillment are prone to errors. Wholesale order management software can help you optimize your order fulfillment procedures as a wholesale market. This article will provide you with an overview of how it works.
Best Software for Your Wholesaler Market Business
The advantages of integrating software for wholesalers might seem like switching from trying to cook instant noodles every night to effortlessly presenting a five-course meal. I'll start with the obvious: distributors have a difficult job. Implementing distribution software may simplify a variety of everyday activities. It is allowing you to go from working extra hard to finish fewer tasks to automating functions and performing more business than before. Doesn't it sound fantastic? Yes, it is. However, in order to reap the benefits associated with these systems, selecting the proper solution and establishing the functionality that you want from your software program is critical. Here are some of the best wholesale distribution software on the market today.
HashMicro
This software is the best wholesaler market business innovation to help your company significantly improve its efficiency. You can increase your efficiency by automating various trading/wholesale business processes. Hash Trading & Distribution is equipped with powerful features that can help you improve the efficiency of your trading/wholesaler market processes and propel future growth. Our software comes with various benefits to optimize business processes within your trading/wholesaler market. This system can generate multiple reports in one click to help your wholesaler market decisions better and more accurately.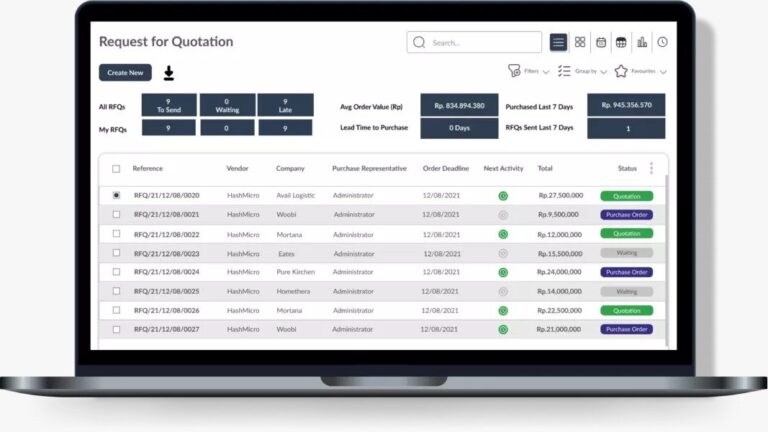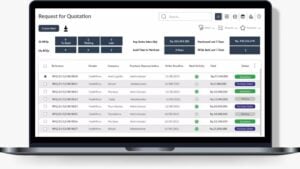 Source: hashmicro.com
Quickbooks Commerce
QuickBooks Commerce is a cloud-based distribution tool for small to medium-sized wholesale and e-commerce businesses. Customers of QuickBooks Commerce work in a wide range of sectors, including electronics, food & beverage, fashion, and healthcare. Customers can ask inquiries and representatives provide helpful replies using a portal provided by the provider. QuickBooks Commerce includes a number of warehouse-related functions, such as barcode label printing, receiving stock, and taking stock. The Mobile App visualizes data to assist with inventory management, client communication, and order management. The system also includes built-in payment gateway, with sales orders and may generate bills depending on previous transactions.
NetSuite
NetSuite is a cloud software system that automates and streamlines critical company processes by centralizing a range of functions. Many companies of all sizes and in a wide range of industries, including energy, financial services are using this system is. There are also advertising, hospitality, manufacturing, logistics, and transportation industries as well. Supplier and vendor relationship management, order fulfillment, and inventory tracking are just a few of the program's important elements. NetSuite manages the process, from entering the time a sales quote, until completing the time order. Through the integration of operations such as finance, sales, and fulfillment, the application can control bids and eliminate billing mistakes.
SYSPRO ERP
Companies that have a substantial distribution or manufacturing component in their day-to-day operations would benefit the most from SYSPRO ERP. The system is flexible, allowing businesses to tailor a program to their own requirements. Invoice management and warehouse management skills are two modules that wholesale distributors may find useful. Invoice is supposed to be done automatically. Therefore, you can spend less time on paperwork & improve your productivity by integrating the best Peppol e-Invoicing software. 
Acumatica
Acumatica is a software platform that unifies critical corporate processes including finance, distribution, field service, manufacturing, and customer relationship management. The application may be deployed both on-site and in the cloud. This application is a flexible solution for a variety of businesses, particularly small and medium-sized businesses. Manufacturing, technology, software, service, e-commerce, retail, and distribution are some of the sectors it services. Customers get access to personalized professional assistance as well as training possibilities. To develop a solid distribution program, the Acumatica Distribution Management Suite connects with the Financial Management Suite. The system are managing the purchase requisition-to-payment and quote-to-cash procedures. Over 5000 clients are now using this system.
Conclusion
The wholesaler market plays an essential role in the world's economy. They serve as a connection between producers and merchants. After that, they usually specialize in one sort or area of items. However, they order in quantity and store these items. With our advanced software, equipped with Pareto analysis, it helps you to see which products are the most profitable and build the right procurement strategy. As a result, the producer will not have to worry about storage, the merchant will be able to purchase according to his requirements. In exchange, a wholesaler will benefit from economies of scale. The integrated Hash Trading & Distribution system can help you to automate various operations of your wholesaler market, from inventory tracking to warehouse optimally. You can also get a free demo and consultation of your business needs just by clicking here, go check it out and improve your wholesale business now!