Sales apps, also known as Point of Sale (POS) systems, are used by retail and restaurant system businesses to complete direct transactions between buyers and sellers. Ten years ago, transactions were processed manually, very time-consuming, and prone to errors. But with POS systems, all transactions can be managed instantly and accurately.
Besides, POS systems can be easily found in various shops, cafes, restaurants, pharmacies, mini-markets, salons, and many more. Business owners have recognized the importance of expediting processes and increasing the accuracy of their sales. If you find yourself overwhelmed when looking for a perfect sales app for your business, this article will be very helpful for you.
We have summarized the five best sales apps in Singapore that you can consider.
Table of Content
1. HashMicro POS System
HashMicro offers a POS system that has gained popularity with several large companies and institutes in Singapore since 2006. The company provides complete automated solutions for businesses of various scales, from enterprises to small and medium businesses (SMB).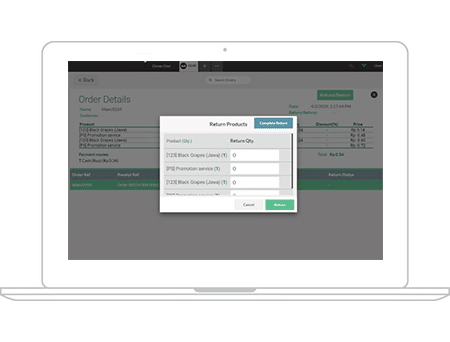 One of the solutions offered by HashMicro is a sales app. HashMicro's POS System is an ERP software system that is equipped with a modern and user-friendly interface. Some of the main features are:
Multi-User & Multi-Location Management Sales Apps
One of the advantages of HashMicro POS is the unlimited number of users (and the ease of managing multiple branches). In addition, you can give access rights to as many employees as possible at no additional cost.
Transaction Suspension
HashMicro POS system allows transactions to be suspended in case of an emergency or when customers have to leave for some time.
Table Management (for Restaurants)
This feature will be very useful in restaurants or cafes. Employees can easily arrange table positions and track orders from each table. This also makes it easier for cashiers to check the bills especially when guests want to split or merge their tables.
Product & Price Synchronization Sales Apps
HashMicro's POS System can certainly make it easy for you to synchronize your products and prices across all outlets. You can find out the availability of your stocks in real time as well as update your inventory anytime and anywhere.
Customer Loyalty Management Sales Apps
For both retailers and restaurateurs, arranging discounts and rewards has become a routine activity. HashMicro Point Of Sales System also makes it easy for you to personalize rewards and discounts for your loyal customers through the Customer Loyalty Management feature.
2. Soltius
Moreover, Soltius sales apps. Through SAP Business One offers a fairly complete sales solution. It offers several features; from omnichannel management, mobile POS, and reservation management, to recipe management for F&B businesses.
One of the advantages of Soltius is the ease of managing payments. Their sales app makes it easy for you to accept various payments other than debit and credit cards, i.e. e-cash or e-money.
Soltius has several offers for companies that use their sales app:
1 professional license

4 limited licenses

1 indirect user

2 consultants to work for 45 days
3. Moka POS Sales Apps
MOKA POS is well known amongst retail and restaurant businesses. Just like EQUIP and Soltius, MOKA POS sales apps also offer several features that make it easier for businesses to manage their sales transactions. Some of the main features are:
Promo Management Sales App
You can create promo programs and determine their active periods through the back office.
Inventory Management Sales App
You can check the availability of your inventory and see your order history whenever you want.
Staff Management
In addition, you can set employee slots and create assignments for each employee using a four-digit authorization code.
Customer Management
Furthermore, this feature makes it easy for you to manage memberships. You can gather as many members as possible with no limitations.
4. Pawoon
Just like MOKA, Pawoon sales apps are also popular amongst small and medium retail and restaurant businesses. Pawoon POS system is easy to use. With a fast installation process, users can already use it as a cash register.
One of Pawoon's advantages is the ease of printing receipts and sending them via email. Additionally, just like EQUIP, you can use Pawoon in offline mode. All transaction data is local and will be synchronized after the system is connected to the internet again.
Users can also access sales reports in real-time via smartphones, calculate COGS, determine promos, and manage raw materials or recipes. In addition, users can also make several access rights for specific people.
5. Olsera Sales Apps
Furthermore, olsera is a low-priced and flexible sales app. By paying a monthly subscription fee, users can enjoy a variety of convenient features.
Some of the features offered by Olsera for retailers include inventory management, shipping cost calculation, data synchronization, payment management, stock transfer management, and CRM. Whereas, for the food and beverage businesses, the features offered cover table management, menu management, payment management, and Kitchen Display systems.
Which Sales App is Right for My Business?
To sum up, choosing the right sales app for your business can be tricky. This will be a long-term investment for your business. Your business transformation starts when you implement the software.
The first step you must take is to analyze your requirements. Make a list of your needs and then compare them against the features offered by each vendor that you meet.
If your business is big, then you should narrow your choices by choosing a few vendors who have experience in providing services for large-scale companies. Vice versa, you should select vendors who offer solutions that suit your needs and budget.
In addition, you also need to know your software developers very well. We recommend that you choose vendors who develop their own systems in-house to facilitate the installation, customization, training, and maintenance processes. Also, make sure that the sales app you choose does not have hidden costs so you will know how much you will have to pay from the very beginning.
Additionally, HashMicro provides free consultations for those who are looking for sales apps or other business apps. Find out more about our sales apps by clicking this link.