Supermarket businesses are highly competitive. Keeping up with technology is one of the ways supermarkets can do in order to stay on top. Since managing a supermarket requires many different aspects, it can be hard to do it manually. Therefore, implementing a supermarket automation system like the best POS software can be the best choice. It has comprehensive features that will assist you in managing your supermarkets such as inventory management, transaction matters, reporting, and many more. 
The overall process in supermarkets is really complex. Hence, many supermarkets are moving their business process to automated software to lower their operating costs and make them more competitive. You can consider utilizing complete POS software for streamlining your supermarket management process. In addition, take a look at the pricing scheme calculation for the best POS software before you implement it. In this article, we will see the importance of automated software for supermarkets. 
Table of Content
Automated Inventory Management
Supermarkets are selling many things. Managing a supermarket inventory can be difficult since you are dealing with a lot of stuff. You might want to use a supermarket automation system that can manage your inventory seamlessly, especially for bigger supermarkets. Managing inventory with the POS software allows you to easily track inventory through multiple stores with its centralized system. This can reduce inefficiency by eliminating the manual process of inventory management. 
The POS software also can give alerts about stocks so you won't be under or overstocking with the auto-reordering feature. This means you are also prevented from unnecessary purchases. It also monitors products' performance and ensures that the popular products are always in stock thus helping you in gaining profitability. By using the POS software, managing tons of inventory will no longer be a concern.
Also read: How POS Enhances Your Business
Enhancing Customer Experience
Providing the best customer service is important for your business growth. Aside from always meeting customers' needs by keeping the availability of products, you have to do other customer management. Retail businesses like supermarkets often have a reward or promotion program to improve customer retention. The most versatile POS software provides customer and promotion management features to assist you in achieving excellent customer service. 
Without the right tool, making rewards programs for customers is a time-consuming task. Thus, utilizing the POS software can boost efficiency for your supermarket. It allows you to manage customers' data and membership, making it easier for you to create personalized promotions and reward programs. The system also calculates every program in the transactions automatically. 
Improving Transaction Methods
Having various payment methods is necessary for today's business. These days, more people are using e-wallets for their transactions. The best POS software allows you to process transactions with multiple payment methods such as cash, debit, and credit card, and also e-wallets. Moreover, you can transact without an internet connection and the system will automatically obtain the data once there is a connection. 
In addition, one thing you would want to benefit from the POS software is a faster transaction process as supermarkets can get very busy. Issues in processing payments can cause lengthy lines. The POS software will improve the checkout process significantly by fixing broken barcodes and prices. A faster transaction process allows customers to have a better customer experience and it will boost business efficiency. 
Easy Invoicing
Supermarkets deal with a lot of transactions at one time. Thus, dealing with invoices can be time-consuming. Invoices are important as it states values, sold product quantity, description, and many more. You don't want to manually send invoices as it is very ineffective. Managing invoices is also quite complex so you need the help of automated software. While the transactions are automated, sending invoices should be too. 
With the POS software, invoices are sent automatically after the payment is done. This is beneficial so employees don't waste their time and are able to focus on more important tasks. You also can group every invoice when there are tons of them. Moreover, it also compares the money received with the transaction. This supermarket automation system will automate all the complex processes of invoicing to enhance your management process. 

Also read:
4 Proven Strategies to Improve Supermarket Supply Chain
Obtain Comprehensive Reporting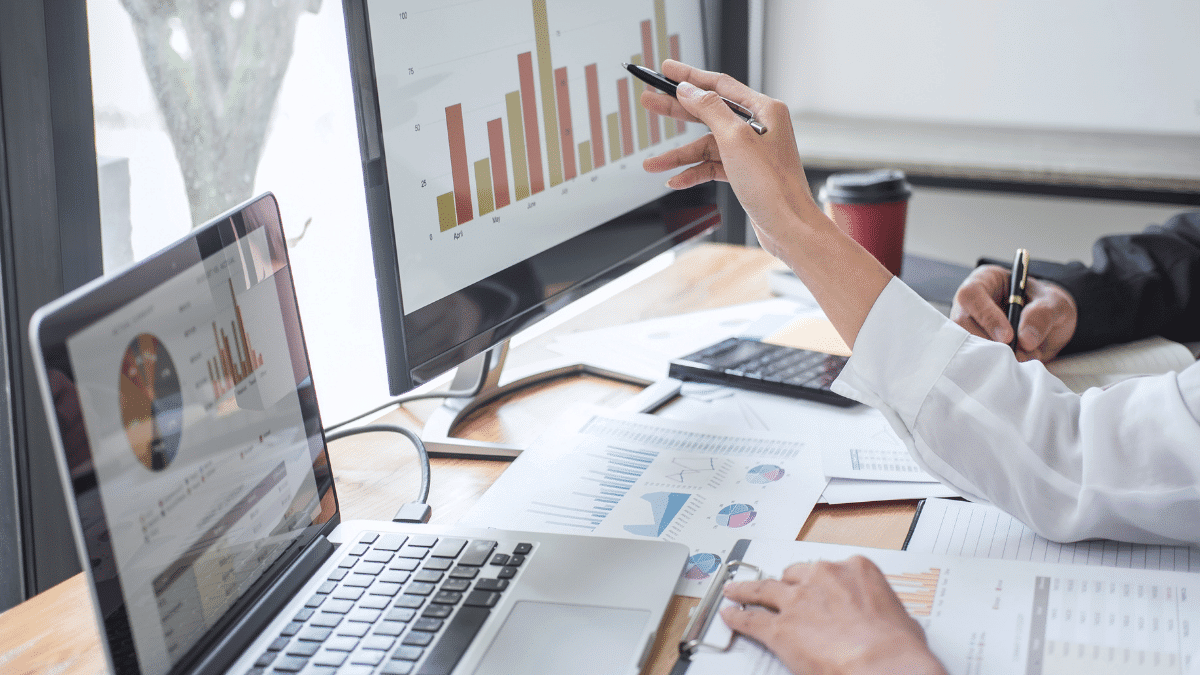 Obtaining reports is essential to smoothen management aspects. You need accurate and detailed reports to address lacking parts and improve your business. One thing about reporting is it should not be done manually as it is prone to human error. HashMicro offers the most complete POS software to provide you with comprehensive reporting. Implementing POS software from HashMicro that will generate various reports should be helpful.
With POS software, it is much easier to obtain accurate reports so you can make better business decisions. The system provides you with profit and loss per branch so you can plan your strategy ahead. It also tells you the well-performed products, making it easier for you to always have them in stock. In addition, reports regarding customers' purchase patterns are also provided for you to have better knowledge about customers. 
Conclusion 
Staying competitive in the retail industry like supermarkets is quite challenging. You will need an advanced supermarket automation system to keep up with constant changes. Automated systems will help improve your business quality. For supermarkets, it is best to implement the most comprehensive POS software to streamline the complex operational process. 
Utilizing the POS software means eliminating manual methods of managing a supermarket. This includes inventory management, customer service, automated reporting and invoicing, and even multiple payment methods. The best POS software available is ready to assist you in staying competitive thus you are able to gain maximum profitability. With this system, you will also be able to be more productive while you reduce initial expenses. Furthermore, see the pricing scheme calculation for POS software for you to consider implementing it.