The market will never stop evolving, and constant adaptation becomes apparent with changes taking place in the related industries. Your current local warehouse management software may not meet these challenges, and you may need a better warehouse solution. Warehouse management software from HashMicro has the advantages of optimized multi-warehouse efficiency, faster goods retrieval, maximized usage of space, and reduced storage costs accurately. However, Cloud warehouse management is an essential must-have for a company with warehousing operations. Although, Check out the article below to find out the benefits of Cloud WMS for your company!
Table of Contents
The importance of implementing cloud warehouse management in companies
Using a cloud-based WMS provides easier integration between systems, so companies can take advantage of new technologies and platforms as they become available. Today, many companies opt for Cloud Supply Chain Management Solutions, including Warehouse Management Systems, to gain better control over their inventory. The gain can in increasingly complex distribution environments. HashMicro's Cloud SCM has benefits for multi-warehouse tracking, sale forecasting, and on-time delivery. However, Cloud technology is a powerful and cost-effective tool available to help you. There are three main benefits to cloud WMS that can improve business operations, including:
1. Increase control over business growth
Firstly, increasing control over operations and inventory means running your business more efficiently. Cloud-based warehouse management gives you a detailed view of your inventory which is constantly updated automatically. Make all this information available to all relevant stakeholders. However, Businesses can understand and control growth at will. At its core, it's the flexibility of an innovative and powerful system you can use to keep your business running smoothly.
2. Better customer service
Secondly, a cloud WMS will allow everyone on your team to determine the status of packages or shipments and get them to customers in no time. So, Connected systems allow anyone to track shipments, verify or update arrival dates, and even help customers manage their supply chain or warehouse. This system also gives you the ability to convey information efficiently.
3. Preparing the business for the upcoming changes
Then, WMS in the cloud provides an affordable and efficient warehousing solution for companies of all sizes. Cloud WMS is a more affordable solution with less risk. Cloud computing is elastic and scalable, so you can access more features when needed for seasonal business changes or when demand spikes.
The cloud provides "self-service" access to your WMS applications, giving you increased agility to match the pace of your business changes. However, With traditional self-hosted systems, you have to purchase the hardware yourself. With cloud warehouse management, businesses can scale and accommodate demand spikes seamlessly.
Best cloud warehouse management system
1. Hashmicro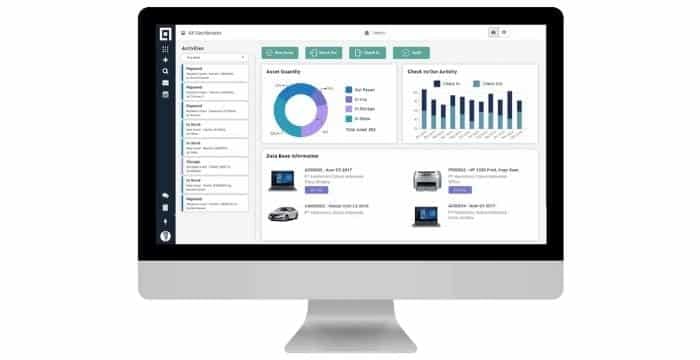 HashMicro is a Singapore-based company that provides a range of software solutions, including a Warehouse Management System (WMS). HashMicro's WMS is a cloud-based system that is designed to help optimize the use of your warehouse space, allowing you to automatically calculate and track your warehouse capacity. 
Key features of HashMicro's WMS include inventory management, order management, warehouse operations, reporting and analytics, and integration. Overall, HashMicro's WMS is a comprehensive solution that can help companies improve their warehouse operations and streamline their supply chain processes.
2. Fishbowl
Fishbowl is a cloud-based WMS that offers a range of features such as inventory management, order management, and barcode scanning. It also integrates with popular e-commerce platforms such as Shopify, WooCommerce, and Amazon.
3. ShipBob
ShipBob is a cloud-based WMS that specializes in e-commerce fulfillment. It offers a range of features such as inventory management, order management, and returns management. It also has multiple warehouses across the United States, allowing for faster delivery times.
4. Oracle Warehouse Management Cloud (WMS)
Oracle WMS is a cloud-based solution that provides real-time visibility into inventory levels and order statuses. It also includes features such as mobile access and barcode scanning, which can help companies improve accuracy and efficiency.
5. Logiwa
Logiwa is a cloud-based WMS that offers a range of features such as inventory management, order management, and shipping management. It also uses artificial intelligence and machine learning to optimize warehouse operations and improve efficiency.
Conclusion
In conclusion, the right cloud warehouse management solution for you depends on your business needs, but four good keywords to consider when buying a WMS are flexibility, scalability, real-time, and partnerships. However, a flexible and scalable system based on real-time data from suppliers focusing on partnership and long-term development is the perfect combination to increase warehouse optimization.