Asset monitoring is a process of keeping track of your company's physical assets, such as inventory, real estate, equipment, and vehicles. As a result of monitoring, it helps you track asset conditions in a real-time location. Surely it will benefit your company. However, monitoring your asset inventory is not as easy as you think. It might be time-consuming if you don't do it properly. Hence, to prevent this, you may use a specialized system called Asset Inventory System as the best solution to simplify the asset monitoring process efficiently.
Moreover, besides the few advantages mentioned above, the best Asset Inventory System offers many more benefits, which make it used in various industries, including manufacturing, construction, logistics, and others. In other words, the system is suitable for any industry. But here lies the question; why do assets need to be monitored? And why should you do it using an Asset Inventory System? Here we will explain it. And in addition, you may look at the pricing scheme here to know how much it costs for your industry. 
Also read: How to Manage Restaurant Holiday.
Table of Content
Review Asset Inventory's Activity History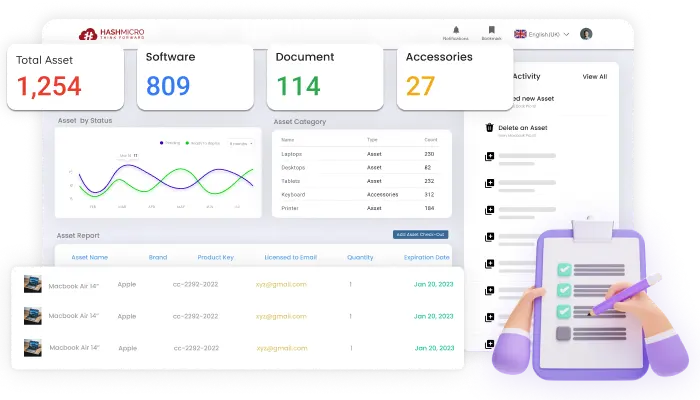 You surely want to ensure that your assets are in good condition. Or even to track the locations of your assets for theft prevention. And since the asset monitoring system operates in the background, you don't have to be concerned about those matters. After implementing a high-quality Asset Monitoring Solution, you can track your assets' activity history 24/7 on a desktop dashboard or mobile app, which will deliver you real-time information. This is because the system has a tool to integrate barcodes and serial numbers of the assets. 
Moreover, aside from reviewing the activity history of physical assets, you can also track your employees' actions to assets. This includes but is not limited to their locations, engine hours, and travel times. As a result, you'll know whether or not your employees take good care of your assets.
Get A Complete Asset Report
Once you have the information about your asset, you can do a complete asset report, which includes asset reports, analyze equipment performance to reduce unplanned downtime, optimize work and staff schedules, and many more. The system will deliver comprehensive information, which will help you create your next business strategy. 
Additionally, with a completely visible report, Asset Monitoring Software enhances the safety and security of the assets because the system provides you with an accurate location detail, so you will be able to monitor your assets thoroughly for theft prevention. Also, not only a location but a report of your assets' conditions as well. You can quickly identify of your asset conditions if there are any issues with your assets.
Easy To Make Asset Decision
Based on an in-depth and complete asset report, it will be easy for you to make the best decisions in managing business assets. Also, the real-time information from this system will help you to decide how to utilize your assets. 
Based on the asset information gathered, you'll know how your assets are being used. Then you can make a decision whether you need to improve, upgrade, repair, or replace certain assets. The decision you made will play a major role in optimizing your assets and minimizing wasted resources. 
Automatic Maintenance
The best Asset Monitoring Software can manage your asset maintenance. The system will send out email or text message alerts when it is time for preventative maintenance. Tracking maintenance of your asset inventory manually will consume time. Thus, to save time, the Asset Inventory System allows you to monitor, schedule, and evaluate the company's asset maintenance status automatically with relevant metrics and reminder notification support. 
Get Notification For Asset's Condition
Through an Asset Inventory System with the Internet of Things (IoT) sensors, it keeps track of an asset's location, condition, and performance which will be notified to you using the internet. This system provides managers with the ability to determine whether the asset is functioning correctly or whether it requires maintenance. Because of this information, equipment downtime can be cut down, and the lifespan of the assets can last longer. 
Also read: 5 Biggest Procurement Issues and Its One Solution
Conclusion 
A comprehensive Asset Inventory Systems offer numerous advantages to businesses, for example, saving time and money while monitoring your assets to ensure that assets are used optimally. You can optimize and manage your assets with HashMicro's Asset Management System. Also, the system enables you to monitor your assets in real-time.
Furthermore, an asset management system with AI-powered offers advanced features such as ROI auto-calculation, asset contract tracking, detailed reporting, and many more. If you wish to reduce operational costs associated while also increasing employee efficiency, then a smart asset solution is for you. Take a look at the pricing scheme of the Asset Inventory System here and try our demo version for free.