If you're interested in increasing your wealth without doing more jobs, you're ready to do asset management. Asset management is a practice of increasing your earnings by purchasing, managing, and trading investments with growth potential. This is what asset management professionals do as their job, so you don't have to worry if you're a newcomer whose interested in investing. Maximize your interest in investing world with Hash Asset Management; with the software, it will be more manageable for you to check your investment dynamic and also will ease you to choose what kind of investment will work for you and your budget. Check our pricing scheme here!
Also Read: How Asset Management System Optimize Business Resources?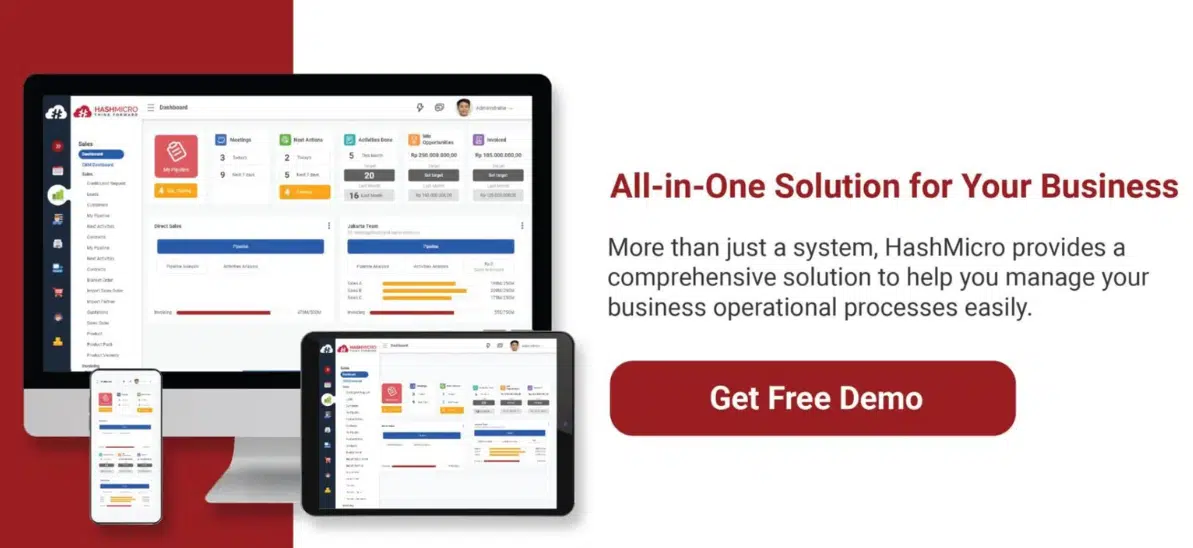 Table of Contents
What Is an Asset Management Company?
Asset Management Companies, short as AMCs, is a corporation that focuses on making investments from pooled funds. These funds come from the client who deposits their money to the corp, then the AMCs corp will directly post the funds through different kinds of investments like stocks, bonds, real estate, and so many more.
Not stopping there, AMCs also will secure your money and even can manage your hedge funds and retirement plans. To engage better with smaller investors, AMCs also construct aggregated systems, like mutual funds, index funds, or exchange-traded funds.
AMCs tend to be the choice for most people, especially newcomers whose interested in investing, since AMC's employees are infestation experts with the best knowledge. While if they do it by themselves, they typically lack the experience and resources required to deliver significant long-term investing returns continuously. As a result, many investors rely on asset management firms to invest their money on their behalf.
Not as simple as we think, AMCs also have to identify their clients since there are so many various types of investments. For example, if an old couple who lives by their retirement fund comes by to invest their money, AMCs will recommend some low-risk investment with a stable value. Otherwise, if it were a young client who likes risk and intrigue in making a big profit, AMCs can recommend a high-risk investment that is likely to make a higher profit.
Not only that, to monitor all your assets' movement, of course, you need a report. And sometimes, it can be really stressful for AMCs to work with pieces. Well, say no more, with Hash Assets Management, you will not be worried about reporting because the system will do it automatically by itself, and all you have to do is relax. Not only writing reports, but the system can also track all the assets' movement to monitor the investment value.
Types of Asset Management Companies
Similar to investments with many variations of types, so are the AMCs. Every kind of AMC has its own function, at least there are five types of AMCs, and here are three of them:
Hedge funds
A hedge fund, also known as an alternative investment product, is a partnership in which participants (accredited or institutional investors) combine their money, and a fund manager invests it in various assets using technical investment strategies. But you must put and keep your money there for at least a year, and if you want to take it back, you must wait after a "lock-up period," you can't take it anytime since there is a specific time when you can take the money you put.
Index funds
The same as hedge funds, index funds are also mutual funds. Index funds are a type of passive investment. This implies that portfolio managers do not have to devote much time and resources to selecting appropriate equities for investments or resetting the portfolio. The portfolio will be reevaluated once every six months on average. Such funds save money since they have fewer operating and administrative requirements. If you want to invest in something simple and secure, especially when you're investing in retirement plans, then it is perfect for you to choose index funds.
Private equity funds
Choose private equity funds if you want to invest in something that might return at a high rate. PE companies are offering private equity funds that start within four to seven years. As you know, companies are made to make a profit, which is one of many ways PE companies can achieve it. 
Example of an Asset Management Company
After all, you have read above; you may wonder what examples of AMC are. Here are 5 Asset Management Companies in Singapore that you should know:
Varde Partners Asia

PIMCO Asia

IIFL Capital

DRW Singapore

Monk's Hill Ventures
Take a look at these five asset management companies that can help boost your investment.
Also Read: Top 7 Asset Management Software Features You Should Know
Conclusion
This concludes that you need AMC to succeed in the investment world, especially if you are a new player. Furthermore, it is a good thing to try if you want to manage your assets to bring profit. Yet, not every investment is a high-risk investment that isn't "save," there are also many "save" investments with good gains.
And if you want to get easier with this, Hash Asset Management will be an excellent software for you to adopt. Since the software can track, inform, and reports you with all relevant metrics you have to know. You can try out our free demo and check our pricing scheme here to adjust the price that suits you best.