Business strategies need to be evaluated regularly. They might not have been working out but you just haven't noticed yet. For those of you who didn't achieve the expected targets last year, it's the perfect year to move on! The Q1 will be a good start for refining your current strategies and implementing new ones. Here are a few tips that you can apply to gain more success in 2022.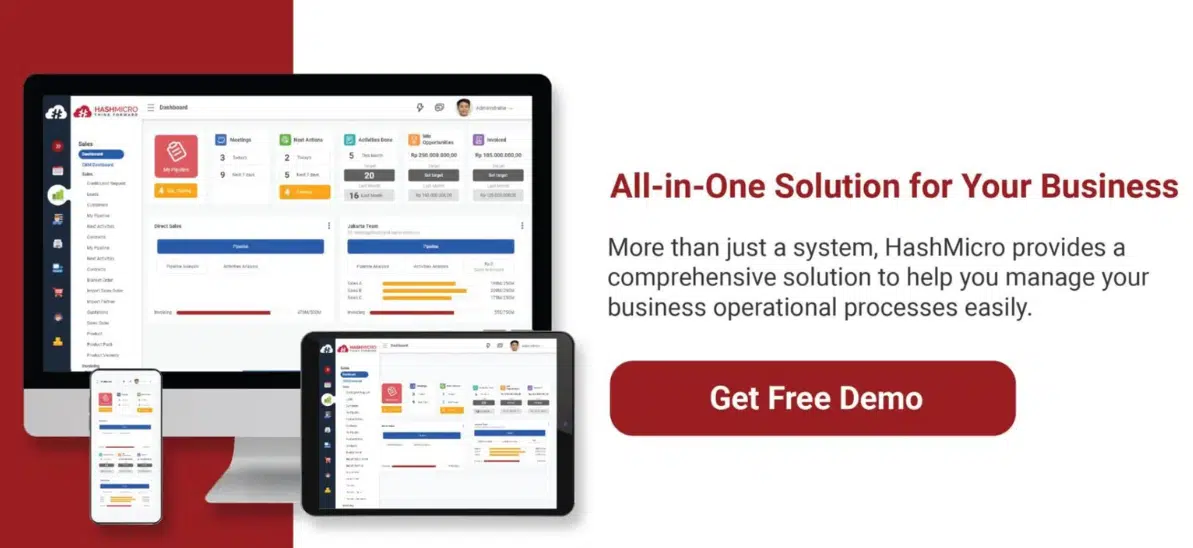 1. Digital Transformation
In the era of 4.0 industry, digital transformation is pivotal for businesses. Not only does it simplify business operations, but it also improves business efficiency and productivity.
Digital transformation can also strengthen business amid increasingly fierce market competition. Some digital transformation ideas to be considered are:
Accounting: With a good accounting system, you will be able to estimate income, expenses, profits and losses accurately
Sales: CRM software can make it easier for sales teams (especially in B2B companies) to follow up with clients, update prospects' statuses, create and send quotations, and estimate revenues
Human Resource Management: HRM software can be used to automate payroll, attendance and leave tracking, expenses, and staff performance evaluation

Inventory Management: For retailers and wholesalers, it is recommended to use inventory management software that automates inventory tracking, internal transfers, stock replenishment, stock estimation, and much more

Point of Sale (POS): For retailers and restaurateurs, it's time to switch to the right POS system to make it easier to record transactions, update products and prices, and find items
You can apply here for a free demo for any of the systems listed above.
2. Market Development
Market development needs to be done as an effort to gain new customers. This means, you need to look at the various opportunities that you can take. Perhaps you can find a suitable partner to work with.
For example, Starbucks, a global coffee brand – used to sell their coffee beans in their own stores, but later on started selling them in grocery stores, thus expanding their markets and exposing their product to a new customer base.
A few ideas that can be taken into consideration, for example are:
Work with multiple resellers

Conduct a referral program

Co-market with a partner
3. Staff Training
This year will be the perfect time to invest in employee training. You may have many employees who have worked long enough for your company and it would be great if they could develop new skills each year. Improving the quality of employees means improving the quality of your own company.
4. Customer Experience Improvement
Focusing on your customer experience is a must. No one can guarantee that your customers will remain loyal to use your brand. Therefore, customer retention must be strengthened. There are a few things you can try to improve customer experience:
Resolve customer complaints faster

Make it easier for customers to find your product

Do personalized marketing

Make the payment process simpler for customers

Create engaging loyalty programs 
Use apps that support customer service improvement. For those of you who work in food & beverage and retail industries, the Point of Sale app is the right choice to help engage with your customers. However, if your company is B2B oriented, then you should choose a CRM system with a customer insight function.
5. Real-Time Information
This year, consider adopting technology that allows you to obtain real-time information related to sales, finance, stock, production, etc. depending on your needs. If you have a lot of operations that must be monitored regularly, then you should use a system that enables you to oversee those business activities.
ERP software can help you gain real-time information related to various processes, from finance to employee management. A good ERP system can be customized according to your business needs, thereby allowing you to choose what is essential and get rid of unwanted features.
6. Networking
Networking is a good way to increase clients, broaden opportunities, and enrich knowledge. There are various ways to expand business networks, for example:
Create a partnership program

Hold a collaborative event

Take part in exhibitions or conferences

Collaborate with a partner on a project
7. Try New Business Strategies!
If you have performed a business evaluation during the end of 2021, congratulations! Now you've learned what worked and what didn't. When you have tried several business strategies and the results are not satisfying, that means it's time to be creative!
How about creating a new product? Or perhaps add new features to your product or develop new customer services? Don't be afraid to try new marketing strategies that you haven't tried yet. Do some research in advance about what needs to be prepared as well as the risks you could face to minimize losses.
In conclusion, if you haven't done an evaluation at all, don't worry. It's not too late to review the business strategies that you have carried out. You can find out what strategies that need fixing or updating.