Competition in the catering business has developed into a significant problem, such as the increasing public demand for food being met by the country's newly sprung-up caterers. They have opened their businesses all over the country. When it comes to demonstrating their capacity to attract customers, every entrepreneur must contend with competition from other business owners. This competition requires them to introduce a variety of novelties that are continually refined and improved. As a result, the proprietor of every catering company will require Catering Management System to make sales easier, safeguard themselves against various problems, and protect their business from potential liability.
A Catering Management System is integrated with software, making it easier for business owners to run their companies. Because it offers a variety of advantages to the catering business, using catering management software can make the process of developing a business much more straightforward. Therefore, this software can simplify catering management to fulfil customers' demands by optimizing stock, accelerating the processing of orders, integrating an on-time delivery process into a single program, etc. Therefore, the purpose of this piece is to demonstrate to you, in no uncertain terms, the significance of utilizing a catering management system for your catering organization. So, below will explain six benefits for you to run your catering business using catering management software.
It Saves Time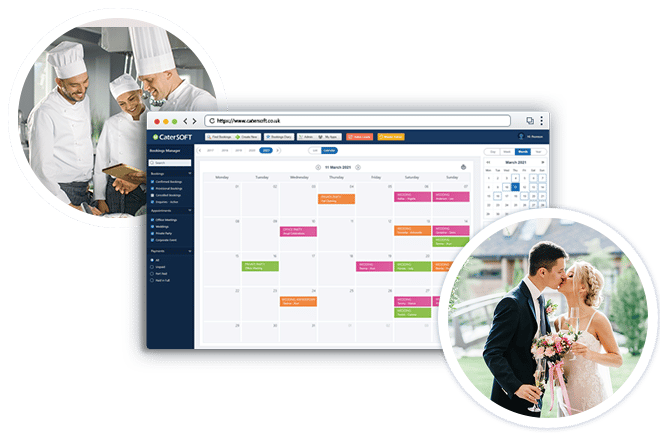 The role of technology in the catering business will help you to run your catering business. Setting up a catering management system can be time-consuming if you're not as tech-savvy as some. But software solutions for catering management take this into account. They provide a full-service training and support team with many aspects of the catering business that can be automated by software. With this software, you can save time managing various business-related things. Such as example, collecting inventory items, if done manually, will take much time, and there is a high possibility of human error. In essence, this software will shorten your time to control the management of the catering business. 
It Keeps Your Costs Down
Purchasing catering software could be considered an investment in your company. Long-term financial savings for your catering company are possible with the help of this software. The catering software will automatically analyze each financial aspect of your business. The results of the business competition will affect your overall profit and will be calculated in a more precise and accurate way. In addition, keep in mind that the hospitality industry is one in which every penny counts. Because of this, the system will inform you of every monetary transaction within your company, allowing you to develop innovative business strategies to enhance your catering business.
It Allows Your Business to go Mobile.
Users can manage their catering business from anywhere using software designed for catering management. Users can access the software via mobile devices at any time and location with reliable catering software. HashMicro provides software for Catering Management Systems that will help your business efficiently. This software system will allow companies to store everything on their mobile devices, from stock lists and order processing to critical financial data. Paper stacks are inefficient for running a profitable catering operation today, given that everything that goes into the business can be easily accessed with a system.
It Creates a Better Customer Experience
A client expects an exceptional experience. Therefore, you must have a method for establishing a relationship with your client to ensure its success. The client experience starts with your first interaction with them. Therefore, a catering management system enables you to make a favourable first impression on your clients. This is not handled manually because it would take too long. Using catering software, the drafting of proposals is simple and quick. Therefore, it does not affect business growth. Once you have a catering job, you should have a centralized, easily accessible system for every part of the event. Successful catering businesses have centralized customer data, allowing them to give a speedier and more efficient service. This is because they can keep track of allergens and meal quantities.
It Helps Your Staff Communicate
The ability to communicate effectively is one factor that significantly contributes to the success of businesses. In the catering industry, it is relatively straightforward for customers to determine over the phone whether or not they will move forward with an order. When you have multiple departments, such as servers and kitchens, you need a communication system that is both reliable and effective. It is possible to speed up every single back-of-house and front-of-house operations activity by sharing previous customer conversations from a single central location.
Also read: Different ERP Software Systems Catering Different Businesses
It Stores Your Data
You can derive novel insights from the daily data of your business by utilizing catering software. The program will make customer information accessible, allowing you to keep up significant interactions with your customers. Mrs. Merry gets in touch with Chloe Catering after hearing that her friend Max cannot stop talking about the food that Chloe Catering prepared for his buddy's wedding. Therefore, Merry called Chloe to inquire about purchasing the same meal. Chloe Catering can finish the process with just a few mouse clicks because of its software. So, using this software can make it easier to track client data easily and quickly.
Conclusion
Catering software provides many benefits for you to run a catering business efficiently. The various benefits mentioned above will support the success of your catering business. Supported by the growing catering business that allows your business to compete in the global market. Therefore Catering Management System will provide a good service for your business with technological advancements that will be profitable. If you are looking for such a management system, HashMicro provides services for the Best Culinary and Catering Management Software in Singapore.
CMS Software by HashMicro provides various benefits for your business success opportunities. This software optimizes company inventory with real-time monitoring and accurate forecasting, easy tracking of goods or materials, etc. This catering management system is also integrated with an accounting system that allows you to automate the calculation of profit and loss for your business. So you don't need to hesitate to use the best service Catering Management System in Singapore. Contact us now and get a free demo!