In a catering business, customer satisfaction determines your success. Not to mention the complicated steps the business has, customer satisfaction is not something easy to achieve. Hence, technology is needed for this sector. One of which is the appearance of ERP catering software. The help of automation for the catering industry comes with the hope of easing the difficult process the business has. A good catering management software could help to cover various things, such as delivery management, stock management, etc. You can learn about the pricing scheme of HashMicro's Catering Management Software here.
As a catering owner, you must want your customers to have a high-quality experience in every transaction. HashMicro has integrated catering management software that could be the answer to fulfilling your customers' needs. As one of the best catering software in Singapore, HashMicro integrated four systems into the catering software. The four systems being accounting system, the central kitchen system, the purchasing system, and the kitchen display system. Another thing the software has is the six main features that make sure you will only give the best to your customers.
Related article: Digitize Your Catering Company with Catering Management Software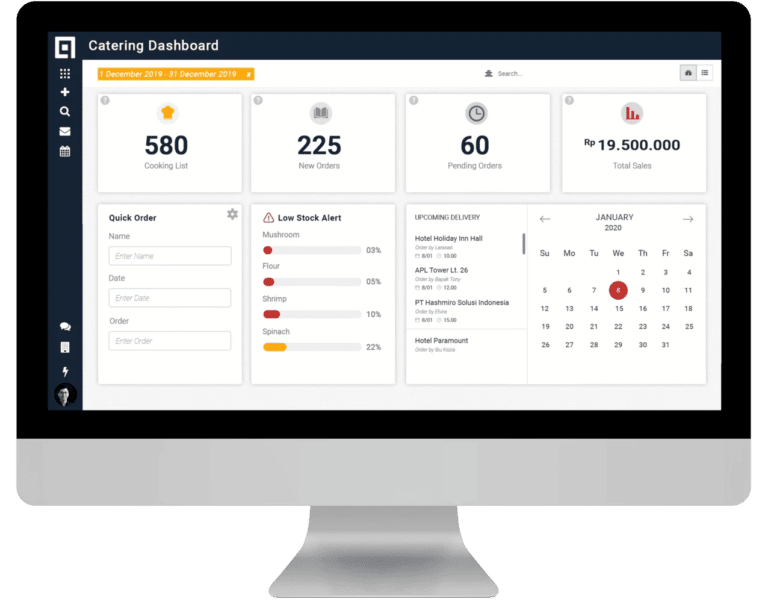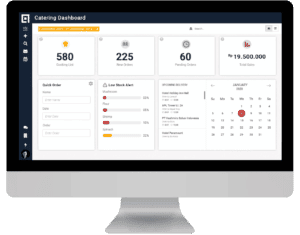 The involvement of various parties in the daily process of a catering business is the reason why we think you need a reliable catering management software. With HashMicro's catering management software, you will have the best assistance in completing your catering checklist. From stock control to delivery, the process for your business now will be foolproof and give the best results every time. Learn about the pricing scheme of the catering management software here. 
HashMicro's catering management software will make it possible for you to monitor the stock level and make sure it meets the demands with its accurate forecasting. By going with FIFO (first-in-first-out) management, the quality of food ingredients is maintained due to expiry date tracking. Hence, you will save some time and money from human error regarding your food quality.
In addition, there is also a feature for your customers.  The system will allow your customers to have a seamless ordering process through the online portal with real-time updates. Therefore, this system will also simplify the ordering process for your customers. A simplified ordering process might also increase your sales as it will make your business more accessible to many people.
HashMicro, as the best catering management software provider in Singapore, guarantees to give these four benefits to companies that use the Catering Management software. These four benefits will surely be able to increase the business' profit and the customers' satisfaction. The benefits are:
Optimized inventory
The system allows you to keep a close eye on the stock level and use reliable projections to check that you will always be able to keep up with demand. That is why, we make sure every integration HashMicro's catering management system has will give the needed benefit for the user.
Organized priorities
The catering business involves many ingredients with a short shelf-life. In order to be able to serve the best for your customers, HashMicro will help you with that. Because of FIFO management and tracking of expiration dates, the quality of food ingredients can be kept consistently high.
Simplified ordering process
Ordering large batches for a regular customer might require a lot of work. The ease that does not come with the ordering process now can be overcome if you use the best catering management software. HashMicro makes it possible for your customers to place orders quickly and easily through an online portal that provides real-time updates.
Generate real-time data
A big catering business may find it tricky to manage the data of multiple expenses and bills. However, HashMicro makes it possible for catering business owners to manage real-time data. Through the use of real-time data, you will be aware of your revenues, expenses, bills, orders, and cooking process, among other specifics.
The ERP from HashMicro is known to have multiple key features that will help the client's company grow, including the catering management system. The HashMicro catering system has over six different features in the software. Here are the six main features you will get if you decide on applying the software:
Customer order and discount management
The first feature offered by the system is  order and discount management. This includes the management of customer data, the creation of individualized marketing programs, and the automatic incorporation of said data into transactions.
Fulfillment management
This feature allows your business to perform on-time delivery. Establish the order of priority for the orders based on the amount of time needed for preparation and delivery. Also, the couriers should be given accurate delivery routes to follow.
Kitchen display system
Thirdly is a kitchen display system which will assist you in a way you did not realize. With the assistance of a kitchen display system that can be configured to meet a variety of needs, you can give all of your cooks the ability to prepare orders and determine the turnaround time.
Menu management
Having a well-arranged menu is necessary for a catering business. However, you also need to make it as accessible as possible for your customers. With HashMicro's ERP catering management software, you can maintain an up-to-date menu across all locations, develop detailed classification systems, and execute efficient management of meal packages.
Recipe management
To make sure all your branches are serving the customers to a certain standard, they need  constant checking. With the recipe management feature, you can manage the standard in one platform. Across all locations, the procedures for serving the food and its flavor should be standardized, and the priority of cooking should be managed with ease.
In-depth report generation
HashMicro's catering management software allows you to generate a detailed, in-depth report for your business on multiple layers. Therefore, you can produce detailed reports to track a variety of metrics, including sales profits, successful order fulfillment, inventory turnover, and more.
Related article: Different ERP Software Systems Catering Different Businesses
Catering Management System Integrated Modules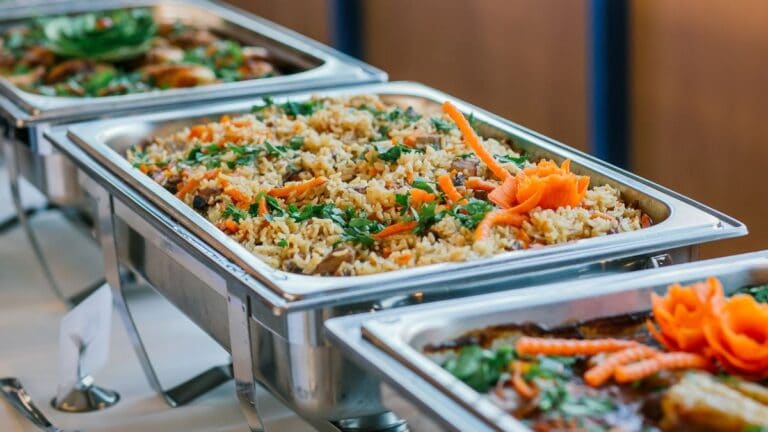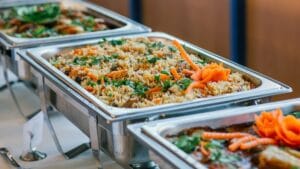 The evolution of advanced technology has prompted fierce competition among software vendors to provide the best catering system features. HashMicro also keeps innovating to provide superior catering software advantages compared to competitors. The HashMicro ERP catering software is continuously updated and enhanced in response to technological advancements. The ability of HashMicro's catering management system to integrate with other systems is one of its advantages. Here are four systems that are directly compatible with HashMicro's catering management system:
Accounting system
The process of accounting is difficult and complex for many industries, catering is not an exception. Missed reporting and human error are some of the things that is crucial, as well as inescapable. With this integration, you can automate the calculation of profits and losses, as well as the forecasting of costs and revenues. Not only those, you can generate invoices, and many other tasks with an accounting system.
Central kitchen system
Having to manage the ingredients for multiple recipes on multiple branch is not easy. However, you still need to do it in order to always produce a great quality foods and beverages. With HashMicro's catering management system, you can manage food ingredients requests from all branches and standardize the recipes in one centralized platform. Therefore, you will save some time in your process.
Purchasing system
HashMicro always make sure every integrated modules is beneficial for the user. With the purchasing system for catering management software, you will be able to control or order you purchase easily in one platform. Therefore, you can now avoid unnecessary food and kitchen equipment purchases, and send recurring orders to your suppliers automatically. Simplify your purchasing process with HashMicro.
Kitchen display system
Multiple shipping and orders might get tricky for a catering business owners. Having to check-up manually withing every orders and routing definitely takes up time. HashMicro provides a kitchen display system that allows you to make order details delivery easy, set up the routing, and manage the cooking process as effective as possible in one platform. Make your business more time-efficient.
Conclusion
A great catering management system is a crucial addition for catering businesses that want to achieve growth and customer satisfaction. HashMicro provides only the best ERP experience, including the catering management system that is integrated with four modules. You can now leave an impression on your customers, as well as reach higher profits. Additionally, avoid false stock monitoring and always be in check with what you really need with the help of a good catering management system. With HashMicro,  learn about the pricing scheme calculations first before you decide on getting the solutions!