The food industry is rapidly evolving and shifting towards online ordering and delivery services. To stay competitive and meet customer demands, incorporating a delivery service into your food business is important. Not only that, but your food business also has to keep improving and growing. Therefore, we will provide you with seven valuable tips to boost your business in food with delivery service so you can attract more customers and increase your revenue.
Table Of Content
Monitor Your Finances Closely
Firstly, to ensure the success and growth of your restaurant, it is important to manage your finances closely and effectively. One way to do this is by obtaining appropriate business insurance to prepare for unforeseen circumstances. It is also crucial to carefully plan the budget for your food delivery operations and keep detailed records of your expenses. These expenses include maintenance, raw material purchases, and employee salaries.
By understanding your monthly expenditures, you can calculate your profit margin and decide how much additional investment is needed to expand your food with delivery business. After all, investing in your passion for cooking and serving delicious food can lead to favorable outcomes.
Also Read: Here is Why HashMicro's ERP Software is Important for Your Catering Business!
Emphasize Innovation in Your Food Products
The second tip is to emphasize on innovating your food products to expand your food with delivery business. By introducing new and unique food products, your food business can attract more customers. In addition to food, you can also revamp the layout of your store to gain customers' attention. Other than that, there is also catering or delivery for special occasions like weddings, birthday parties, or formal events. This can help you to generate attention and interest.
Offer Convenient Delivery and Store Pickup Options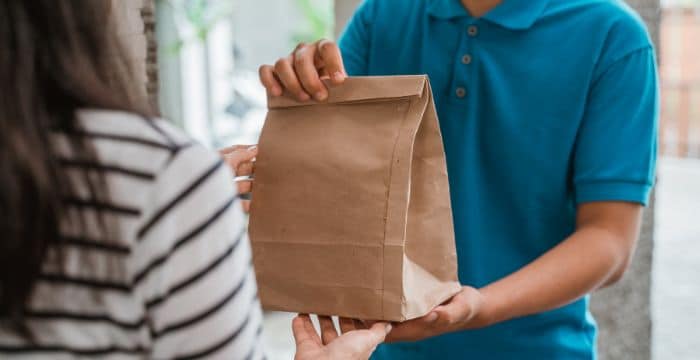 To attract more customers, businesses in food with delivery service have shifted to a customer-focused approach where convenience is prioritized. Thus, the third tip is to offer convenient delivery and store pickup options. Providing customers with ease of ordering, delivering the food to their homes has become a popular choice.
Additionally, offering store pickup is another excellent way to provide convenience and save time for customers. By enabling customers to place direct orders through your food business's app and website, potential customers are less likely to be lost.
Provide Customers with Detailed Menu Descriptions
The next tip is to provide detailed context for your menu items along with visually appealing illustrations and tempting food images. This is important to make a good impression on your online food delivery platforms. In fact, the appearance of your food and its descriptions on the online platform is even more crucial than your food business's logo or physical ambiance.
Therefore, it is essential to ensure that your food photography stands out. This can be achieved by paying attention to lighting, maintaining brand consistency, and choosing the right angles to capture the essence of your dishes.
Maintain a Website for Your Business
It is crucial to have a website for your food delivery business. Developing a high-quality website for your food delivery business is a straightforward and cost-effective way to deliver your food products within your vicinity. This is fundamental for expanding your business beyond your physical location.
To create a website for your food delivery business, ensure that you include all relevant details regarding your products and services. This should encompass information about your food business, the meals you offer, delivery services, pricing, special deals, terms and conditions, privacy policy, and any other relevant information. Ensure that your website is unique compared to competitors, as a website with a unique design can create a lasting first impression on visitors.
Engage Customers with a Mobile App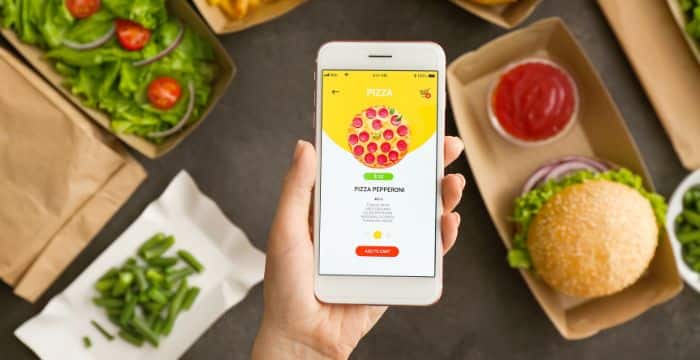 Engaging customers through a mobile app is also one of the tips for boosting your food business. By incorporating features like loyalty programs, push notifications, and subscriptions in the mobile application, you can attract and engage more clients. Using the app, you can automate and streamline your business processes, freeing up more time and energy to prepare delicious meals for your customers.
You can also engage your customers by keeping them informed about new food variations, business news, and upcoming events by sending regular push notifications. Additionally, make sure to alert them about any promotions, offers, or upcoming events.
Also Read: 6 Reasons Why Catering Software is Important for Your Business
Adopt a Catering Software
The last tip is to adopt catering software as it can revolutionize businesses in food with delivery service by streamlining operations, reducing costs, and enhancing the customer experience. The software can also track customer preferences and history for personalized marketing efforts that increase satisfaction and loyalty.
Other than that, catering software improves communication between the kitchen, delivery staff, and customers, leading to fewer missed or late deliveries, and a reputation for reliability and professionalism that generates positive reviews.
Conclusion

Delivery service is an important part of the food business due to its convenience, accessibility, and flexibility, becoming a major revenue generator. However, food businesses need to be strategic in their approach to maximize its potential. Therefore, by following all the seven tips you can boost your food business and create a profitable delivery service that enhances the overall customer experience.
As one of the tips is to adopt a catering software, you can use HashMicro's fully-featured catering software. It can be used to simplify delivery service processes, complete orders more quickly, ensure on-time delivery, and more. Moreover, this software has reasonable prices and a Productivity Solutions Grant up to 50%. For more information, you can contact us here.