A central kitchen software is a comprehensive system that streamlines all operations within a central kitchen before distributing foods to diverse locations, it includes restaurants, hospitals, schools, and other institutions. This software consolidates all the necessary tasks of a central kitchen, facilitating efficient and effective operations management.
The benefits of this software are various, enabling easier work processes by enhancing production planning, quality control, cost management, and collaboration. By optimizing operations, this software can significantly reduce costs and elevate the quality of service, ultimately leading to increased customer satisfaction.
In Singapore, numerous central kitchens have already leveraged this software to enhance their business operations. Several technology companies offer this software, each with varying qualities and features. Here are the top 5 central kitchen software options in Singapore that can support the effectiveness of your kitchen.
Table of Content
HashMicro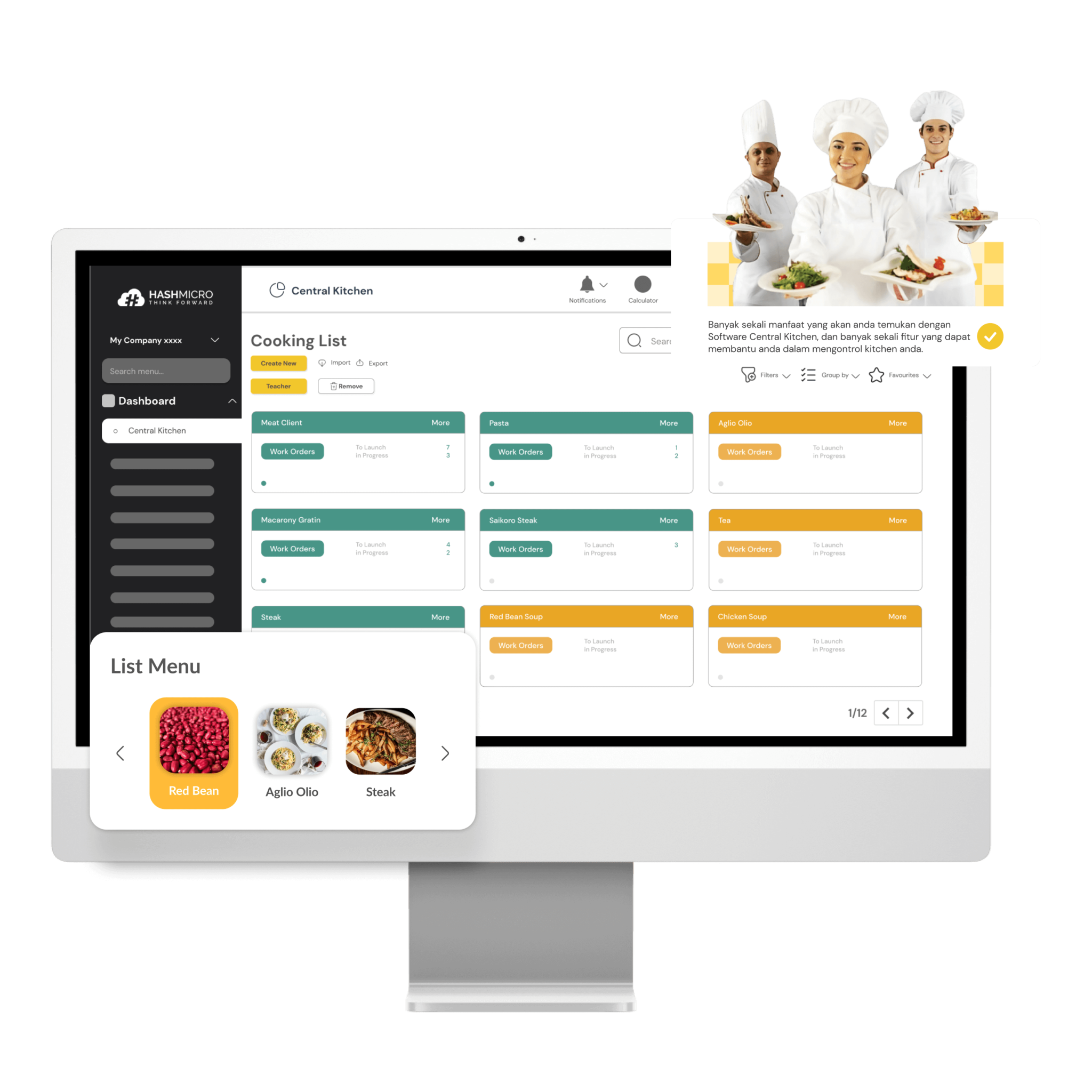 Central kitchen software by HashMicro is a leading system in Singapore, offering advanced features and affordable pricing software options. This software can be customized to meet your kitchen's unique needs. Also, you can consult with experts to solve any issues and challenges related to the software's functionality.
One of the most significant advantages of HashMicro central kitchen software is its integration with several other systems. These other systems are accounting, inventory, purchasing, catering, and kitchen display systems. This integration enables the software to operate more efficiently and effectively, eliminating the need for multiple systems and simplifying management processes.
Moreover, this software has advanced features that allow automatic real-time data updates. Companies with this software can easily track customer orders, inventory supplies, delivery management, and supplier lists. HashMicro software can also generate accurate statistical reports on kitchen production, sales, deliveries, and billing.
Furthermore, HashMicro central kitchen software offers the flexibility to create the system to your specific needs, ensuring optimal software utilization. Additionally, you can try a free demo to gain insights into the software's capabilities.
Synergix Technology
Synergix Technology is a Singapore-based company that offers ERP software solutions. Among its offerings is the Food & Beverage Software, designed to support F&B businesses such as kitchens, restaurants, cafes, and catering services, which can be a helper for central kitchen management.
F&B Software from Synergix Technology provides a compelling alternative for managing your central kitchen operations, enabling you to operate more effectively and efficiently with its excellent quality system. Synergix Technology software also helps to improve kitchen management, streamlining processes for more optimized organizations.
Novitee
Novitee offers central kitchen software that can significantly improve the efficiency of your kitchen. Its software specifically claims to provide superior inventory control, enabling the management of food ingredients and supplies in a streamlined manner. With Novitee, companies can also track kitchen developments closely.
Novitee's software also integrates with accounting software, which offers simplified management of financial operations and costs, enhancing overall kitchen management with a simple and complete tool.
Also Read: Central Kitchen: Everything You Need To Know
Afon
Afon provides ERP software solutions that are highly relevant to businesses. Their F&B ERP system, in particular, is designed to enhance the efficiency of F&B businesses through integration with point of sale (POS) systems. As a result, the Afon F&B ERP system can optimize the operational activities of F&B businesses.
Afon's software can also be utilized within central kitchens to monitor stock, order processing, and purchases from individual outlets. Using the Afon F&B ERP system, you can streamline your kitchen operations and enhance overall productivity through one software.
LsRetail
LS Central is a comprehensive restaurant management software solution to help you manage your kitchen operations more efficiently. You can automate various tasks, such as order management, inventory management, and staff scheduling, streamlining your operations and saving time and effort.
One of the key features of LS Central is its kitchen display system (KDS), which can help your kitchen staff prepare and serve food more efficiently. KDS displays all orders in real time, ensuring every ticket is seen and prepared immediately. It can reduce errors and ensure guests receive their meals quickly and accurately.
Conclusion
A central kitchen plays a critical role in ensuring food quality and customer service. To achieve this, it is essential to ensure that all kitchen operations run efficiently and effectively. Central kitchen software represents a viable solution to simplify, accelerate, and optimize central kitchen operations while mitigating kitchen risks.
By leveraging the benefits of this software, businesses can streamline their operations, achieve better production planning, enhance quality control, increase efficiency, and reduce costs. In turn, it will lead to improved collaboration, customer satisfaction, and excellent service delivery.
Various software companies offer central kitchen software in Singapore, providing various features to cater to different kitchen needs. For instance, HashMicro offers affordable central kitchen software tailored to meet your specific requirements. Furthermore, applying for the PSG Grant can enable you to save up to 70% on the cost of the software.