The procurement system is a digital application used to manage the purchase of goods and services. Ideal for use by all types of industries ranging from those engaged in manufacturing, trading, restaurants, retail, and others. In this case, you can automate all the stock procurement processes and shopping business needs. So that you avoid waste and fraud.
In addition, good procurement software can protect companies from fraud, which is common in manual-based systems because it provides a digital record of actions that can be audited internally or externally.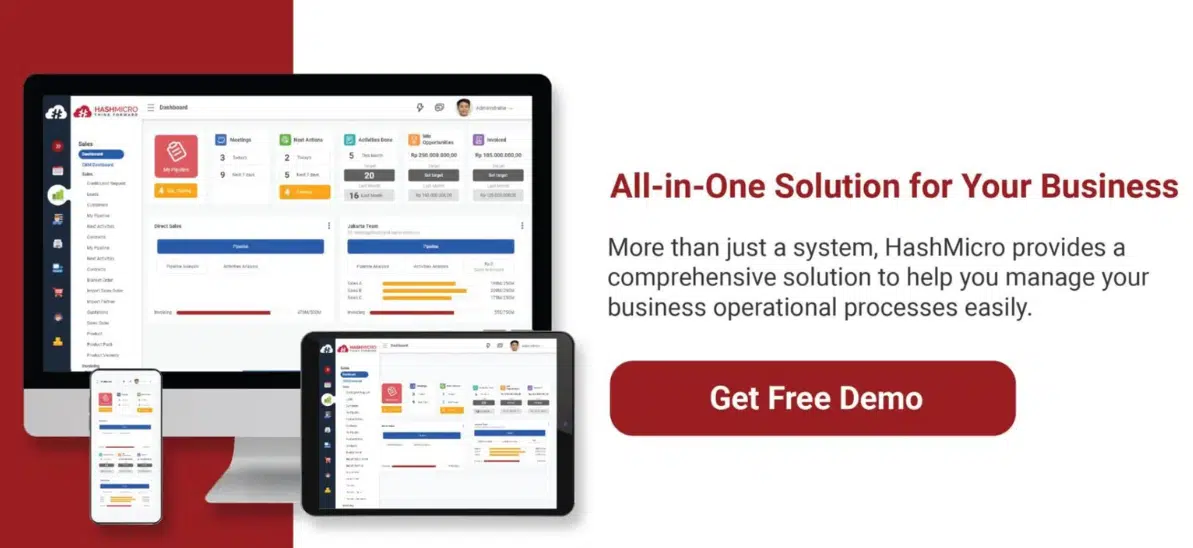 Table Of Content
What are procurement system features?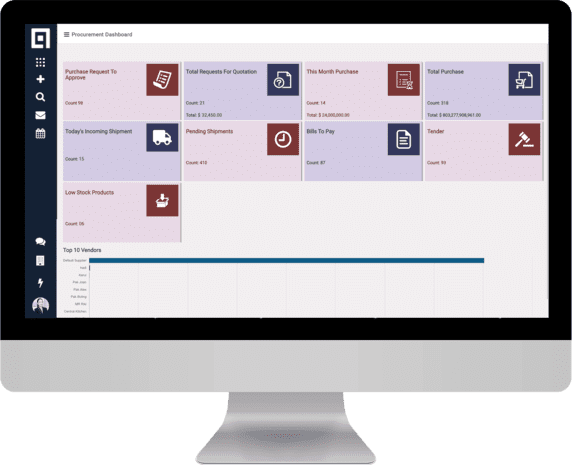 Before we choose the system that will be used to achieve efficiency in operational management, we should know what are the features of procurement?
1. PO, RFQ, and PR management
Manage hundreds to tens of thousands of purchase orders (PO) more efficiently, simplifying the buying process in your business.
2. Automatic calculation of purchase costs
Automate product price calculations, taxes, shipping costs, insurance, and currency conversion in one system because it can be integrated with ERP accounting software.
3. Blanket Order Management
Make it easy to order products for a certain period and get the best offers from suppliers.
4. Online portal for suppliers
Suppliers can share a product catalog, complete with a price quote. As a result, the online portal makes it easier for you to choose the best supplier.
5. Vendor/supplier ratings
Assess your supplier's performance based on product quality, service, delivery time, to price.
6. Purchase approval management
Approve or reject purchase requests from multiple business locations, departments, or employees with just one click. Simplify the process of obtaining approval from employees in various departments in the company.
7. Purchase tender
Choose the best offer and send purchase orders with ease. Then, compare and analyze the quality of goods from each vendor. Finding a vendor that provides low prices of the highest quality is like looking for a needle in a haystack. Fortunately, HashMicro's procurement system makes it easy for businesses to compare dozens of vendors at once and get the best deal.
8. Order automation
Place orders for the required items automatically based on stock levels, minimum quantities per location, sales, or other parameters.
Some of the benefits of a procurement system are:

1. Minimizing fraud
The procurement process is often characterized by fraud from irresponsible individuals, such as price mark-ups. then get complete control over every purchase to reduce waste. The manual procurement process invites various acts of irregularities against the principles and provisions, such as corruption.
The use of procurement software aims to improve accountability and transparency in the procurement process and improve the level of efficiency, support monitoring, and auditing processes related to the accuracy and availability of data.
The system replaces not only conventional procurement but also provides reliable output in complex environments. However, it requires supervision and internal control in the procurement of goods.
Also read: 5 Best Procurement System in Singapore
2. Integration with other systems
Most procurement systems have key performance indicators that measure procurement performance, such as order processing, invoice accuracy, and order delivery time. It requires integration with other systems to optimize the overall procurement system.
An example of its integration is Inventory management to gain complete control over the purchasing process and avoid wasteful procurement of goods. Then the Accounting system, to help estimate the various costs incurred and the profits generated from sales automatically, sees the procurement budget so that users can further analyze the data.
Also, with CRM, the sales application helps adjust the number of stock purchases with customer requests to prevent the accumulation of goods.
3. Helps to manage budgets and save expenses
The procurement system understands costs and proactively performs operations better by approving expenses before they are issued. To lower procurement costs, one important thing to do is collect, analyze, and act on data. Without accurate data, the potential for a company to reduce costs will be significantly reduced. You need data to manage vendors, track stock, better understand raw materials, products and services, and make informed and effective decisions.
Also read: Chapter V: How to Choose the Right ERP Vendor
Conclusions
Implementing procurement software to switch from manual to automated processes may be daunting at first, but the results are promising. Then finding the right solution to modernize and optimize workflows can offer your major business benefits, including lower costs, fewer errors, and increased productivity and supply chain management.
In this case, Procurement Software from HashMicro is the best solution. This system can streamline the cost of procurement of goods and manage purchase requests in many branches. Request a demo now!