Running a business will require you to use and store a lot of paper documents. We store many kinds of records, such as employee databases, invoices, and meeting handouts, all of them printed on paper. Eventually, those paper records only end up as waste and can cost you a lot of money. That's why every company must go paperless as soon as possible. It is because it is going to spend less time on paperwork & improve your productivity instead. And for that reason, you might need to use the best Peppol e-Invoicing software possible.
HashMicro can offer you the help to create, send, receive invoices digitally, eliminating the need for manual data entry and reducing the risk of errors. Because Peppol e-Invoicing is a standardized process that allows direct transmission of invoices in a structured digital format from one finance system to another, resulting in faster payment via the Nationwide e-Invoicing Network. So, HashMicro's e-Invoicing Software is connected to the Peppol network to speed up your invoicing process, help you get paid faster, and maintain cash flow.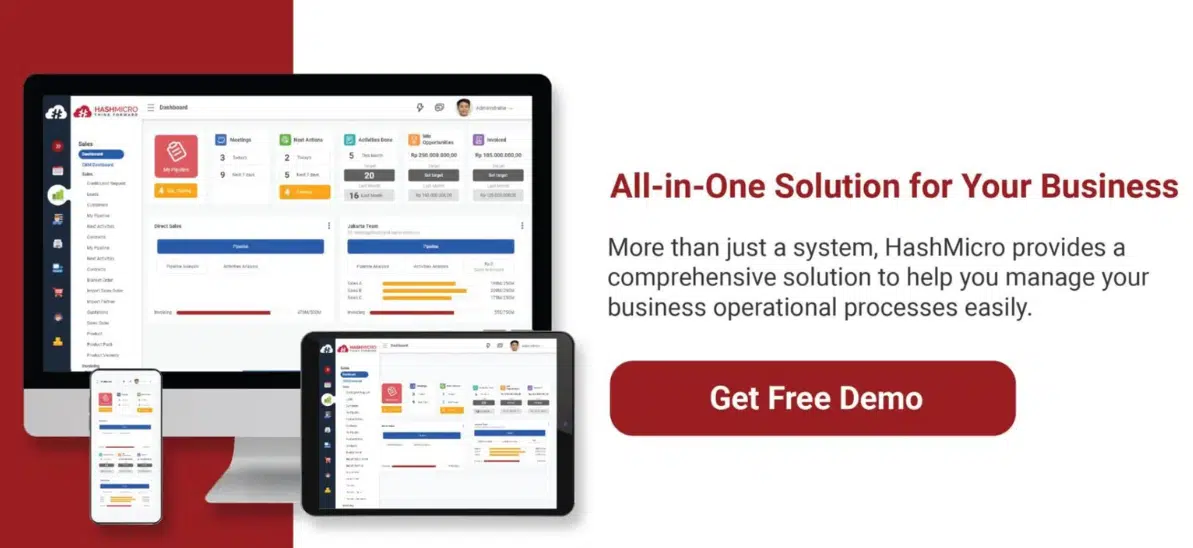 Table of Contents
Unfortunately, there are a lot of business out there who think that going paperless require them to purchase some software. It's not. There are a lot of ways to go paperless without having to spend any dime. Here are some of them:
Record any documents digitally
Leave your old habit of taking notes using paper or within a book. Get used to taking notes using your laptop or cellphone and store them on a cloud server for an extra layer of security. Furthermore, you only need minutes to register on a cloud service.
Storing your documents digitally also enables you to share them with your coworkers easily. All you have to do is send it via email or use a document management system for easy sharing between your employees.
Switch to online invoicing
Among other paper documents, invoices are the one that usually ends up in the trash bin faster. Retailer, wholesale, and various service businesses are the one that uses invoices frequently. Going paperless will reduce the amount of paper waste and minimalize the impact of global warming.
An E-invoicing system will help you create any invoice easily. You can make one with a single click. Sending your invoice to the clients or managing invoices from vendors can be done swiftly.
Ask your clients or vendors to send documents digitally
It's time to involve those around you in your campaign. Ask your partners or clients to start sending digital documents to you. The more people and companies doing this with you, the more paper usage gets reduced in the end.
Send all of your documents digitally
Leave the old way of sending documents by post. It will not only increase the amount of paper waste but also heighten the risk of your documents getting lost, damaged, or stolen.
Share your documents, such as contracts, invitations, or payment slips via email. You can send it via WhatsApp or LINE if necessary. You can also generate certificates automatically if there is a training program. Besides that, you may as well take it easy for your employees to sign up for courses online and minimize complicated administrative work using our Certification Management Software.
Sort out existing documents
Before going paperless, you need to sort out all of your documents in your office. Recheck which documents you have to keep, while the others get shredded. But make sure you upload the data before destroying them. Don't forget to recycle the used papers for other purposes.
Do paperless meetings
If you are used to providing handouts before you start a meeting, change it by sharing them digitally via email. You can also use projectors to convey any information easily.
Start using a digital business card
To this day, exchanging business cards is an important thing to do after a business meeting. And more often than not, those business cards usually will get scattered or lost sooner or later.
That's why you need to start using a digital business card. Luckily, there are dozens of apps in Google Play Store or App Store to scan the business card and store it digitally.
Reduce the cardboard boxes during packaging
It's undeniable that product shipments still using a lot of cardboard boxes. But, it doesn't mean that we can't reduce their usage at all. There are a lot of ways we can do to reduce the number of papers used to cover and protect your goods. For example, we can go for a minimalist packaging or use more environmentally friendly materials during shipping.
Conclusion
Going paperless not only help slow down global warming but also saves your money from unnecessary spending and reduces a lot of hassle from managing documents. And for that reason, you need to switch to a paperless system by using a document management system. You can share any video, e-book, and other documents digitally easily and swiftly. You can also easily track, manage, and save your documents with Singapore's No. 1 Document Management System. Register now for a free demo of our tour product!