In the world of restaurants, there are a number of challenges to overcome. Customers have very high expectations and you're up against fierce competition. Hence, it is critical for restaurant owners to seek the most efficient way in managing their restaurants. To enhance your management aspects, you may use HashMicro's POS system for your restaurant to automate routine tasks. It also has a number of other benefits that will help make sure you're running your restaurant at peak performance.
Between payroll, inventory, and customer orders, keeping track of all the information you need to run your business can be overwhelming. Thankfully, you can simplify your operational process with the help of the best POS software. The POS system is an essential part of any business. It is used to keep track of the inventory and sales, which makes the entire management process a lot easier. It also helps with calculating discounts, creating bills and invoices, processing payments, and making automated reports. 
Also read: The Importance of POS Software for F&B Business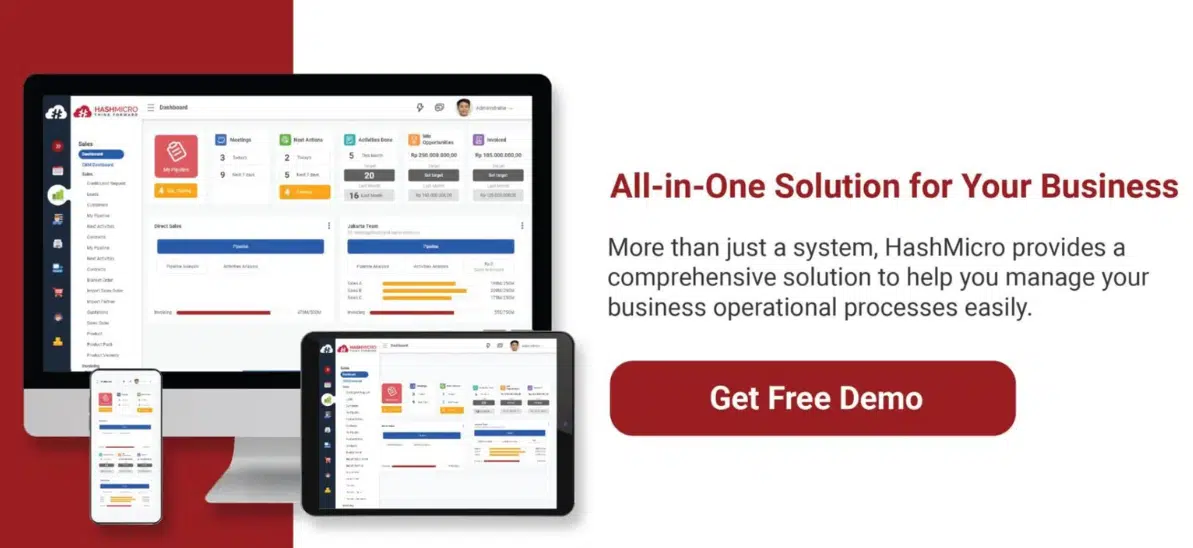 What is a POS System for Restaurants?
A POS system is a software program specially designed to help with the daily operations of retail businesses. This software is essential, especially for F&B businesses that have their own specific needs. The simplified process of handling orders has made it possible to run successful restaurants in various locations. These much-needed business solutions allow them to keep track of sales performance, inventory management, and staff scheduling or payroll.
A point of sales system is an essential tool for a restaurant, whether it's large or small, fast food or fine dining. A POS system can benefit any type of restaurant by improving the speed and accuracy of its service. The software also allows you to collect useful data on your customers and helps you to improve your marketing campaigns. Moreover, it lets customers place their orders faster, limiting the amount of time they spend waiting in line. Keeping the lines short also helps boost customer satisfaction and keep customer traffic high throughout the day. 
Also read: How to Choose the Best POS System?
Why Do You Need a POS System for Your Restaurant? 
It is best for your restaurant to use a POS system in order to have a better management system. You may question why you need it. It is important to have a POS system since effectively managing a restaurant can be difficult. Things such as inventory tracking, providing the best customer service, and preventing waste should be assisted with an automated system to boost efficiency. Moreover, we have compiled the necessity of using a POS system for your restaurant below. 
1. Control stock and inventory easily with a POS system for restaurant
The management of a restaurant's expenses is one of its most important responsibilities. You can easily keep track of what's selling and what is popular with real-time inventory. Hence, it enables you to conduct a comparative analysis. By utilizing a POS system for your restaurant, you will be able to enhance your inventory tracking. Having a POS system in your kitchen gives you the ability to keep track of menu items, ingredients, and a variety of other things. You can easily avoid running out of key products when there is high demand. Moreover, it allows you to prevent inventory loss, spoilage, or waste, and maximize earnings from the obtained reports. 
2. Comprehensive payment and ordering method
These days, customers are placing a greater emphasis on comprehensive ordering and payment methods. Using the POS system allows restaurants to have various methods, making it easier for customers to pay and order. You can easily manage transactions with full functionality including several payment methods and price lists, as well as the ability to easily reconcile the cash register. Customers may look at a menu on their smartphones, choose what they want to eat, and then pay for it contactless. You may even see an increase in the number of customers after using the POS system. 
3. Using a POS system for a restaurant will assist you in improving CRM
You are able to provide a more customized experience for the consumer when you use a POS system for your restaurant. It gives you the ability to record and organize information about your customers. Tracking the frequency of their visits and other information along the same lines allows you to personalize discounts and send them directly to their email inbox. You may also develop reward programs, which are another way to encourage customers to remain loyal to your establishment. With this, your customer service will be improved and customers will also have the best experience, hence, enhancing customer retention. 
4. A POS system for a restaurant helps you prevent internal theft 
It is common knowledge that a restaurant business is a prime target of theft and swindling committed by employees. You may drastically reduce the likelihood of theft and your reliance on your management since the system will provide you with real-time information on business processes. You will also be able to determine whether or not there has been any misuse of funds at your restaurant by carefully reviewing all of the reports that have been sent to you. This way, your business can run smoothly. 
5. Obtain real-time reports from a POS system
The most complete POS system from HashMicro gives you the ability to generate in-depth reports that cover all areas of your company, including inventory, costs, sales, items, employees, and customers. You can easily access the data from one centralized system. It is helpful to have if you own a number of different stores or a number of different warehouses. Additionally, a POS system gives you the ability to access real-time reports and summaries, which enables you to make better business decisions and plans for the future. 
Conclusion
The F&B business is highly competitive. Not to mention that managing a restaurant requires tons of aspects including inventory, services, and more. As a restaurant owner, you should look for the best way to manage your business. One of the most popular solutions to address this concern is adopting an automated system such as the best POS system from HashMicro.
After knowing the importance of using a POS system for your restaurant, you can consider implementing it right away. A POS system will effectively assist you in the restaurant's management aspects so that you are able to gain the most from your business. HashMicro's POS system offers you the most comprehensive system that will automate operational processes such as inventory tracking, customer service, and various payment methods. We offer you a free demo and a pricing scheme calculation for the POS system here!