In search of efficiency improvement, many restaurants are investing in technology to substitute their kitchen printers and manual operations. This technology is called a kitchen display system (KDS), and it can change your back-of-restaurant procedures significantly. One of the primary advantages of an integrated kitchen display system is to give everyone in your kitchen the visibility they need to prepare an outstanding meal.  
Although there are numerous advantages to switching from paper tickets to kitchen automation, it is always wise to examine your options first. Not all cloud-based kitchen display systems are made equal, and many kitchen software solutions lack capabilities that might significantly increase your restaurant's productivity. We have compiled a list of the top five features to look for in a kitchen display system to make things easier.
Table of Content
What is a Kitchen Display System?
A KDS is a digital screen system to use in restaurants to manage customer orders. It eliminates the need for paper order tickets and assists restaurants in organizing, prioritizing, changing, and tracking orders. KDS technology has grown in popularity as it has become less expensive and easier to use.
A KDS is often a flat-screen monitor attached to a wall in the kitchen at eye level. Some kitchens have monitors in different spots, but for many, one is sufficient. The displays are typically a touch screen, while some have a separate input device, such as a keypad. You may come across a KDS that operates on a conventional tablet, such as an iPad, while others are specifically created and built for KDS use.
Also read: 5 Reasons Why Your Restaurants Should Use a Kitchen Display System
What Features to Look for in the Kitchen Display System
To choose the best kitchen display system, you have to consider what features you will need on it to manage your restaurant operations efficiently. Below are some of the must-have features to look for in a KDS.
Redundancy
When choosing a KDS, the most critical element to consider is redundancy. This ensures that your kitchen will never have a single point of failure and will automatically fail over to a backup server to keep your existing orders while you restore the system. With 100% redundancy, you can rest assured that your kitchen will never go down. Please make sure to research this feature, as some KDS assert that they are entirely redundant but are not. 
POS integrations
Buying a new KDS should not demand the purchase of a new POS. Making sure your KDS integrates with your POS is one of the essential aspects when you are selecting one. You should probably check to see if it supports a variety of POS integration possibilities. As a result, you'll have the flexibility to change your POS in the future, thereby protecting your KDS investment.
Meal coursing
When a server places an order, a meal coursing function allows you to send a collection of products (entrees, appetizers, desserts, etc.) to the back of the house all at once. Coursing managers will handle everything for you. You can program your KDS to display things in a meal based on when they're due to arrive at the table, and you can base it on item id, timing, and so on. This ensures that you deliver each dish on time and freshly prepared.
Also read: 5 Must-have Revolutionary Technologies in Restaurant Kitchen
Basic routing to specific stations
There are various kitchen stations in a restaurant, such as a pantry, grill, fryer, etc. Kitchen display systems will help you route food to the proper ones, and routing ensures that food is moved in the correct direction. This function is beneficial to all restaurants, but it is helpful to restaurants with a large kitchen.
Delayed routing and meal pacing
This feature balances cook times and guarantees that all of the foods on a table are ready simultaneously. Cook time management is vital since management can monitor how many things are over or undercooked in real-time and through historical reports on the KDS. This can aid in locating bottlenecks in the kitchen and increasing efficiency.
Kitchen Display System Recommendations in Singapore
After knowing what features should be in your KDS, we've compiled the three best Kitchen Display System choices for you based on the aforementioned features. You can choose one of the following software to increase the efficiency of your restaurant.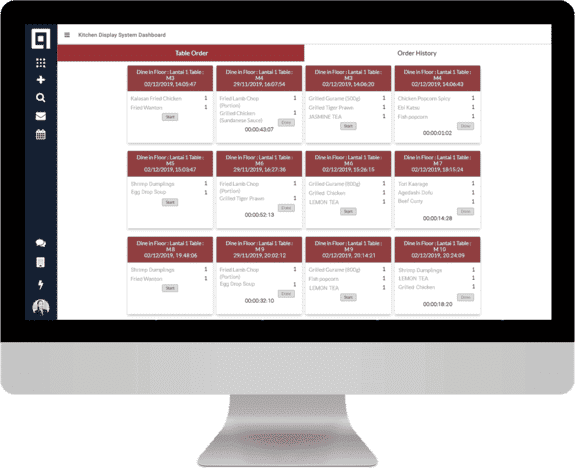 HashMicro provides a kitchen display system, allowing seamless communication between the kitchen and waitress. You can increase the efficiency of your restaurant by using our best kitchen display system. Furthermore, integration with the POS system making placing orders faster and improving accuracy.
An integration with the POS system making placing orders faster and improving accuracy.
Key features:
Order Display Screen

: Each incoming order will be displayed to help the chef prepare food faster.

Cooking Time Management

: The system can visualize the estimated cooking time to help chefs set priorities.

Automatic Food Routing

: Orders from the e-Menu or POS will automatically display on the kitchen screen and be updated until the food is served.

Table Management

: Manage and track orders from each table through the screen. Combine or split the table as per customer request.

Waiter Alert

: Leave the old way to notify the waitress that the food is ready by ringing a bell. The waiter alert can notify your waitress automatically.

Order Summary

: View the summary of the order fulfillment time to see if the order was delivered on time, longer, or faster.
Appzgate
Appzgate provides information technology solutions and is a software development company that values creativity, innovation, and technology. They offer a mobile point-of-sale system that enables you to manage your entire business remotely and at any time. It features a KDS system that allows access to the POS system from any Android or iOS device.
Eats365
Eats365, a restaurant POS system built for large and small businesses. They specialize in end-to-end web app solutions. All features available in this system include online ordering, split checks, separate checks, table management, and tips management.
Conclusion
Kitchen display systems that are available today offer various features, which may make it hard for you to choose which one to implement in your restaurant. However, you need to consider at least five must-have features, such as redundancy, POS integrations, meal coursing, basic routing, and delayed routing.
As mentioned above, HashMicro offers the best kitchen display system. With all of the available features, our system will simplify all aspects of your restaurant's operational management effortlessly. Prove it now by filling out the form!