The border control policy that the government has taken in order to mitigate the Covid-19 pandemic is getting more restricted. Previously, there were a handful of countries prohibited to enter Singapore as short-term visitors. Now, all short-term visitors from all countries are banned. This is indeed a good move to reduce imported cases. However, it affects retailers even worse; they are now on their knees.
According to R Dhinakaran, the President of Singapore Retailers Association, some retailers are affected only by 30% while some others are dropped until 90-100% as per the beginning of March. This is the worst blow in the retail sector since 2003. The uncertainty of the outbreak has led people to carefully spend their money and the result is the plummeting retail sales.
Although the government has unleashed at least four billion dollars to help the retailer impacted by the coronavirus, it is worth trying to keep the business runs and optimize the sales. In this article, we have compiled five strategies that you, as a retailer, can apply to survive the sales during the pandemic.
Optimize online sales
Social distancing makes people strive for an alternative to get their groceries or essential items without having to roam around in public spaces. In China, there was a spike in online sales during the early and peak phase of the outbreak. It is now recommended for brick-and-mortar retailers to shift the sales to the online platform.
This shifting may greatly cover the loss you have experienced in your offline stores. Furthermore, experts are predicting that this pandemic might change consumer behavior permanently.
The first thing to do is to make sure that the customers know that they're favorite store is having an online version and you should encourage them to use it. You can use the mass mailing feature in Marketing Automation System to announce and promote your online shop. Then, you can measure how effective your campaigns are.
Don't forget to prepare strategies if your online sales jolt. Some of your employees might request sick leaves due to this unfortunate condition and that is why many business operation plans should be ready as soon as possible.
Push with promotional programs
This strategy is the most simple strategy that many businessmen can think of and implement to keep the business runs in this pandemic. However, specifically talking about the retailers, they could do it much more vigorously.
There are a lot of promotional programs that you can use such as discounts, free shipping, a longer period for item returning, free products, and more.
If you have used systems such as CRM-Leads or Membership, you can create even more interesting, personalized programs. You can attract more customers by tailoring it based on their preference or purchase history.
Because the end of this pandemic is nowhere to be seen, you might apply this strategy longer and "crazier". So, make sure that you control the margin effectively to optimize your profit.
Focus on best-selling products
Please carefully note that this point does not apply to the retailers who sell the most needed items now such as masks, hand sanitizers, or other cleaning supplies. Retailers should control the purchase and the price of those items to prevent hoarding.
This strategy would be applicable to the retailers who produce their own items. With this disruption in the supply chain flows both locally and overseas, you should be very well-calculated in the production system.
To stay efficient, you can boost the production and sales of best-selling products to save the overall cost. So, optimal sales will most likely cover the scarcity and the inflated price of raw material.
Negotiate with your supplier and vendors
As mentioned in the point above, retailers now have to wrestle with low stock and rocketing prices. Few workforces, difficulty in optimizing inventory, and forecasting challenges worsen your sales.
To moderate this burden, you can start talking with your vendors and suppliers. Convince them that the most important thing in procurement is not traditional buying negotiating but making sure that the continuity of supply is granted. You can ask for looser payment terms or other temporary changes of policy. You can also keep fighting for the GTO rent if your landlords are still firms with the renting price.
Prepare for the recovery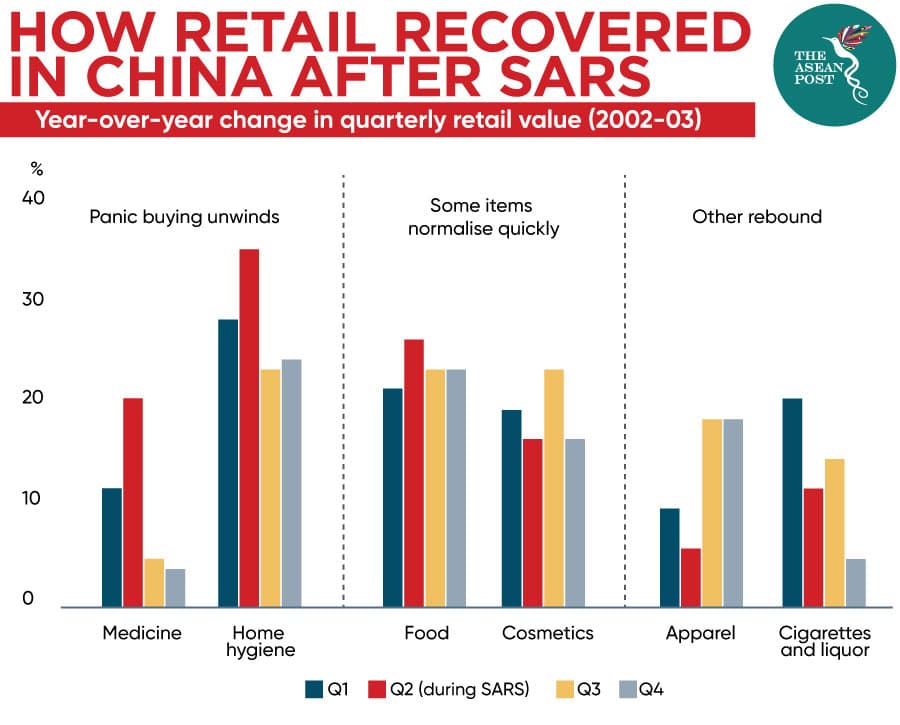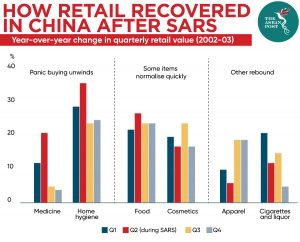 The graph above shows the dynamic of retails in China during the SARS outbreak almost two decades ago. The sales of medicine, food, and home hygiene sharply increased due to panic buying. Meanwhile, cosmetics, apparel, and liquor dropped.
The panic buying caused certain categories were prone to stockpiling. Meanwhile, when the outbreak came to an end, items such as apparel increased in demand. Consequently, retailers were unable to meet the demand due to improper stock on hand.
Therefore, you should create the most adaptive business strategy that suits your business well to prevent that kind of a mess. Once the outbreak diminishes, make sure that you return to the regular automate reordering and adjust both the price and shipment.
Conclusion
The Covid-19 pandemic does not put retail in complete halt because the people depend on it too. However, it is inevitable that the outbreak causes disruption.
The five points above can be your reference in order to optimize the sales amidst the uncertainty. Don't forget to track and record your sales during this critical time so you can have a prediction if a similar situation happens.
Last but not least, don't put your employees' health and safety at stake. They are the people who keep your business run and prone to the infection at the same time.