One of the things vital to the Singaporean economy is the presence of SMEs. It also serves as the foundation of Singapore's economy, contributing about half of its GDP (GDP). ERP for SMEs in Singapore are companies with yearly revenue of under $100 million and fewer than 200 employees. Additionally, roughly 70% of the local labor force is employed by Singaporean SMEs. The majority of businesses in Singapore are SMEs, according to the estimated 130,000 of them.
The large number of SMEs in Singapore demonstrates the importance of SMEs to the country's economy. In particular, with the aid of digital transformation, SMEs also provide remarkable potential. Due to today's digitalization, you may enhance your SME firm by automating your business activities using ERP Software for SMEs. Making use of SMEs might be an excellent justification for beginning a company. To increase the productivity and profitability of your company, you must also install the most comprehensive accounting software. You must thus understand the SME's meaning, functions, and categories. Calculations for the ERP for SMEs pricing scheme are also required to get the program's description. This article will discuss how ERP for SMEs can improve your business.
Also read: ERP Software for SMEs
SME's Struggles in Management
Singapore's small and medium-sized enterprises (SMEs) are encountering increasing difficulties in a business climate that is changing quickly. SMEs account for 99% of all Singapore companies, and many struggles to survive in their first year of operation. It's a fantastic moment to establish your own company and get up every morning to do what you love. Managing components of your company where you lack expertise typically comes with the pleasure and delight of running your own company. We will talk about the top four problems SMEs in Singapore are now facing in this part.
Cash flow uncertainties
According to a survey by SPRING Singapore, a quarter of Singapore's SMEs had trouble being paid on time. Many company owners need help with supplier demands for payment, along with consumer payment delays. Use ERP for SMEs, such as accounting software that offers simple-to-access cash flow statements to sneak up on your cash flow.
Limited resources
Small company entrepreneurs need more resources to do what one has to accomplish. Cash flow and capital limits cause inadequate technical knowledge and skills, impeding corporate growth and IT automation solutions. There will always be areas of the company you should not manage alone, so consulting mentors or those with expertise will assist.
Finding and retaining customers
Keeping customer satisfaction high is the best way to stay in business, no matter how big or small your company is. The greatest (and most affordable) approach to increase the awareness of your company is by effective "word of mouth." Digital platforms like Google and Facebook allow you to self-serve, offering you freedom and no payment commitments, and you can track performance in real time.
Motivating and retaining employees
Choosing the wrong employees might give you a rude revelation, just like choosing customers who will be pleased. Finding competent personnel is tiresome and time-consuming when running a company, but it pays off in the end. Alignment with the objectives, the establishment of core values, and operational principles will encourage your personnel to go above and beyond your expectations.
Also read: 5 Marketing Strategies Every Startup or Small Business Can Afford
ERP for SMEs Explanation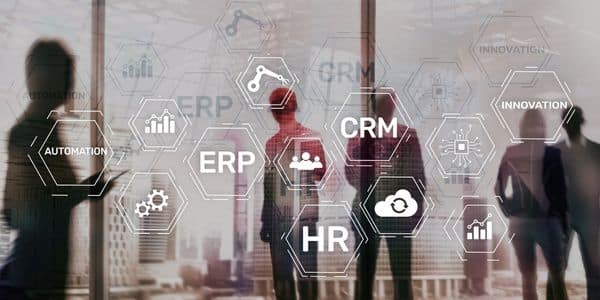 The term "ERP" stands for "Enterprise Resource Planning." ERP software is a technological paradigm that manages manufacturing, sales, accounting, and other fundamental company processes. ERP for SMEs may help you automate typical business processes, saving money and precious time. You must be wise about organizing your day if you want to create a small company. It would be more beneficial to spend time on inventory management and payroll processing to find new growth prospects.
Many small companies depend on traditional accounting systems and ERP for SMEs that need to meet their demands adequately. With ERP for SMEs, company owners and managers can monitor all aspects of their operations, including HR, procurement, production, warehousing, sales and marketing, customer support, and more. ERP for SMEs may address some difficulties small enterprises face. These challenges affect your company's capacity to grab new possibilities. Due to SaaS, cloud ERP for SMEs is often more affordable to purchase and install than on-site systems.
Importance of ERP for SME Solutions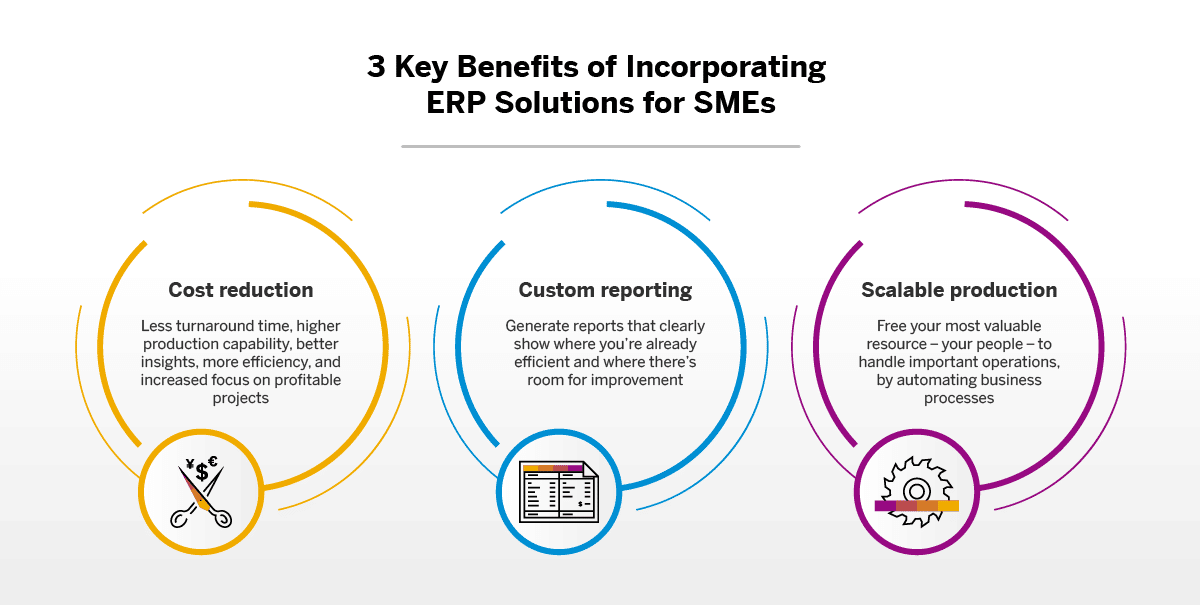 ERP for SMEs gives transparency about how issues influence the process, enabling management to evaluate, gather insights, and make successful choices. Real-time financial information is provided, giving businesses an edge over rivals, boosting productivity, and ensuring cost savings. Using ERP software for SMEs, businesses automate tasks, simplify workflows, and reduce the need for human input. SME ERP systems help SMEs by:
Cost Reduction: Employees can take on more creative, profitable jobs with fewer manual procedures burdening them. Workflow efficiency improves together with quick turnaround times and great production capacity.

Custom Reporting: Reporting is how organizations keep track of

KPIs

for each department. All the other departments may be impacted if one department or functionality lags. However, with a sound system, you can generate helpful reports. Reports generated by an efficient ERP system show where you are currently efficient and where there is space for development.

Scalable Production: ERP dramatically increases the scalability of corporate operations. Operations are automated, relieving staff of some of their job and ensuring a reliable workflow record. Your most precious resource, staff, may then focus on taking care of the other crucial tasks. By automating company activities on the cloud, If you want to grow corporate processes easily, you may utilize a cloud ERP package.
Also read: 5 Common Bookkeeping Mistakes on Small Businesses
How ERP for SMEs Solves The Management Problems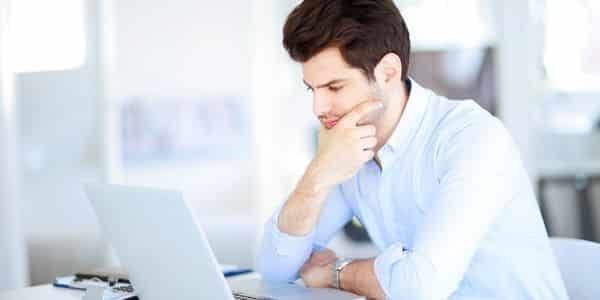 Despite being the backbone of the economy, SMEs always face various difficulties. There are various hurdles, including market competitiveness, reporting requirements, strict budgets, compliance, etc. As the industry's future is in small and medium-sized firms, meeting their demands and difficulties becomes essential. Let's examine how ERP for SMEs solves management problems.
Integrate finance with other areas of your business
Without an ERP for SMEs, you must collect data from various systems and compare them in spreadsheets to analyze them. This increases complexity and, more crucially, takes time. From a financial point of view, you want to make judgments based on up-to-date factual information, not data from a few weeks ago.
Building your company into a single ERP for SMEs lays the groundwork for expansion and progress. A Brainyard survey revealed that 58% of CFOs prioritize leveraging data more efficiently. ERP for SMEs makes this feasible; having financials, sales, and buying in one system provides you more visibility and control.
Use rich financial reporting to understand your performance
Many people have trouble generating accurate, timely reports. 57% of finance departments place better reporting at the top of their priority list. Consider the financial data, cash flow statements, and balance sheets you can generate with your standalone ERP software. Is it sufficient to enable you to comprehend your performance? On the other side, ERP software provides you with a more thorough understanding of your performance.
The effects of operations in other company divisions are seen in the financials. For instance, you may conduct cash flow estimates depending on inventory and order status. Alternately, assess the effect on cash flow by combining A/R aging with your order pipeline. You may run reports utilizing real-time data with access to data from the whole company to make quick yet educated judgments.
Reduce data entry errors and duplicate effort
You may anticipate a data input error rate of 1% on average. Although nothing is flawless, error rates often exceed 1%, particularly when numerous systems are involved. Each manual re-entry point increases the likelihood of human mistakes. And in finance, something as basic as a missing period may generate significant issues that need hours to resolve.
Error rates decrease due to fewer human inputs when using ERP for SMEs. Transactions are input into a single system as an alternative to two or three. And when problems do arise, it is far simpler to locate them. You may follow the document trail to see all affected transactions and the user who initiated each one. If necessary, this enables you to undergo retraining to avoid future errors and assist you in reaching your 1% goal.
Increasing efficiency with automation
ERP software automation capabilities is a game-changer. Using ERP for SMEs to streamline invoice processing may save as much as 85% of the time compared to the manual technique. The effect of automating additional tasks, such as month-end closure, collections, etc., is cumulative. Your accounting and financial team may use the extra time for planning, forecasting, and analysis. These behaviors promote advancement and may help you discover opportunities you would overlook by doing physical labor.
Improve fixed asset management
Most ERP software includes fixed asset management capabilities to help you track and manage company assets (e.g., machinery, buildings, electronic equipment, etc.). It allows you to depreciate the cost over the asset's life using different depreciation methods – without the headache of doing the calculations manually. Automating this process increases efficiency and helps you eliminate hidden costs.
Greater control of finances
In the aftermath of the COVID-19 outbreak, 43% of CFOs consider good cash flow management to be the greatest obstacle. To address this issue, the same number of individuals are focused on discovering savings opportunities. This is made feasible via the use of ERP software for financial management. With a birds-eye perspective of your financial and operational performance, it is simple to identify cost-cutting options.
The introduction of accounting process automation may influence cash flow. In addition, utilizing ERP to manage your firm allows you to save money via increased efficiency and reduced personnel. These little benefits may improve your bottom line.
Also read: HashMicro, An All-in-One SaaS ERP for Small Businesses
ERP for SME Types
Numerous Enterprise Resource Planning (ERP) software types are based on company objectives, business needs, and future goals.
Open Source Enterprise Resource Planning (ERP) Small Business: Open Source Software is software for which the program code is accessible.

Free Proprietary Enterprise Resource Planning (ERP) Small Business: These are fully functional, streamlined versions of an Enterprise Resource Planning (ERP) tool.

e Proprietary Enterprise Resource Planning (ERP) Small Business: Full premium version of Enterprise Resource Planning (ERP) software that is either accessible in the cloud or as a standalone, client-server platform.
ERP for SME Software from HashMicro
Enterprise ERP solutions are offered by HashMicro, one of Singapore's top industrial software providers. In order to automate and streamline business processes, HashMicro released an ERP application in the cloud in 2015. HashMicro is committed to becoming the best automation solutions provider and has over 1750 clients in Southeast Asia. HashMicro provides services to numerous businesses, and we know that it develops technologies for various industries. It has also made substantial investments in dependable modules that perform successfully when bought independently. It has sophisticated reporting, an intuitive UI, and many users. HashMicro, a leading example of enterprise resource planning (ERP) software, provides a variety of modules for various enterprises, including:
HRM

CRM

Accounting Systems

Inventory Management

Supply Chain

Procurement, and many more.
Also read: 7 Tips to Increase Startup Business Innovation
Conclusion
You now have a comprehensive overview of the possibilities when searching for an ERP for SMEs. The ERP for SMEs uses all the cloud computing features to manage your company's resources. Your ERP provider hosts and administers all cloud-based software products. This enables your management team to concentrate on operating the company instead of managing IT. HashMicro's ERP Software may aid in the expansion of your organization. Download the price scheme calculation for ERP software for your review before using it in your organization, and try our free demo!