Manufacturing is one of the fastest-growing industries in Indonesia. According to the Minister of Industry, Indonesia's manufacturing sector is the fourth largest in the world after South Korea, Germany and China. According to him, Industry 4.0 plays a major role in the significant development of the manufacturing industry in Indonesia.

However, there are still many manufacturers in Indonesia who have not adopted the latest technologies to digitize their businesses yet. Some of them have only been focusing on updating their hardware, putting aside the implementation of software which could be immensely useful for improving the efficiency of their daily operations.

Through this article, we want to introduce you to some of Indonesia's best manufacturing software systems that you can keep in mind.
1. EQUIP Manufacturing Software
EQUIP Manufacturing Software enables manufacturing companies of all sizes in Indonesia to carry out the Industry 4.0 principles by integrating all aspects of manufacturing operations through a cloud-based system and providing a single source of real-time information.

The in-house system covers all aspects of the manufacturing cycle, including work order and manufacturing order creation, bill of material (BoM) management, raw material routing, and a lot more. It also allows manufacturers to set up multiple work centers for individual or a group of machines and also human resources.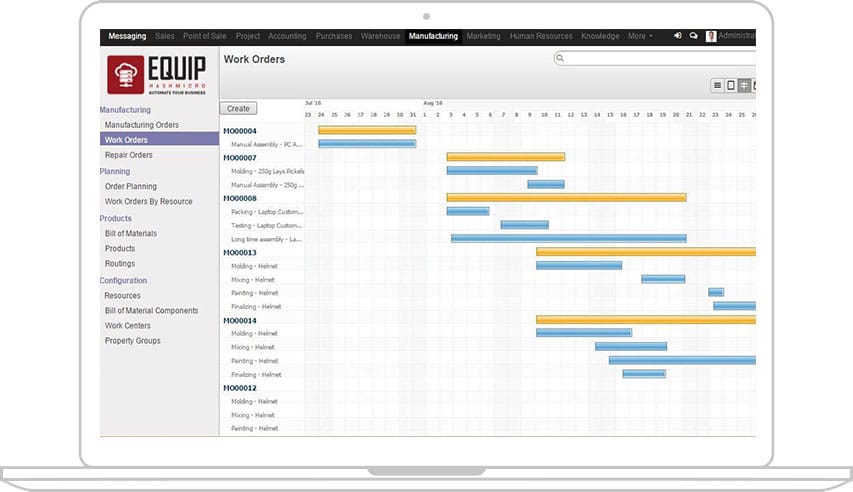 EQUIP Manufacturing Software allows manufacturers to integrate it with weighing scales, barcode scanners, RFID and other tools. It can also be integrated with several EQUIP ERP modules such as the Inventory Management System to help manufacturers forecast and track inventory, the Asset Management System to help them manage manufacturing assets & equipment maintenance, and the CRM System to help them manage their sales activities.
Another advantage offered by EQUIP Manufacturing Software is that it can be easily customized and users can integrate it with various modules such as purchasing, accounting, human resource management, supply chain management, and other modules. In addition, with complete functionality and high flexibility, the system also provides lower implementation and maintenance costs compared to other manufacturing software systems in Indonesia.
2. Deskera MRP
Deskera MRP is designed to help manufacturers in Indonesia optimize their business processes, from production planning and scheduling to quality and inventory control.

This system allows manufacturers to forecast raw material requirements, thus making it easy for them to check manufacturing machine quality, schedule machine and equipment maintenance, allocate costs, and much more.

Just like EQUIP Manufacturing Software, Deskera MRP also allows manufacturers to set up multiple work centers for one or several similar machines. The cost of the software depends on the user requirements, but it is more suitable for large-scale manufacturing companies.
3. SAP
SAP offers convenience for manufacturers to integrate the system with Industrial Internet of Things (IIoT) hardware through several packages consisting of SAP Manufacturing Execution, SAP Manufacturing Integration & Intelligence (SAP MII), SAP Manufacturing Insights (SAP MI), and SAP S/4HANA Manufacturing Solutions.

Each SAP Manufacturing package has different features and functionality depending on the the company requirements. SAP Manufacturing Execution provides detailed production visibility, SAP MII provides local and centralized KPIs for overall equipment effectiveness (OEE) and energy, SAP MI focuses more on reducing production cycle times, and SAP S/4HANA Manufacturing Solutions focus more on real-time analytical data that helps improve the decision-making process.
4. Oracle
Oracle provides cloud-based manufacturing software consisting of four products; Discrete Manufacturing, Process Manufacturing, Manufacturing Intelligence, and Industry 4.0, each of which has a different objectivity.

Discrete Manufacturing is more focused on improving factory floor execution capabilities, Process Manufacturing offers detailed cost tracking features combined with flexible analytical tools, Manufacturing Intelligence helps manufacturers integrate data and synchronize it with data from an ERP system, and Industry 4.0 enables manufacturers to combine the software with devices hard IoT.
5. NetSuite
NetSuite offers a complete cloud-based ERP system specifically designed for manufacturing, which consists of several important features such as CRM, Product Data Management, Order Management, Planning and Scheduling, Procurement, Production Control, and many more.
The American-based ERP system offers solutions for various types of global manufacturing companies including those in Indonesia; from electronics, fashion and apparel, consumer packaged goods, food and beverage, furniture, to industrial manufacturers.
Conclusion
It doesn't matter which one of these software systems that you are going to choose, but it is very important to make sure that the software fits the budget and meets the requirements of your company.
If you have any questions regarding manufacturing automation, we will be more than happy to assist.
Visit our website for more information about what solutions we can provide to simplify your business process.