Marketing was previously the go-to strategy for organizational growth. This was supported by advertising which has always been a bridge in reaching the audience. However, there is still much work to be done because marketing projects do not always succeed in meeting the existing plan. This is where ERP software can come in handy, ERP system marketing can improve sales and marketing strategies. 
The most innovative companies approach digital configuration differently, mapping ERP system marketing to become more business-savvy.
Combining ERP and marketing offers significant advantages that enable every employee to play an active role in the company's marketing success. ERP system marketing also contributes to the company's ambitious plan to stay ahead of its competitors. This article will look at some of the key advantages of centralizing, aligning, and automating your marketing efforts with an ERP solution.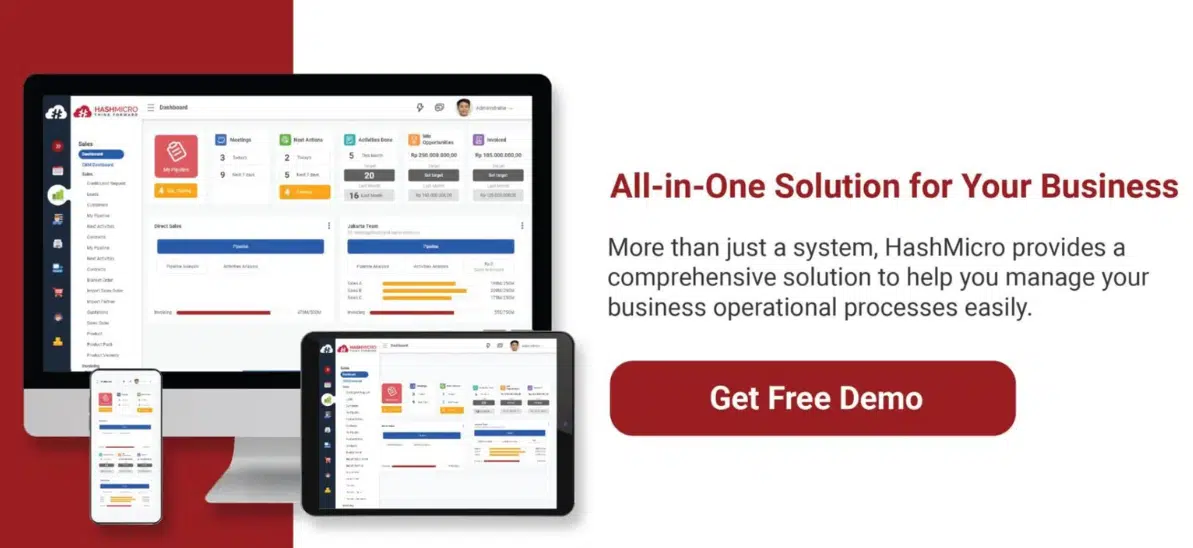 Table of Contents
ERP System Data Help Upgrading Sales and Marketing
Integrated ERP systems increase transparency and visibility for all employees. It centralizes all data, allowing departments to collaborate effectively at any time and location. Modern ERP software is an important source of information for sales and marketing strategies. However, many businesses continue to avoid using this software because they are unaware of its capabilities. Rather than waiting for demand to happen, many pioneering companies wonder how their ERP system can generate new business opportunities.
ERP software records the entire order history and converts it into opportunities for the company. Employees will know when and how to contact customers again. More importantly, it reduces the incidence of buyers making purchases elsewhere. The sales team can structure attractive pricing to sway the buyer's decision. This is just one example of how ERP system marketing can increase sales.
Also read: How to Analyze Market Trend?
Product Insight
In marketing, insight is crucial. To promote a product to customers, you must first understand its insights. ERP software can assist you in discovering critical details about your offerings so that you know exactly how to market them. Peak sales periods, optimized pricing structures, potential stocking opportunities, and sales figures are all examples of helpful data points. ERP data can be used to price and position products in new markets, while others are structured to address current customer needs. Furthermore, integration between marketing and ERP connects forecasting to production. Managers of operations can then better estimate scheduling and potential capacity. 
Also read: Marketing Plan: An Important Aspect in Your Business
Personalized Marketing
The expectation of customers at this time is to stand out while being part of the crowd. The desire to own products with a personal signature is striking. Personalization in marketing is designing and producing in a way that corresponds to customer preferences. Personalized content and products based on customer preferences can save customers time when making decisions, lowering their cognitive load.
Are you still sending the same marketing message to your entire target audience? If this is the case, ERP can assist you in changing your communication strategy. ERP makes it simple to see which products sell best in which channels and adjust your plan accordingly. 
For example, suppose you own a clothing store. If you find that Group 1 prefers patterned clothing and bright colors while Group 2 prefers monochrome clothing and simple designs. In that case, you will not waste time sending promotional emails about monochromatic clothing to Group 1. Style, design and branding can reveal a lot about a consumer's personality and provide signals and other psychological benefits to consumers. 
Offering products that are certain to be popular with specific consumer groups will increase your sales. Your ERP system's purchase and sales data will include demographic information about your buyers. You can create more effective and personalized marketing campaigns with this business intelligence. 
Pricing Strategies
The data in the ERP software assists in measuring the sales team in order to establish a price floor. This allows the company to maintain high prices while remaining competitive. The pricing policy can help the sales team thoroughly consider current customer needs. The data in the ERP system constantly suggests new prices for the company to maximize profits. In modern business, a costing strategy's competitive advantage becomes more evident because it has access to inventory, shipping information, and other features that can drive the company's sales level. 
Customer Awareness
Your sales become more than just numbers when you use an ERP system. Instead, you are given vital information about your customers. You can see what they are buying, what prices motivate them, when they shop, and more at a glance. This is another way to tailor your promotion to your target audience's preferences.
Please take note of your ability to suggest additional items to their purchase and whether you offer consumer-friendly discounts. These abilities can be gained through insights into your ERP system, allowing you to understand better and meet your customers' needs. By mastering these skills, you will continuously increase your company's profits. 
Marketing Campaign
You recently finished a social media marketing campaign. Do you know whether or not the effort was worthwhile? It cannot be easy to quantify all costs and activities to determine the answer unless you have an ERP solution. However, the right software can assist you in comparing qualified leads to overall sales, allowing you to choose the actual cost per lead. 
Modern marketers perform best when they work collaboratively. It is critical to know as much as you can about your products and customers to keep up with a savvy and growing audience. When ERP and marketing collaborate, you can quickly access all the data you require. You can fully optimize your campaigns in this manner to attract key buyers, acquire new customers, and grow your brand. As a result, ERP provides a high return on investment. 
Conclusion 
If you like a more efficient and modern process in your business then ERP system marketing is the modern solution that you can enjoy. Hash ERP System is a cloud-based software that is a lifesaver for modern business practices. While streamlining your business activity, also can ensure real-time data at any time. Work collaboratively with the system to have a competitive advantage over competitors. Check the pricing scheme to make these advantages possible and contact us to get a free demo.