In order to distribute the outputs of the company's products, the company typically will support the delivery of goods. Oil and gas companies specifically get delivery to a variety of locations due to the wide variety of uses for oil and gas. Additionally, the delivered products are extremely important, making appropriate fleet management a need. Fleet management software is a breakthrough that you can use to manage your company's vehicles easily. Starting from scheduling settings, and cost tracking, to tracking the vehicles used and also the fuel used can be used using the best fleet management software from HashMicro.
It is also important to pay attention to the vehicle's maintenance because it has an impact on the whole trip duration. Use fleet management software to set up a regular maintenance and inspection schedule for your vehicles. The data generated by fleet management software can also be directly connected with other applications, making it more accurate. Regarding the cost to be used, you can download the pricing scheme fleet management software from HashMicro.
In this article, we will discuss the benefits, features, and integrations, as well as why you should use HashMicro's fleet management software.
Why You Have to Choose HashMicro Fleet Management Software?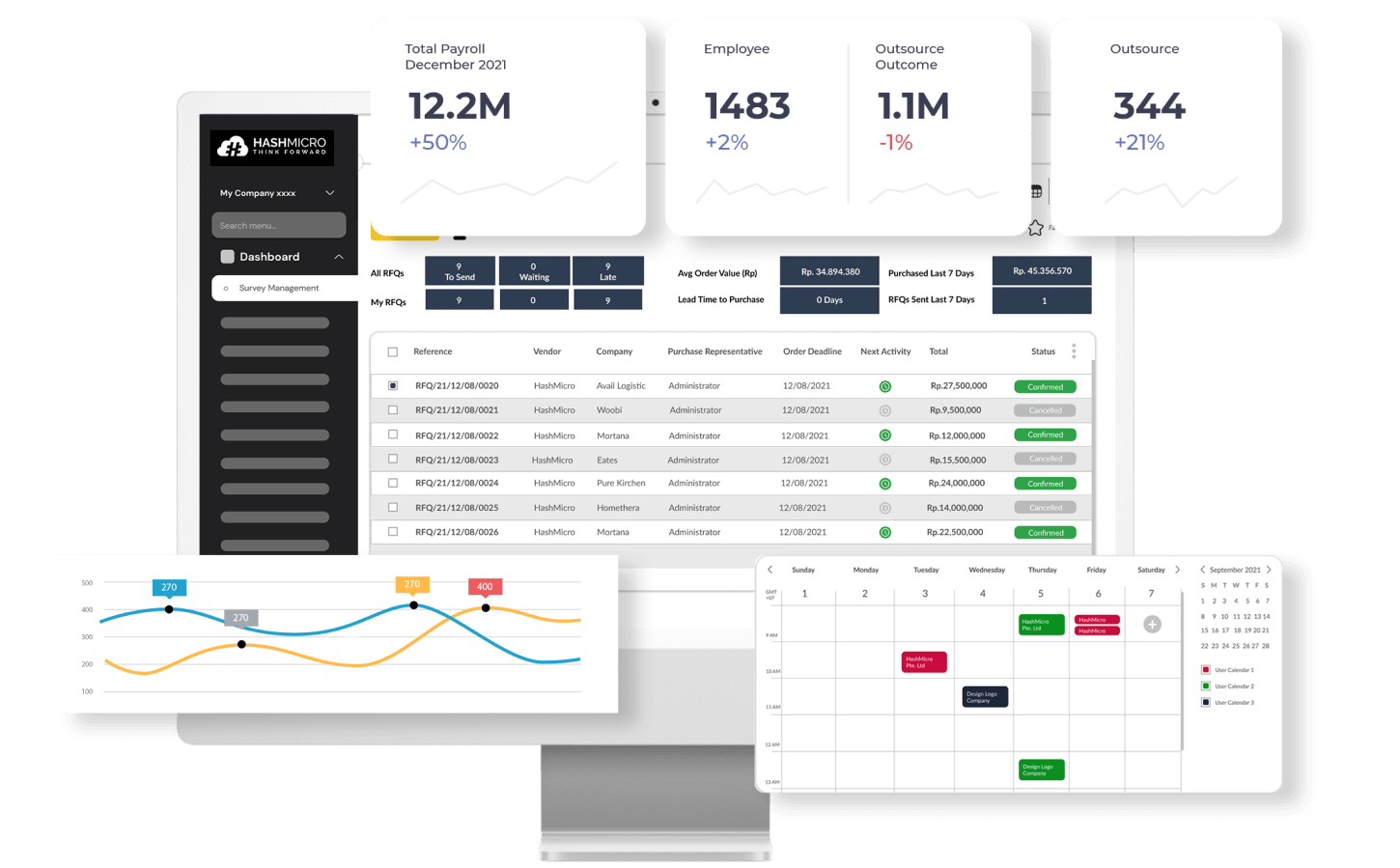 Founded in Singapore, HashMicro is a well-known ERP software company that now has a presence in Indonesia. Since its inception in 2015, HashMicro has been the ERP software provider of choice for Middle Eastern enterprises. Each of HashMicro's forty+ modules is fully customizable to meet your business's specific requirements. Software for fleet management is one of the services provided. Why should you choose HashMicro as the fleet management software provider in your company? here are some reasons why:
1. Unlimited user
People are able to use the modules that HashMicro has eternally, which is an advantage that the company offers. The information contained in the program is accessible not only to the owner of the company but also to many other stakeholders. This advantage does not allow HashMicro to increase installation costs, so when you have purchased a module from HashMicro, you also feel this advantage.
2. Innovate developments
HashMicro is a company that is constantly expanding, and as such, it is a company that will continue to innovate in response to the current environment and the challenges that it faces. HashMicro has the ability to deliver modules and solutions that we may customize to meet the requirements of your business. This advantage allows, if you have a renewable idea, HashMicro, which holds the value of continuously innovating, will be able to meet your every need.
3. Professional experts
Because there will be an integration between the system and your company's information, the security of your data is the main thing. By having a good database, you can store all your data so that we can keep it confidential and secure. The experts who work in our company will also help to provide the best advice for the system you want to install in your company. In addition, by having experts in our company, will also understand the needs of your company so that it can achieve a win-win solution that can make our clients happy.
4. Customizable 
Our company is able to customize the modules we offer to meet the specific needs of your business. The fact that HashMicro has more than 250 clients who already believe in using our solutions enables us to better understand the company's challenges and conditions so you can get the best benefits. In addition, each company has a different organizational structure, goals, and categories, making you want a customizable product and HashMicro to be a company that can meet your demands.
The Benefits that You Will Get by Using HashMicro Fleet Management Software
As a society, we rely heavily on oil and gas. It's little wonder that oil and gas companies are growing rapidly due to rising demand and potential. In the oil and gas industry, fleet management is the most important consideration. In terms of both costs and the condition of mobilized oil and gas, good fleet management is crucial. HashMicro has Fleet Management Software that can help you to manage the fleet in your company. The benefits you get if you choose to use HashMicro Fleet Management Software are as follows:
1. Easy fleet tracking
Tracking the fleet that carries your product is something that we have to consider, especially for oil and gas products. In addition to knowing where your product is, fleet tracking may help you predict fuel costs, and time, and even if something goes wrong, you'll have all the information you need. For real-time tracking, HashMicro fleet management software can be connected with the GPS of each fleet. You don't have to keep an eye on everything yourself, and the chance of fraud is decreasing.
2. Well-tracked condition
There are several factors to take into account before we can send products to many locations. Fuel, vehicle condition, and the documents required as road requirements are all covered in this section. Maintaining a fleet's health is made easier with the right fleet management software. It's fully automatic, so you don't have to manually monitor the vehicles that are in use. This convenience will speed up your job and lessen the chance of an error affecting your final result.
3. Automated scheduling
Oil and gas distribution vehicles, in particular, necessitate routine maintenance to keep them operating at peak efficiency. Because of the potential number of vehicles, you may utilize, you must create a maintenance schedule for each one. We have to do this regularly. Routine maintenance can be scheduled automatically using fleet management software. This benefit is very useful to avoid mistakes in carrying out maintenance so that the costs incurred do not swell. In addition, you can use this program to do fleet inspections.
4. Accurate reporting
In order to track the progress of product distribution, reports are an absolute necessity. This report can include vehicle conditions, gas consumption, and roadblocks that probably you will meet. We also need a report on the condition of the product that we have to ship. As a result, HashMicro's fleet management software offers advantages that might make your job easier. Several customizable diagrams are available for use in presenting reports generated by this software. You may be able to make better decisions if you have access to fleet reports at your fingertips.
The Features of HashMicro Fleet Management Software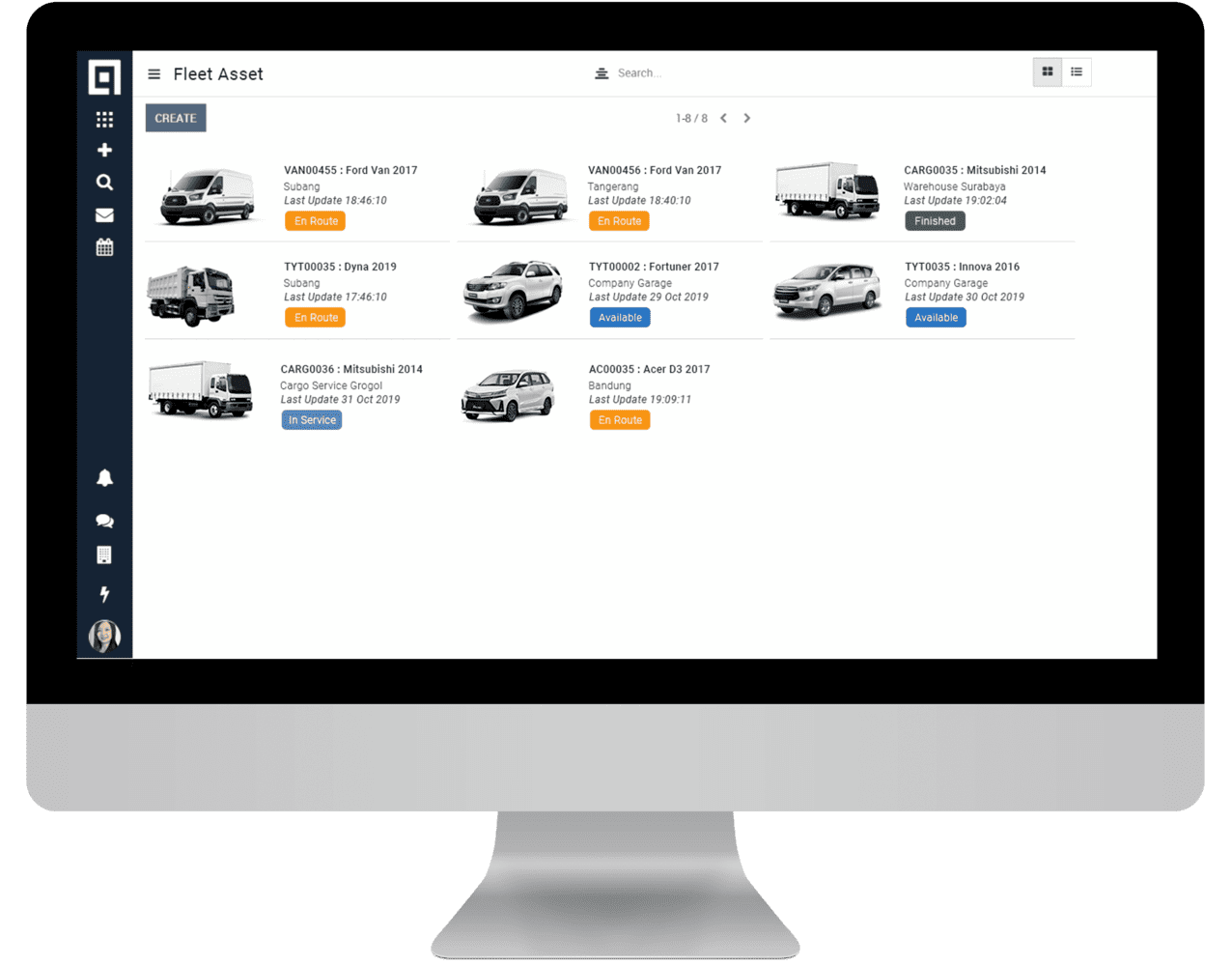 Features are the main thing for you to consider in choosing the software that you will use in your system. Therefore, HashMicro brings features to the fleet management software that can digitize all your fleet management matters. The features available are diverse and all have their own functions that the company can use according to your company's needs. Here are the features that you will get in the fleet management software from HashMicro:
1. Document management system
Vehicles that will enter and exit for product distribution require various documents. This document is important as a check-in land, sea, and air routes so that there is a need for a work permit. In addition, the documents that we have to manage are insurance for the vehicle as well as the driver that we have to take care of. The number of documents that must we have to manage on each vehicle and also the driver makes it difficult for you to manage it manually. With this feature in well-known fleet management system development, it makes it easier for you to manage complex documents.
2. Internal transfer management
Another feature is the internal transfer management feature that can monitor the movement of each vehicle. The features of this fleet management software can help you find out the location of your vehicle so that checks can be done regularly. In addition, you can process the transfer between vehicles to a certain location using this software. You don't need to worry if there is an error sending the product to a place because there will be integration for all the data will process data using this feature so that the processing of vehicle movements becomes accurate.
3. Work order management
Given the importance of fleet management, we have to carry out the fleet management by experts. Every role needs to be occupied by experts, from drivers to staff. Therefore, work order management is required in a fleet management system to manage task delegation. Route selection can also be determined using this feature, so this feature will give the best route for each driver. The more important a product is, and how big a company is, like an oil and gas company, the more it costs. Besides that, the delegation of tasks also will be more complicated because there are more and more things we need to take care of. Things that we need to take care of include staff maintenance, administration, accounting, and others.
4. Internet of Things management
Streamlining a profession is becoming increasingly common because of the popularity of the Internet of Things (IoT). HashMicro's fleet management software system has been integrated with IoT so that work is more easily accessible anywhere and anytime. Integrating with This IoT will be easy to track vehicles, speedometers, fuel usage, and maintenance (via automated alerts). Tracking with this technology will help you in determining expenses and also predicting the product will get to the location.
5. Cost tracking
The delivery of a product is closely related to the costs that will be incurred. To fit your budget, we need to do the product delivery using a fleet well. The features of the best fleet management software are those that have a cost tracking feature that can track the costs will be incurred on each trip. This feature will also present the incurring costs such as fuel costs, rentals, and maintenance. So you can monitor whether the report matches the tracking results on each trip. A few hours' delays can affect fleet costs, so cost tracking must be optimal.
HashMicro Fleet Management Software Integrated with Other Software
The best software is software that there's an integration between the other systems. HashMicro's fleet management software can be integrated with various other software, such as accounting software, HRM, repair management, and rental management. All of these have their own functions, as accounting software can help you calculate, allocate, and analyze your vehicle revenue and costs. HRM software has the function of automating payroll procedures, and calculating income tax, attendance, and leave of employees who manage your vehicle. The rental management system helps you manage rental orders and check the availability of rental vehicles. As for the repair management system, it can facilitate the repair procedure of your vehicle. All these systems will make the fleet management software have accurate data so that we can do all work correctly.
Conclusion
Each company has a vehicle as a means for the distribution of products to a place. You must manage the number of products and the placement effectively. Vehicle management is not just drivers and products delivered, but also other no less important matters such as insurance, costs, documents, and others. Therefore it is important for you to do management well.

Use fleet management software from HashMicro to optimize the management of your vehicle as a product distribution transportation. Through this software, you can do scheduling related to driver schedules as well as maintenance. We can handle the necessary documents as a travel requirement with this software. For more information, you can try the free demo from HashMicro to get to know more about fleet management software.