The development of the catering business in Singapore has been significant over the years, with the industry undergoing various changes and transformations to adapt to customers' evolving needs and preferences. Globalization, technological advancements, and changing consumer lifestyles are making the growth and expansion bigger for catering software in several business in Singapore.
As Singapore's economy has grown, so has its demand for catering services, creating opportunities for new businesses to grow. Therefore the catering business will need software, namely catering software, to help their activities. So, this article will explain the importance of catering software
Table of Content
Provide Real-time Data with Catering Software
The software is an essential tool for modern businesses as it provides them with real-time data that they can use to improve their operations. They can also manage orders and monitor sales data, which enables them to identify their most profitable products and make informed decisions about menu offerings.
This system can help you monitor your staffing levels, which is particularly important during peak periods when demand is high. By analyzing real-time data, catering businesses can adjust their staffing levels to ensure they have the correct number of employees to meet demand, improving their operations' efficiency using catering software.
Related article: 5 Reasons Why Buffet Catering in Singapore Needs ERP Software
Make Your Inventory Available Online 
The software simplifies business processes and makes inventory available online. This feature allows caterers to easily manage real-time stock levels, movements, and expiration dates. With a clear view of their inventory, caterers can ensure they always have the necessary ingredients and supplies to avoid potential delays or cancellations.
Furthermore, this software streamlines inventory management by automating tasks like purchase orders and low-stock reminders. By having their inventory available online, catering businesses can operate more efficiently, reducing waste and increasing profitability. 
Maintain Food Stock Easily with Catering Software
This software can significantly simplify maintaining food inventory and tracking usage. With the help of this software, catering businesses can easily monitor the availability of ingredients and ensure that they have sufficient supplies to prepare meals for their clients. Additionally, catering software can automate ordering and invoicing, making managing vendor relationships and tracking expenses more manageable.
The software can also help with meal planning and scheduling, ensuring that catering businesses have a clear overview of upcoming events and can allocate resources accordingly. By leveraging the capabilities of catering software, businesses can increase efficiency, reduce errors, and provide better service to their clients. 
Manage Catering Business Better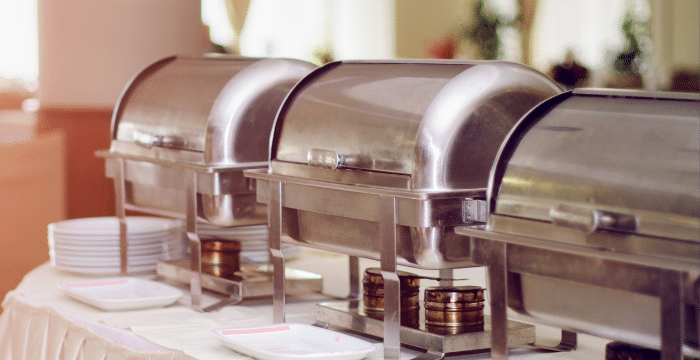 A catering management system can help catering businesses manage their operations better by providing a centralized platform for managing all aspects of the business. With features such as event planning, order management, and catering management systems provide an end-to-end solution for managing catering operations.
This system is essential for any catering business to manage its operations better, reduce costs, and provide better client service. By leveraging the capabilities of catering system, businesses can streamline their operations and provide a better customer experience.
Related article: What are Catering Automation Methods with ERP Systems?
Conclusion
Catering software plays a crucial role in the success of a catering company. It can streamline operations and manage orders, track inventory, and provide valuable data insights to improve business decisions. If a food company wants to achieve maximum profitability, using software is the best solution.
This will significantly impact a company's efficiency and profitability if you use software such as Software from HashMicro. It can help caterers manage their entire workflow, from managing menus and event details to invoicing and payments. So, don't miss the opportunity to claim your 70% discount from the Singapore government and improve your business today!