An ever-growing business is always so dynamic in its daily practices. Many things occur all at once, namely large amounts of transactions, the process of buying goods from suppliers, and financing practices. While doing these processes manually will become confusing and quite a lot to handle, ERP software offers a handful of solutions to this problem. There are numerous ERP software examples from which you could choose. Many people say that choosing the right ERP system can be tricky, and they are not wrong.
Businesses need to consider several factors before implementing ERP software. For example, you should know the pricing scheme calculation beforehand. It can help you in choosing the right solution for your needs, regardless of what industry you are in. But before anything else, let's go over everything you need to know about ERP systems. 
Table of Content
What is ERP Software?
Before we get to the top ERP software examples list, we want you to know the basics. Firstly, what is ERP software? Enterprise Resource Planning (ERP) systems are integrated systems that help you manage everyday processes and automate back-office functions. An integrated ERP system aligns financial management with other business functions and provides transparency to the entire business process. Along with this, ERP also gives a company real-time access to information and reduces manual labor.
Any industry can adopt ERP systems and implement them to make their business easier. For instance, an ERP system in the supply chain industry could automatically run a financial analysis and forecast future stock requirements to keep inventory at a healthy level. This process control guarantees that the production department operates at maximum efficiency and that in-demand products are available. The CRM module could record customer data such as order history and invoicing information at the same time. 
CRM systems are stand-alone programs, although many ERP systems include a CRM component, removing the need for many integrations in favor of a single, streamlined solution. In this example, a couple of ERP abilities collaborate to ensure that a company has the customers' products, resulting in higher customer satisfaction. This level of visibility can help you improve your sales strategy. There are just a few ERP system examples of use in industries. In reality, ERP consists of many modules and features to help streamline your business. 
Related article: Benefits of ERP System Singapore
Modules of ERP Software Examples
Rather than employing standalone solutions in each department, ERP systems enable consistency from the start to finish of all business activities. This benefits a company's expansion and growth. While ERPs cover a wide range of functions on their own, they can also be integrated with CRM and PSA software. Others may opt to purchase only selected modules from an ERP system separately to meet their business needs better, rather than the complete suite. ERP systems come with several modules, and while each company's needs are different, most ERP systems include the following:
1. Accounting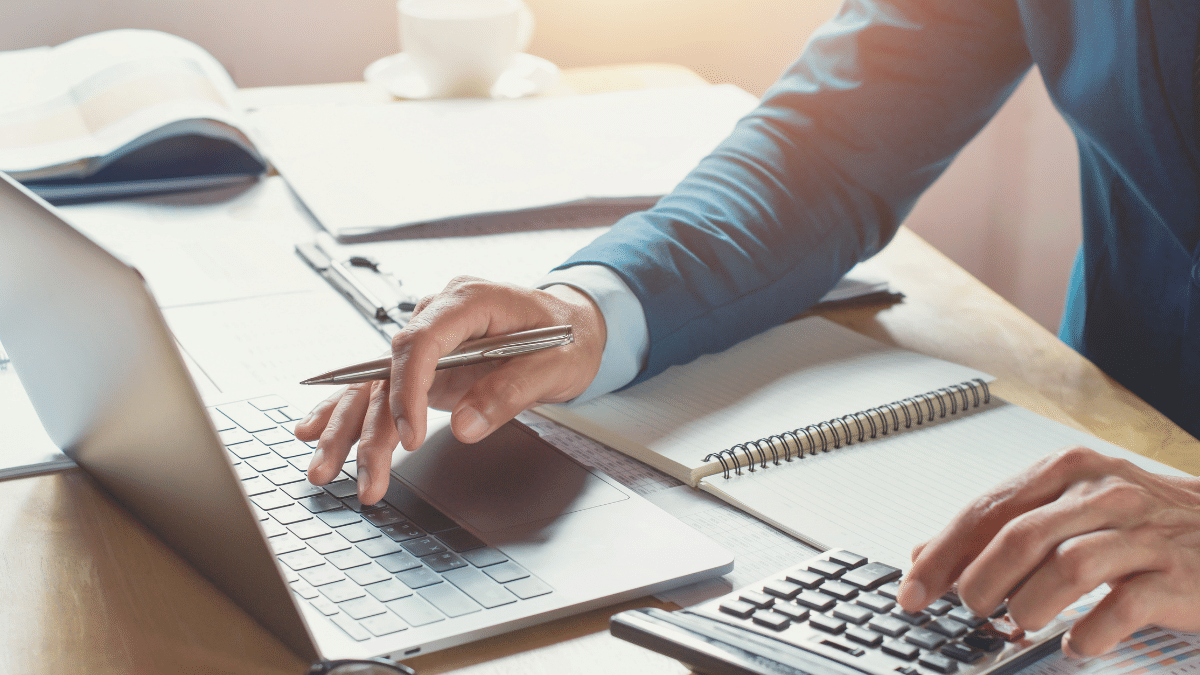 The ERP accounting system is a type of ERP software that offers accounting functionality.  This solution may accomplish in minutes which would take employees days to evaluate and compute. This accounting module or standalone software can make payroll, budgeting, billing, and banking procedures easier. It may perform cost studies to improve cash flow management and estimate future growth. Using an ERP solution to execute these tasks can help minimize expenses & reduce human error.
What is an ERP system in accounting? Or, some people may even ask, what is an ERP and what makes it different from other accounting systems? Of course, ERP systems and accounting software are different, but most ERP software comes with accounting features. This is because financial data affects other company choices and vice versa.
The ERP accounting software examples of features include accounts payable, accounts receivable, financial planning, and resource management. Accountants, buying managers, and other financial experts can use ERP systems to assess a company's financial health. These experts may collaborate with supply chain specialists and other experts to ensure efficiency. Typically, accountants review these functions separately from the accounting activities. However, companies can save time and make easier decisions when financial data is available next to inventory and manufacturing information.
Related article: Accounting Software Implementation To Improve Your Business
2. Manufacturing
A manufacturing ERP system is a software that automates sending manufacturing inventory through various stages. It keeps track of data from suppliers, raw materials, phases of production, and distributors. The manufacturing system can also analyze finances and automatically adjust processes according to cost analysis as a standalone or in an ERP system. In short, by using manufacturing ERP software, you can spot problems faster than you would manually. 
3. Human Resources
It not only helps with hiring and training employees, but HRM software can also track the employees' productivity. For instance, each employee will log in to the system, enter their working time, and manage benefits and vacation time. Additionally, ERP systems can automate payroll processes to make employer payments easier. This way, the company doesn't need a specific payroll department.
4. Inventory
A sophisticated inventory management system comes along with the sales that occur in the company. Businesses need to track down and measure the sales and make sure their stocks are available. Inventory is an essential part of a business, where the company needs to make sure their inventory is in-store and call their supplier once their supplies run out. Inventory management helps companies in keeping track of inventories, establish good price points, and locate products within the warehouse. In addition, it also helps eliminate human error, which will reduce costly distribution system errors. 
ERP Software Examples
People may assume that ERP only stands for enterprise, as the name begins with "enterprise" as the first word. In reality, any company size can utilize ERP functions. Not to mention the growth of e-commerce and small business with technological advancement, every business needs ERP solutions now more than ever. Now, what are some ERP applications? Here are some ERP software examples that you can choose.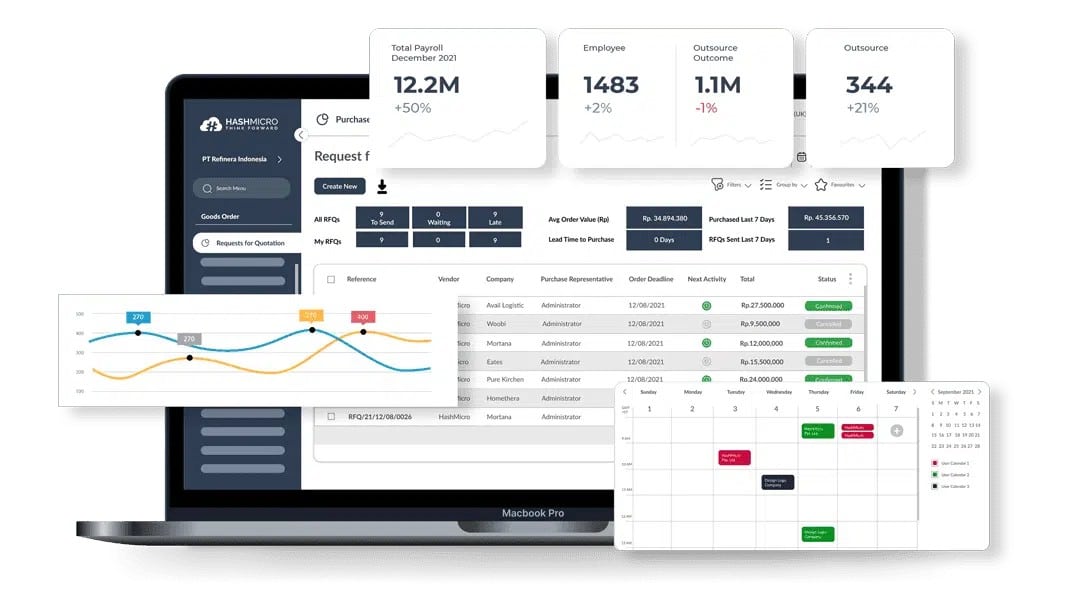 HashMicro is an ERP software provider that enables you to automate all your business aspects. This software is available for all types of companies, as HashMicro allows companies to customize their ERP modules. Furthermore, all industries can also adapt this software, such as manufacturing, finance, trading, food and beverage, retail, transportation, etc. As a leading ERP software example, HashMicro offers a variety of modules from the most comprehensive ERP package for many organizations, namely:  
Automate cash flow management, financial statement, bank reconciliation, adjusting journals, invoice creation, and more with the best Accounting Software. The main features of this Cloud Accounting System are Financial Dashboard, Cash Flow Forecasting, Fast Bank Reconciliation, Accrual & Amortization, Budget Management, and Analytical Reporting.
This software can make sales more effective and increase the sales team's productivity. This complete web-based Sales Software features Quantation & Sales Order Management, Multi Price List, Sales Target Management, Payment Follow-up Management, Sales Commission Management, and In-Depth Analytics Reporting.
Improve the sales team's performance by easily monitoring prospects, follow-ups, and estimated sales figures. The features in this software are Sales Pipeline Management, Sales Team Management, Revenue Forecasting, Email Marketing Management, Call Logging Management, and Sales Report Generation.
The HRM system can automate HR tasks and employee administration, calculate salaries and income tax, manage leave and attendance lists, process reimbursements, and other operational activities with HR Software and a complete payroll application for the company. This software features Payroll Management, Employee Database, Expense Management, Attendance Management, Employee Contract Management, and Leaves Management.
Those are some Erp system examples that HashMicro has to offer. Along with that, there are also Inventory Management, Procurement, Supply Chain, Manufacturing, and many more features. HashMicro's cloud ERP solution has complete and accessible facilities suitable for all businesses. See HashMicro's website for a more detailed explanation of the ERP module.
2. SAP
SAP is a cloud ERP software example with embedded analytics, robot process automation (RPA), and artificial intelligence (AI) capabilities that revolutionize business processes. The system uses cutting-edge technology, big data, and industry-specific requirements to assist companies in growing more. SAP is suitable for the manufacturing and service industries that want to integrate their business activities.
The SAP software consists of three main modules, which are Financial and Controlling (FI-CO), Material Management (MM), and Sales and Distribution (SD). Because the cost of investing in SAP software is exceptionally high, companies need to have careful consideration to avoid huge losses. Furthermore, it needs consulting with the right person regarding its application.
3. NetSuite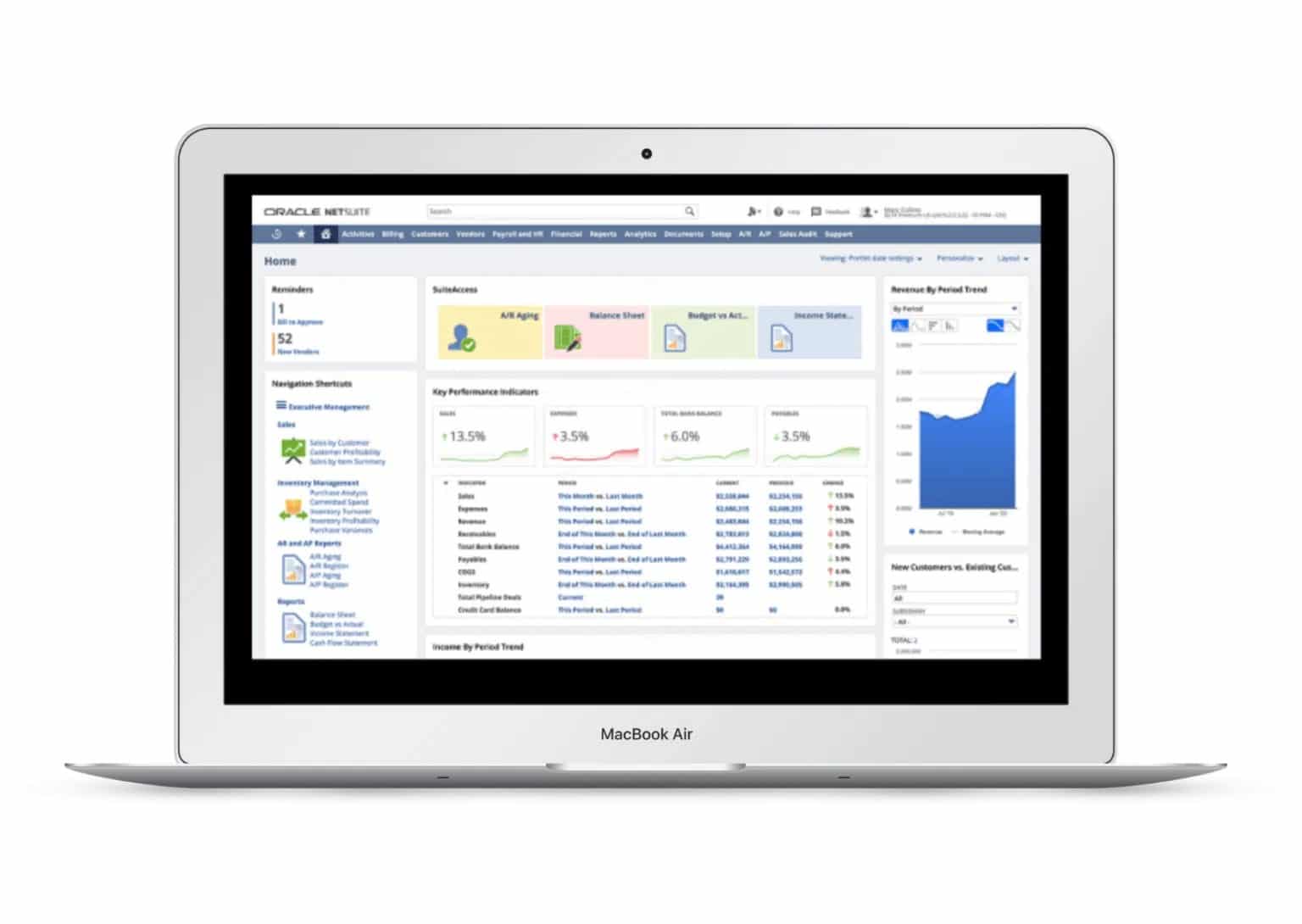 Coming next in our ERP system examples list is NetSuite. NetSuite was founded in 1998 as the first company to offer ERP solutions in business activities. It is a cloud-based ERP software built for rapidly growing and changing enterprises. Oracle NetSuite ERP is a mission-critical process management system that is scalable and adaptable. This software provides several solutions for all business scales. NetSuite offers several primary features, such as financial planning, order management, production management, warehouse, procurements, and others. 
4. Oracle ERP Cloud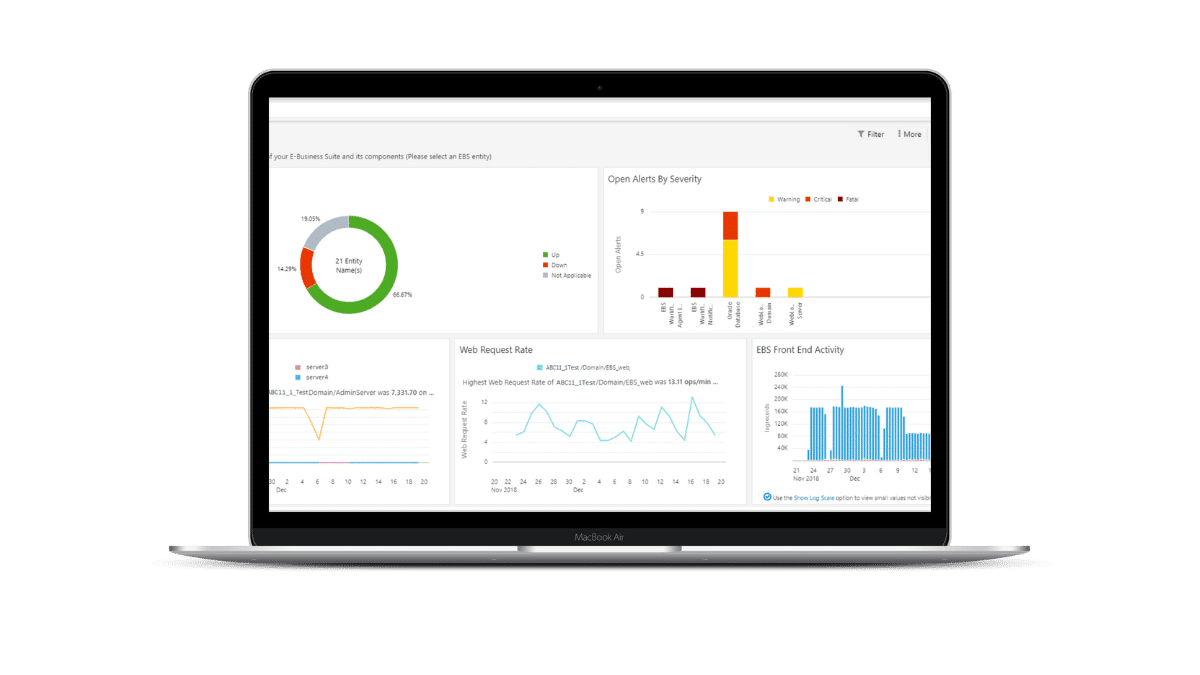 Oracle is a cloud ERP system that offers the SaaS delivery model. You've probably heard of this software before. Founded in 2012, Oracle ERP Cloud provides dynamic and modern software that many businesses can use. Oracle uses artificial intelligence (AI) and machine learning to automate daily tasks. The primary features of Oracle Cloud ERP are accounting, procurement, project portfolio management, risk management, and supply chain management. Despite having many advantages, Oracle still has its limitations, as it doesn't have a mobile app, and it's pretty costly to implement, as businesses need high-specification hardware to operate. 
5. Odoo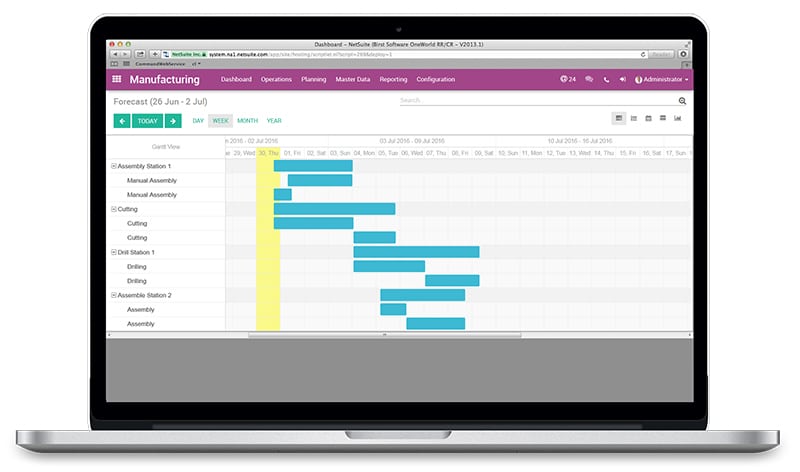 The last on our ERP examples list is Odoo ERP, a comprehensive ERP software that operates with open source. This software develops a cloud-based ERP system that provides comprehensive services, such as customization, implementation, integration, and training. Odoo offers web builders, online stores, Point of Sales, CRM, and sales application solutions. The features of this ERP software include CRM, sales, purchasing, accounting, and so on. Odoo also offers 30 main modules and facilitates regular updates. However, Odoo doesn't have a search engine system, and its operation is quite challenging to master. 
Related article: ERP Software Singapore Pricing
Conclusion
Choosing an ERP software might become a complex task for companies who are just starting up or just decided on switching up to automate and integrate their business functions. Our list of ERP examples is here to help you choose from the existing choices so that your company can implement the best ERP software application for your business.
If you're still hesitant and want to know more about ERP software, HashMicro offers customizable solutions that you can adjust for your business as it grows more and more. Even though it's not an easy decision, we hope you can invest in the best ERP software for your growing business.