A business certainly needs to have a good marketing plan—one of the marketing strategies on the rise in affiliate marketing or affiliate business. Affiliate strategy is one of the most effective programs to earn a significant income over the Internet with relatively short time and great results. You can also use sales software to increase sales to earn bigger income.
From small to large business perspectives, traditional businesses to corporations, affiliate strategies allow the business to thrive. Affiliate strategies drive business performance to market their products by leveraging the audience or customer themselves
While you are an affiliate marketer, you have an excellent opportunity to have a significant income in the most critical way possible. The way it works is quite simple; You have to sell products from businesses affiliated with consumers; If a sale occurs, you will receive a commission based on the initial agreement.
To better understand this affiliate marketing scheme, you can read the article below. We will explore how it works, the advantages and strategies that are right for you to run an affiliate business and become a good affiliate marketer.
Table of Content
What is Affiliate Marketing?
In simple terms, affiliate marketing is a form of marketing/business where someone earns a commission for successfully promoting the seller's product.
An affiliate programs is a business system that pays for a person's services when they successfully sell a product or sales service commission on a company that owns the product or service and requires others to sell their products/services by marketing digitally over the Internet.
Also Read: 3 Reasons Why You Should Switch to a Digital Business
As an affiliate marketer or person who does not have a product or service to sell, you can help a business market its products or services and receive a commission on every sale you make.
To join an affiliate program is not just an individual. A group of people or even a company can also follow the available affiliate programs.
Who is Involved in the Affiliate Business?
In general, there are three parties involved in the Affiliate Marketing System, namely:
Merchant: The merchant is the holder of ownership of a product.
Affiliate Marketer: Those who are affiliate marketers have the power to influence people to buy a product. Usually, this includes bloggers, copywriters, social media influencers (Instagram and TikTok), or companies that run specifically in affiliate marketing.
Customer: The customer becomes a third party who will purchase a product promoted by the affiliate.
Also Read: Here are The 17 Best ERP Software in Singapore You Should Know in 2021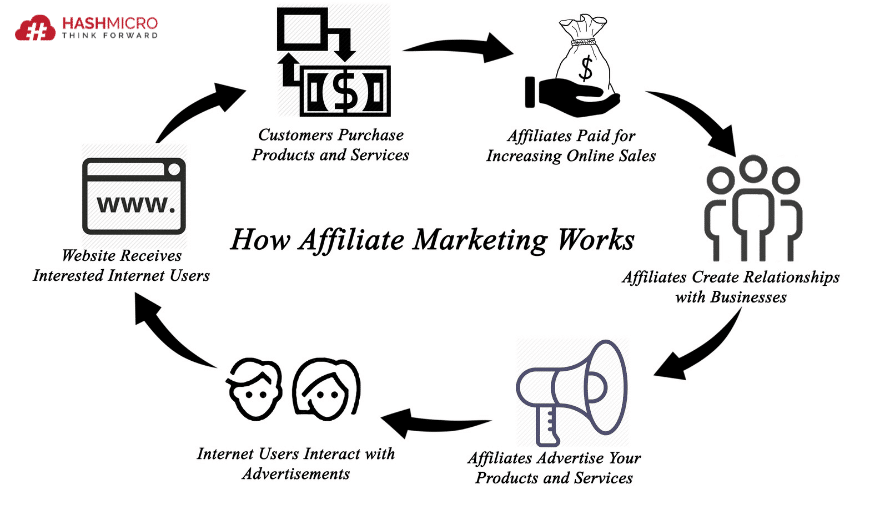 How Affiliate Marketing Works
If you want to start an affiliate business, there are several steps you can take, including:
Research affiliate business providers
Today, the digital age makes many brands from different types of bussinesses provide affiliate programs. You can find different affiliate programs on affiliate marketing platforms. So it is not difficult for you to examine what brands are available—for example, affiliate programs from Shopee, Amazon, and Hostinger.
Determining what company you will take will certainly have an influence. Each brand has different terms and agreements. For example, when you look for a company for an affiliate program that has a 10 percent commission provision for every transaction that occurs, it could be that company B has a higher commission provision, such as 15 percent.
Careful selection doesn't just come from commission offers. But you should also look at the company's potential, the products they sell, and your strategy that should adapt the product in marketing it.
Registering with an affiliate provider's business
Once you've determined the right company, you can start registering your data. Usually, the data that the company asks for is primary personal data such as name, address, job status, social media accounts, and so on.
The process that companies need for verification and decision-making varies by seven to fourteen days, or even more.
If you accept, you can already carry out your duties as an affiliate marketer. Usually, the company you partner with has a particular dashboard to see the performance and commissions you can receive.
Run an affiliate mechanism
Once you officially become an affiliate marketer of the company, then you can run a promotion. The way affiliates work in the digital age is usually every product of the company you affiliate will create a unique code on the link. Later the link you use will spread to the audience. 
Usually, even if your audience doesn't buy the items you scatter and buy other items, you'll still earn a commission. This happens because the audience clicks on the link from the link you listed and will insert a cookie in their browser.
Incoming cookies will remain with a specific deadline, so as long as the cookies are still in their browser, you will earn a commission when they transact, whether you buy the product you recommend or not. You can use an accounting software to make it easier for you to manage your commissions accurately.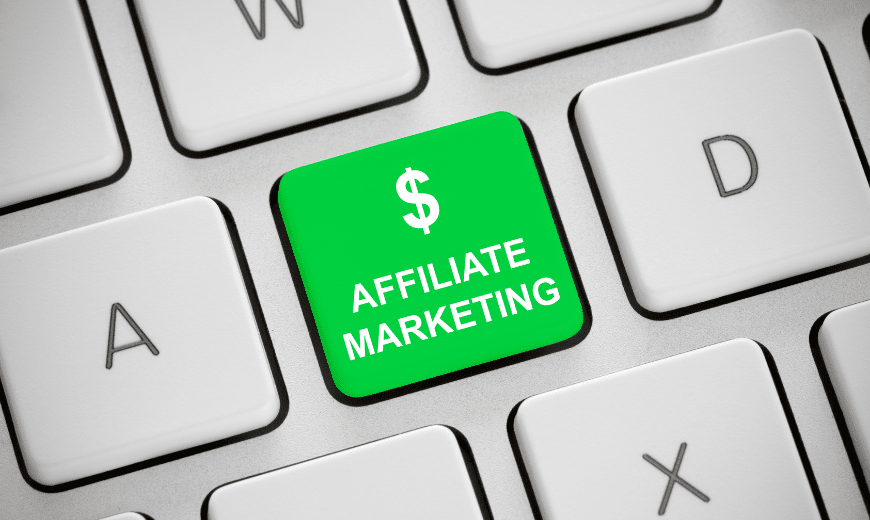 Affiliate Marketing Strategy
Once you understand the concept of affiliate work ranging from studying to carrying out the work, you also need to devise the right strategy to successfully get a lot of audiences to transact through you as an affiliate marketer.
Here are the strategies we summarize to help you increase a quality audience, including:
Create quality content about affiliate marketing
There are many reasons why good content is critical to the success of your affiliate partnership.
High-quality content will be easier to grab readers' attention and increase audience traffic. Both of these factors will affect the amount of commission you earn from an affiliate marketing program.
Also Read: What Is ERP Software and What Are Its Uses for Your Business?
Second, companies prefer to work with content creators who are experienced in their field. No business wants to work with a content creator that produces low-quality content. So, you have to make sure that the content and promotional posts you create are of high quality.
There are numerous media to choose from when getting started with content creation. Create content for traditional and long-term preferred websites. It would be preferable if you are skilled at using a personal website as a medium to disseminate your opinions about a product.
Implement search engine optimization
As an affiliate marketer, of course, you desire that the products you promote can reach various circles and audiences. You can use search engine optimization.
The ranking of blogs and posts will reap good results in search engines if able to optimize posts and websites. Furthermore, posts will appear in searches related to your target market.
Use keywords or keywords that have a relationship with the product to be promoted. After that, apply the principles of SEO, content optimization, and track traffic increases.
Effective use of social media
If the strategies we've mentioned are complex, using social media is a short and practical path that you should try.
Of course, you often see how influencers develop in media such as Instagram or TikTok influencer marketing. They can build and move audiences shrewdly through endorsement advertising. But the good news is, you don't have to be an influencer to recommend a product.
The trick you can start by is sharing unique affiliate links to the audience you have (followers), then periodically sharing to potential your audiences such as family and friends.
To boost growth, build your social media as a good persona by creating informative, educational, entertaining, and more content that your audience can enjoy.
Bonus Tip: Use YouTube as your medium of creating promotional content. YouTube has a more common persona than other, more intimate social media. Data support says YouTube is not just a video-shaped social media anymore but has become a popular search engine that millions of people use every day.
Put together the right strategy for you, make sure your posts reach as many people as possible and get a satisfying engagement.
Upselling
You can make more money with the upselling method because you sell the product at a higher price. Using this method does not give you the right to 'vilify' the quality of other products. However, you can explain to customers that the products you are promoting are more valuable and meet their needs or provide solutions to their problems.
Bonus Tip: You can mention a Unique Selling Point (USP) on the product you are promoting.
Customers who want to look around may turn out to be loyal. Because they believe that their investment in the product was not in vain, they will return to purchase it or investigate other options.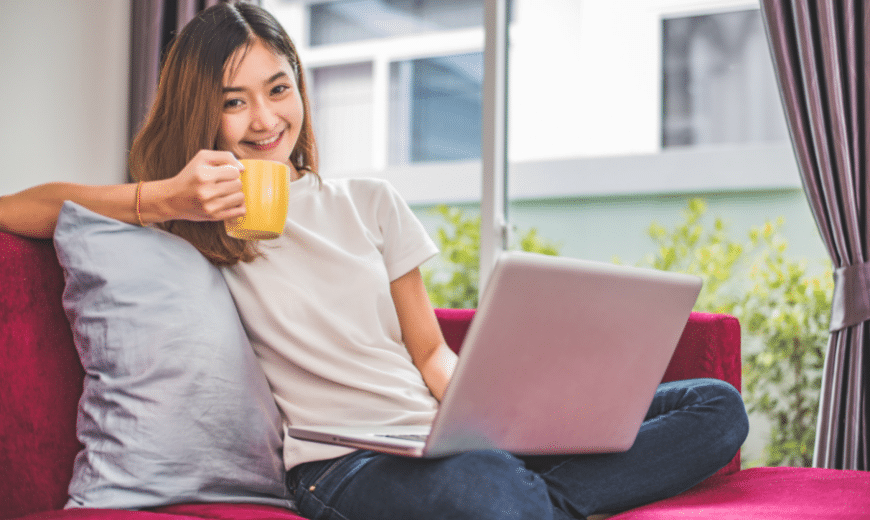 Advantages and Disadvantages of Affiliate Marketing
The advantages of affiliate marketing are:
Small capital does not even need capital at all.
It's easy to get started.
An industry with huge profits.
Flexible.
The opportunity to earn a significant income.
Work from anywhere.
A variety of products that you can offer.
While the disadvantages or disadvantages of affiliate marketing are:
Revenue comes from commissions, so the income is not fixed.
It takes patience and hard work to grow and succeed.
You have to compete with other affiliate marketers.
It's not easy to choose the right product for your audience.
Conclusion
Running an affiliate marketing business is very profitable, both for business and for affiliate marketers. Businesses are leveraging this program to increase their sales while increasing brand awareness to the public. This relaxed-looking job can be a significant income for affiliate marketers if the strategy you use is proper.
By using Software Marketing Automation, you can simplify your marketing strategy to get very large leads. In addition, Hash Core ERP also has the best features to automate various business processes, so that companies could avoid harmful human errors. Click more.